Padma Lakshmi's Instagram Post Proves She Knows How To Relax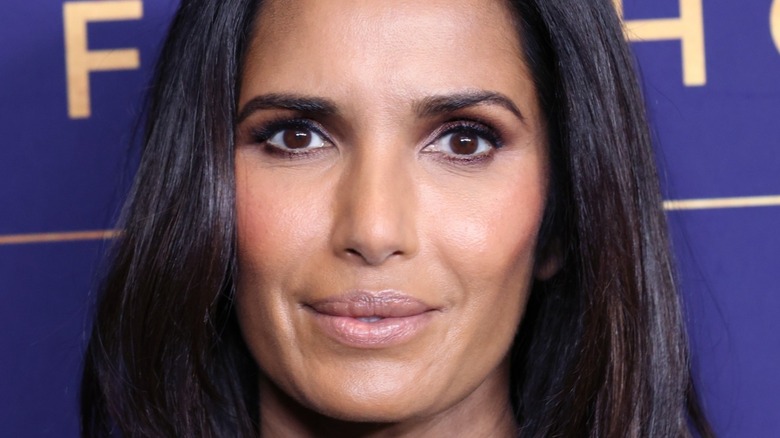 David Livingston/Getty Images
Former runway model and current role model Padma Lakshmi posted a picture of herself in a copper bathtub on Instagram, making fans giddy.
Even if you only associate Lakshmi with her role on the food competition show "Top Chef," it can't be hard to believe that she was a model (for obvious reasons). It is true she walked the runways of New York, Milan, and Paris and was the first Indian woman to do so, per The Famous People. The author and television star, now 52 years old, cast a striking image in a bikini-clad photo she posted on Twitter in April 2022.
But her distinctions are not just skin deep — Lakshmi is also an advocate who has worked with the ACLU and the UNDP (via Padma Lakshmi). She also co-founded the Endometriosis Foundation of America. She is also academically accomplished and her ongoing tenure in TV defines her generally exemplary track record, per New York Women in Communications. Aside from all that, the "Taste the Nation" host will share parts of her life with fans on Instagram and her latest post has garnered some buzz.
Padma Lakshmi's fans react
Padma Lakshmi's Instagram account not only hosts memoirs of food, family, and memes but is also a stage for the cooking show host to share pictures of herself. On October 19, 2022, Lakshmi posted a photo of herself in a seemingly tranquil state relaxing in an ornate copper bathtub littered with flower petals. The post was captioned, "Three years ago today." It has attracted over 41,000 likes as of this writing.
The mystery is how the "Top Chef" host who tastes decadent food for a living, per People, can maintain such youth. Lakshmi told Women's Health that the successful formula lies in a five-day-a-week, hour-and-a-half exercise routine. "Pilates changed my life," she said, explaining that the exercise style was recommended by a chiropractor to help her back, as she developed scoliosis when she was young.
Many fans reacted to the bathtub photo with support. "An anniversary that clearly needed to be celebrated. Thank you for blessing us all," said one commenter. "You've been in the bath for that long? Your pores must be amazing," said another. "Forever my celebrity wife," one fan exclaimed. Others summed it up succinctly with "Golden Goddess" and "Copper Queen."