Duff Goldman's Halloween Cake Has Its Own Retro Trailer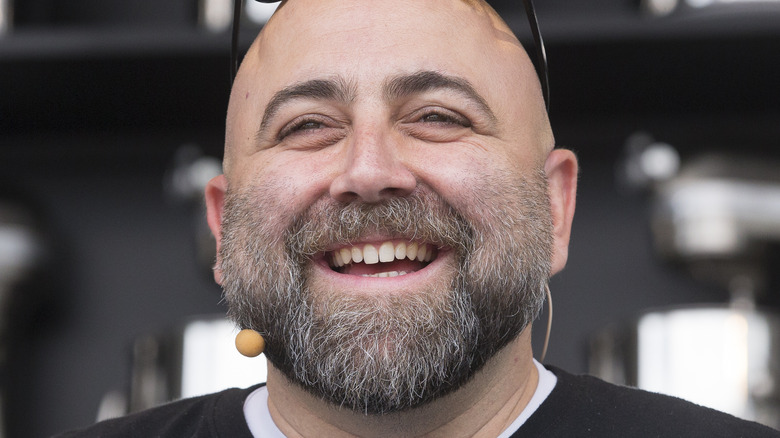 Sterling Munksgard/Shutterstock
Halloween might be the only time of year that's both scary and sweet. This year, "Ace of Cakes" star Duff Goldman has made a cake with a trailer that fits the bill perfectly.
Goldman's skill set as a decorative (and decorated) baker is consistently in demand, so the man and his Charm City Cakes team churn out 20 designer confectioneries every week, per Food Network. An example of his prowess was seen on January 19, 2019, otherwise known as his wedding day. Goldman and his team of bakers went the whole nine yards, cementing in the minds of guests that they were in the presence of a true talent. According to People, his innovative and groundbreaking creations consisted of a hanging underwater-themed confection, a six-tier velvet and brown buttercream structure, a pumpkin chocolate chip cake, and a savory four-tiered design that contained meatballs, lamb shawarma, meatloaf, and scrapple.
Considering all that, the task of honoring Halloween in cake form seems almost trivial in comparison. The real news here is how Goldman is marketing it.
Duff Goldman's Halloween offering is sweetly spooky
It's no surprise that the trailer advertising Duff Goldman's Jack-O-Lantern cake on Twitter would make a reference to candy, but to the 1990's "Candyman" movie? On second thought, the relevance is frighteningly obvious — it's Halloween, remember? The trailer also includes shots of the Halloween cake in question, snippets of Goldman saying "the good candy" and then elaborating that Jack-O-lantern cake is "Halloween flavor," and, of course, plenty of suspenseful music in the background.
What is this so-called "Halloween flavor"? Goldman's "Chocolate Caramel Jack-o-Lantern Cake" is a four-layered creation filled with moist chocolate and caramel cream cheese. To justify the carved pumpkin aspect of the name, the cake is covered in orange icing with a face sculpted from black fondant. As the baker says on Goldbelly TV, the flavor of this Jack-O-Lantern cake is not pumpkin, but rather all the best parts of Halloween candy.
If the thought of this sweetly spooky treat is making your mouth water, the best is yet to come: According to Goldbelly, the cakes can be shipped frozen, which means anybody can celebrate Halloween with the craftsmanship of a celebrated baker, no matter where you live.