Amazing Ways To Use A Can Of Chickpeas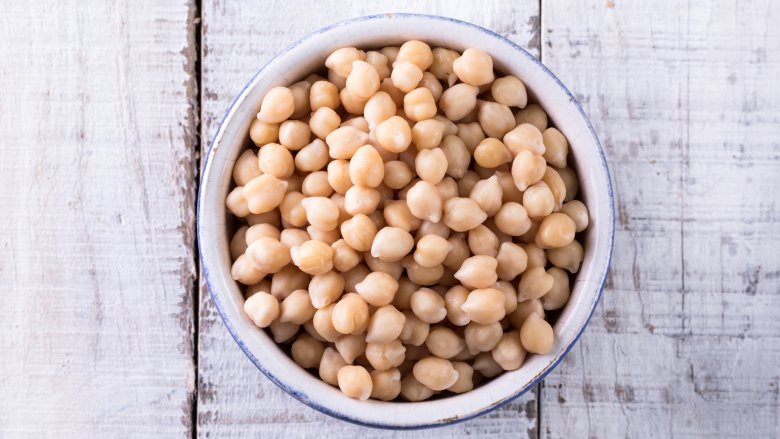 Shutterstock
When it comes to finding new ways to use a can of chickpeas, it's easy to be stumped. If seems like there are only so many things you can do with this one ingredient, we're here to help. Canned chickpeas aren't just another can of beans you have stashed in the pantry. Oh no, they're more than that, they're a main ingredient themselves! Here is what you can do with a single can of chickpeas.
Before you dive in, keep in mind that you'll want to drain the liquid from the can before making any of these amazing creations. And if you're roasting them, always make sure they're good and dry. 
Chickpea burgers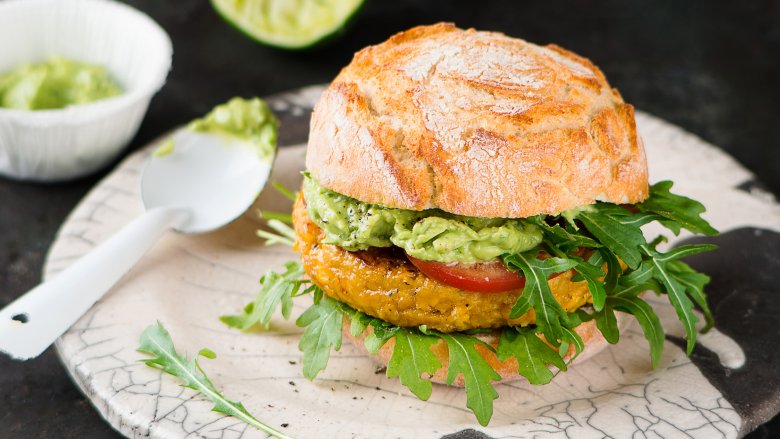 Shutterstock
Store-bought veggie burgers simply don't do the meal justice. They tend to be dry and lack flavor, leaving something to be desired. If you're tired of bland food and are up for trying your hand at making your own, then bust out that can of chickpeas and let's get started.
In a large bowl, mash up the chickpeas, then get creative with the additional ingredients. There's an endless array of combinations you can go with from here, but I recommend adding in thinly chopped red onion, grated carrots, mashed sweet potato, panko bread crumbs, fresh garlic, garlic powder, paprika, cumin, some hot sauce, salt and pepper to taste. Mash it all in until everything is well incorporated. It's easy for these guys to fall apart, so after forming the patties let them sit in the fridge for about 30 minutes before frying. Once your burger is ready, plop it on a toasted bun with tomato, avocado, maybe some grilled onion, cheese, or whatever toppings you fancy.
Chickpea tacos with avocado cream
You may not think of tacos when it comes to cooking with chickpeas, but this is one simple, delicious way to use up that can and get your Mexican food fix.
Coat chickpeas in a spicy mixture of cumin, cayenne, paprika, garlic powder, and salt along with olive oil. Bake at 400 degrees Fahrenheit for 20 minutes, shaking the pan to prevent burning. In the meantime, prep the avocado cream. In a blender, combine two avocados, a couple tablespoons of lime juice, a handful of cilantro, and a dash of salt until smooth. Heat up some corn tortillas and get ready to build your tacos. Using the desired amount of chickpeas, top with grilled corn, red cabbage, cherry tomatoes, and finally, the avocado cream.
Fresh chickpea, tomato, and cucumber salad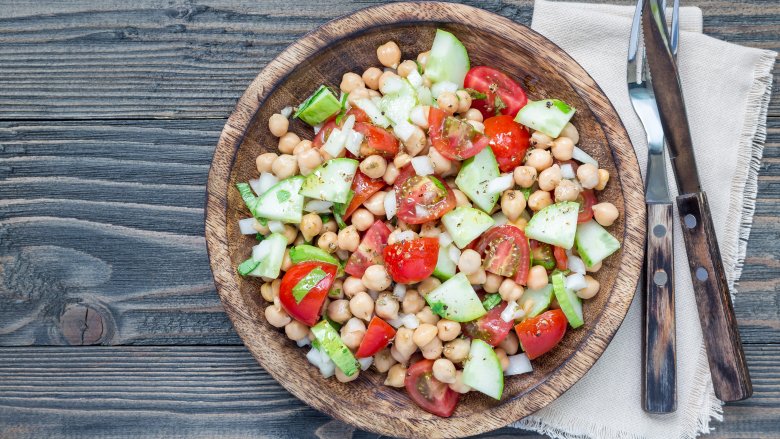 Shutterstock
This recipe is a staple of mine when it comes to lunchtime. It's seriously one of the freshest, simplest meals you can whip up with a can of chickpeas. Requiring only a handful of ingredients and about ten minutes of your time, you'll have lunch ready in a snap.
In a medium bowl, add chopped tomatoes and sprinkle with salt — this will start to bring out some of the juices. Chop a few Persian cucumbers, or half a regular cucumber if you can't find Persian, and add them to the bowl. Add the can of chickpeas and season the dish with salt, pepper, and a dash of cumin. Toss to coat, then add juice of one lemon and stir. Drizzle with a little bit of olive oil, toss, and your salad is ready.
Chickpea, feta, and kale salad
Green salads can get pretty boring when you make the same thing over and over. Mix things up a bit and try this easy chickpea, feta, and kale salad.
While fresh chickpeas would be just fine in a pinch, there's something about the addition of roasted chickpeas to a salad that elevates your greens in the most delicious way. Coat your chickpeas with olive oil and toss with a dash of cumin and salt. Bake at 400 degrees Fahrenheit for about 20 minutes. While that's going, whisk up a creamy tahini dressing with tahini — obviously — fresh lemon juice, garlic, a touch of honey, olive oil, and salt. Toss the kale in the dressing then top with the roasted chickpeas and chunks of fresh feta.
Chickpea tabouli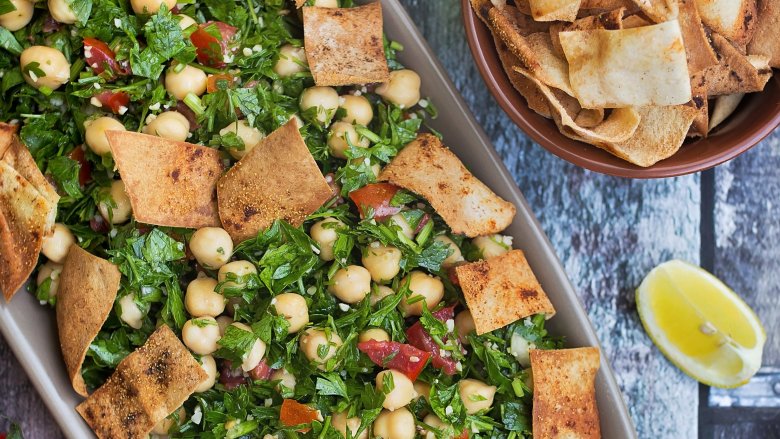 Shutterstock
While the traditional herb Lebanese salad is delicious on it's own, it doesn't fill you up like it does when you add chickpeas. The chickpeas give this fresh salad a boost of protein, making it a complete meal.
To make, chop an entire bunch of fresh parsley, a few mint leaves, green onion, cucumber, and tomatoes. Add it to a bowl with the chickpeas and squeeze in a fresh lemon. Next, add in cooked couscous, about 1/3 cup, and add salt to taste. Drizzle on a little olive oil and mix. If you're feeling extra hungry, pair with some crunchy pita chips.
Smashed avocado chickpea sandwich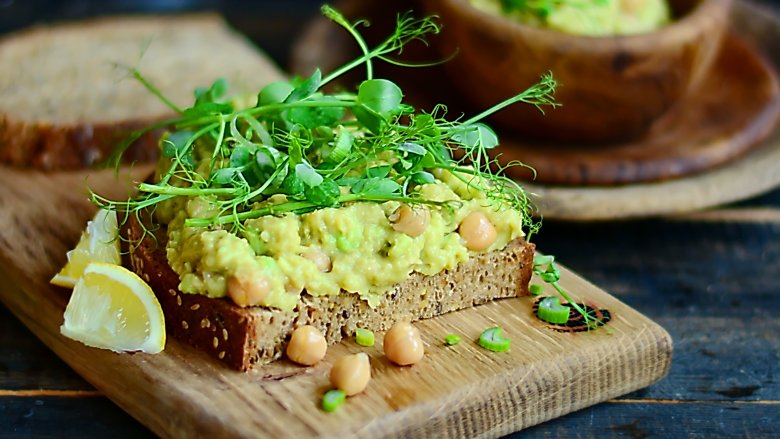 Shutterstock
Egg sandwiches have nothing on this creamy, filling sandwich. Whether you're vegan or not, this is an inventive way to use a can of chickpeas that keeps lunch healthy and doesn't take long to make.
In a bowl, mash ripe avocado with chickpeas using a fork. Stir in fresh herbs like cilantro or parsley, lemon juice, salt, and pepper, and then spread the mixture onto a toasted piece of bread. The goodness doesn't stop there! Layer the sandwich with slices of cucumber, greens, and sprouts. Oh, and be sure to label this lunch before it hits the break room fridge — just in case anyone gets a funny idea about swapping lunches.
Chickpeas with cilantro lime dressing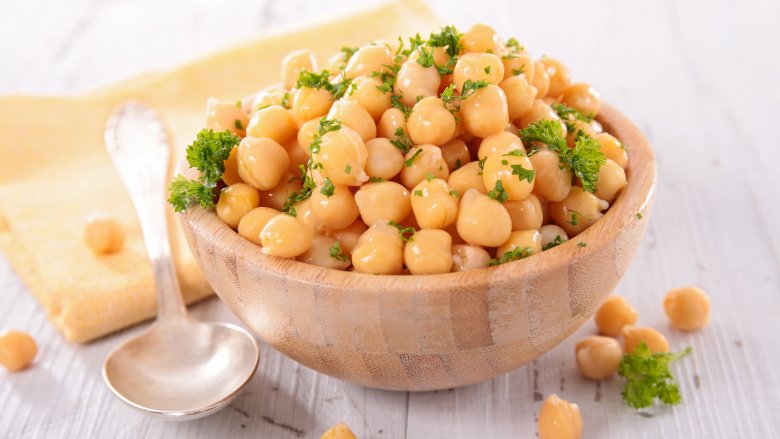 Shutterstock
This is one of those genius recipes that's born out of limited ingredients. Proving you don't need much to make something scrumptious, all you'll need for this is a can of chickpeas and a few ingredients to make a dressing. Vegan, vegetarian, and gluten-free, this is one of those things that quickly becomes a staple for any diet.
All you really need to do for this recipe is make a quick dressing. Lime juice, cilantro, green onion, garlic cloves, olive oil, cumin, salt, and pepper all get tossed into a blender until smooth. Toss the chickpeas until well-coated and that's it. If you have some fresh veggies in the fridge that need to be used up — like tomatoes, bell peppers, or red onion — you can toss those in there too.
Lemon garlic hummus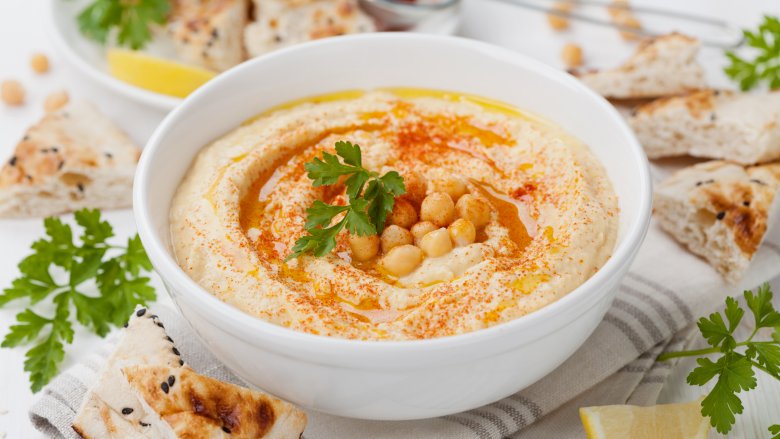 Shutterstock
When all else fails, make lemon garlic hummus. Better than store-bought, when you make this humus at home, it not only tastes better, but it saves you money.
In a food processor, blend tahini, chickpeas, a couple garlic cloves, lemon juice, a dash of olive oil, cumin, and sea salt until smooth. Once you've achieved a smooth, creamy consistency, top the hummus off with a dash more of olive oil, a sprinkle of paprika, and a handful of chickpeas. Practically a meal in itself, pair it with grilled pita bread and some fresh veggies for dipping. Snack time, lunch time, or dinner time, hummus makes for an easy meal.
Chickpea gyro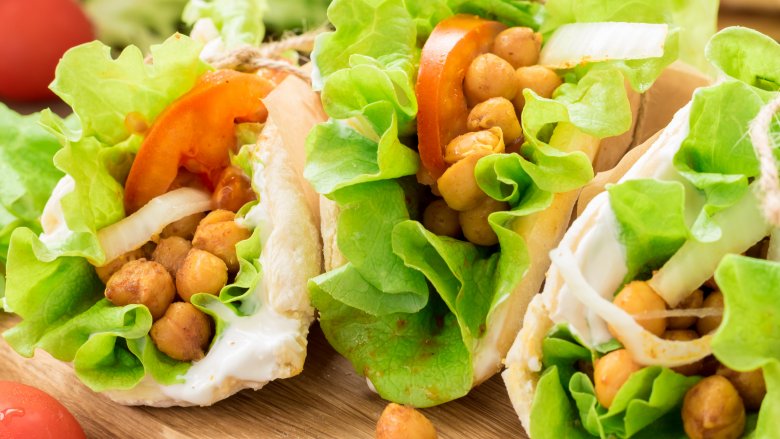 Shutterstock
Gyros don't always have to be made with lamb. If you've got some canned chickpeas lying around, you can whip this Greek sandwich up in a jiffy and satisfy your hunger. Vegetarian or not, this is one recipe to add to the rotation.
Toss the chickpeas in oil then coat with an array of spices like paprika, cumin, ground black pepper, and salt. Bake at 400 degrees for about 20 minutes, or until browned. You want the chickpeas to have a nice crunch on the outside, yet still be soft on the inside. Taking a warm piece of flatbread, add the chickpeas, tomato slices, lettuce, cucumber, and red onion. Oh, and don't forget the tzatziki! If you're a hot sauce fan, you can dash a little bit of that on there too.
Curried chickpeas and spinach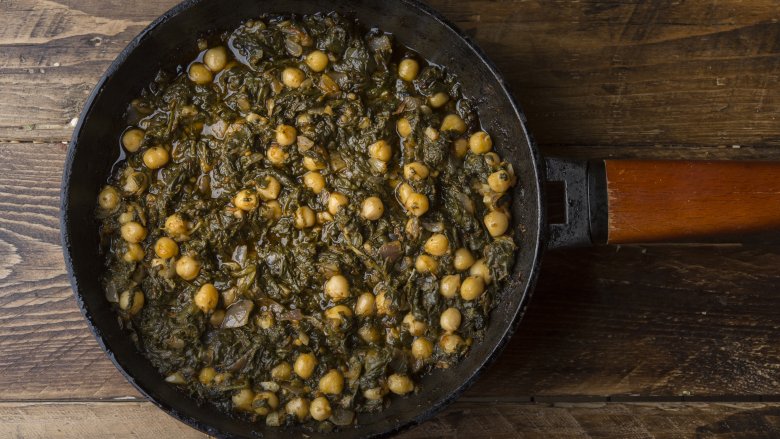 Shutterstock
If you're in the mood for a comforting, fast meal that's full of flavor, then turn that can of chickpeas into a curried chickpea and spinach dish.
The trick here is all in the spice. Saute fresh garlic, ginger, and yellow onion until the onions begin to soften. Then toss in curry powder, turmeric, spinach, a can of coconut milk, and canned chickpeas. After it simmers for about 15 minutes, serve with a bed of rice or warm flatbread. You can also make this dish even richer by adding in a can of tomato sauce. Either way, you can't go wrong.
Chickpea shakshuka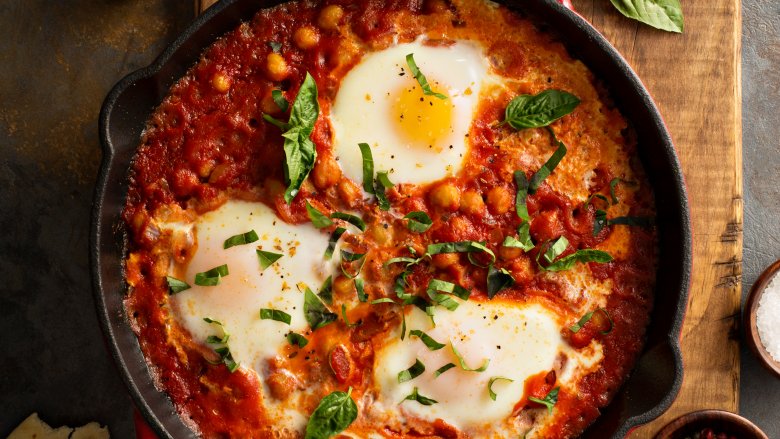 Shutterstock
Shakshuka is made by poaching eggs in a spicy tomato sauce — like eggs in purgatory — which is the perfect dish for a can of chickpeas. Turning a classic into an even more hearty meal, if you like to use spices in your cooking then this is the meal for you.
Other than the flavor, the best part about this meal is it's all made in one skillet. To start, saute onion until it's translucent. Next, add in spices like paprika and chili powder. Let it cook for out 30 seconds then add in fresh garlic. Once that becomes nice and fragrant, pour in a can of tomatoes, canned chickpeas, and season with salt. Let that simmer until the flavors meld. Now it's time for the eggs. Make four holes in the sauce and add an egg to each. Place in the oven for about 10 minutes at 375 degrees Fahrenheit, or until the eggs are set. Top it with fresh basil, maybe some goat cheese, and red chili pepper flakes for a kick. Whether it's breakfast, lunch, or dinner, it's always a good time for chickpea shakshuka.
Quinoa chickpea buddha bowl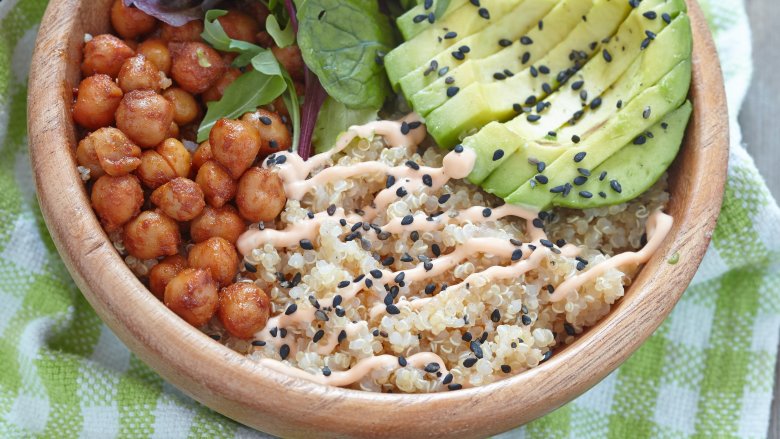 Shutterstock
The beauty of the Buddha bowl is there really is no right or wrong way to make it. As long as it's veggie based and you incorporate a grain, greens, and protein, you've done it right. And what better protein than canned chickpeas?
Depending upon your mood, you can build the bowl to suit your cravings. Mexican, Moroccan, Greek, Southern, Thai, or a green power bowl, the options are endless. One combination that's simple and does the trick is a simple quinoa chickpea bowl. In a big bowl add cooked quinoa, spicy roasted chickpeas, creamy avocado slices, cherry tomatoes, greens, sprouts, and a handful of pepitas. Top it all off with a garlic lemon tahini dressing. One bite and you'll feel like you pushed the reset button back to healthy eating, and in the most satisfying way.
Roasted chickpeas and veggies
If you're really struggling to come up with a dinner plan, take all the hassle out of the equation and go for a sheet pan meal consisting of roasted chickpeas and veggies.
All this quick and easy meal takes is an assortment of fresh veggies and a can of chickpeas. One flavor combination that works well is squash, eggplant, tomatoes, bell pepper, and onion. Toss everything in olive oil and your spice combination of choice, then roast on a baking sheet until the veggies are tender and the chickpeas are golden brown. For a bonus, you can mix with some red wine vinegar or a twist of lemon, and serve with crusty bread.