The Best Halloween Baking Championship Episodes Ranked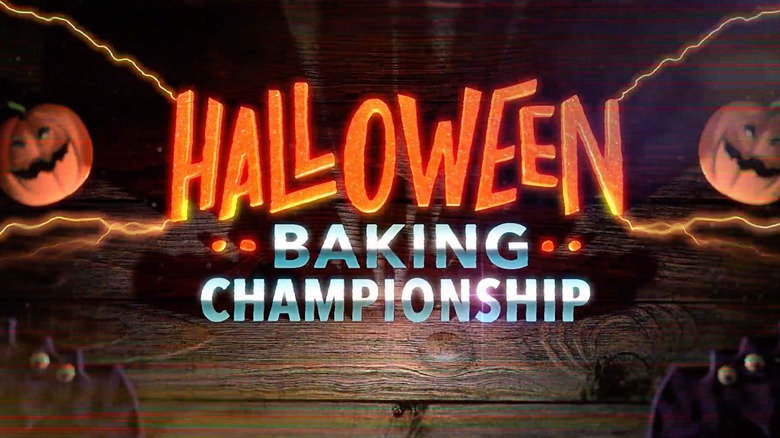 Food Network
Welcome to "Halloween Baking Championship," the show that puts bakers to the test in a contest to create some seriously spooky treats in a series of Halloween-themed challenges. As the competition escalates, renowned culinary figures act as judges, including Ron Ben-Israel, Carla Hall, and Sherry Yard. Anyone who doesn't measure up gets eliminated.
The best bakers move forward as challenges increase in difficulty. Ultimately, the final champion wins $25,000 and the title of the season's creepiest cooking contest winner. Choosing the top episodes proved to be a challenge in itself, given that there are eight seasons of this show, each filled with episodes with some of Halloween's creepiest and most delicious treats.
Luckily for you, we not only love and appreciate crazy Halloween baked goods but also a challenge-centered reality show. We watched a wild amount of "Halloween Baking Championship" episodes so you don't have to. Keep reading to dive into our ranking of the best "Halloween Baking Championship" episodes.
15. Hallowedding (Season 4, Episode 4)
We now pronounce you ghosts and ghouls. That must mean it's the "Hallowedding" episode, where the bakers created "petit horrors" in the pre-heat challenge. Bakers put a spin on the traditional, tiny French cakes known as petit fours, which you may be more likely to see served as cute little pastel creations at weddings, birthday parties, and other get-togethers. Of course, "Halloween Baking Championship" puts a seriously spooky spin on things.
During the main heat, the Halloween wedding competition leveled up. The next challenge posed a unique task: create a Halloween wedding cake for the happy couple. Of course, this isn't just any goth pairing. The couples this time included a vampire and troll, werewolf and mummy, skeleton and robot, witch and goblin, and a zombie and ghost. Which couple enjoyed their wedding cake the most? You'll have to watch the episode for yourself, as we'll brook no spoilers here. However, we will tell you that we were delighted to see many of the bakers' spooky creations.
14. Extreme Halloween (Season 3, Episode 6)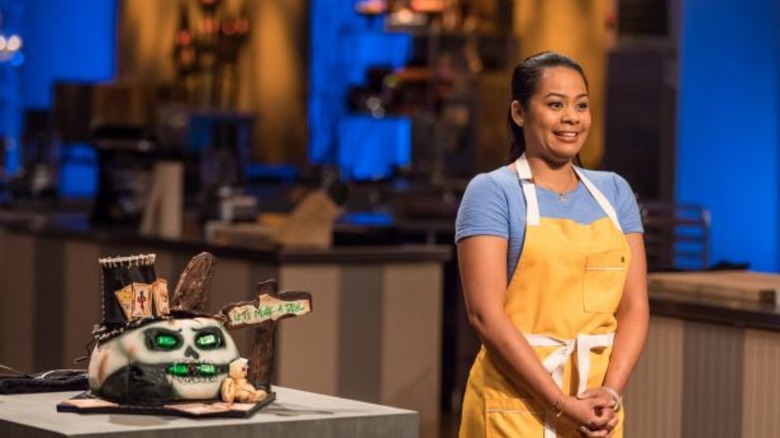 Food Network
Season 3 of "Halloween Baking Championship" ended in the best possible way, with an Extreme Halloween finale. This episode rounded out the season, putting the bakers to the spookiest of tests with an added twist: glow-in-the-dark cakes.
For the pre-heat Halloween party, the bakers received the challenge of making glowing edible centerpieces and three accompanying spooky treats for the themed dessert bar. Perhaps things are a bit different in your kitchen, but it's not every day that we make our baked goods glow in the dark. Watching the bakers tackle this challenge was especially gratifying.
The remaining contestants in the main heat round created a light-up Jack-o'-lantern cake to be considered for the grand prize. Carving a Jack-o'-lantern is hard enough, doing so with cake presented even more of a challenge. This episode left us in awe. Frankly, it's incredible what these bakers can do with light-up materials, baking basics, and some sheer ingenuity as the clock ticks down.
13. The Doctor Will See You Now (Season 6, Episode 7)
Going to the doctor is still probably one of the things we push off the most in life, even as responsible adults. Season 6, Episode 7, "The Doctor Will See You Now," puts those real life anxieties to the test and then some.
In this episode, the final four bakers faced off in the last leg of their haunted journey. This time the challenge required the cake masters to craft severed limb cakes in, of course, a mad doctor's surgical room.
To spice up the competition even more, judge Carla Hall added a new challenge, telling competitors that they had to create floating cakes to really impress her and the other judges. The bakers took reaching new heights to a whole new level with their gravity-defying treats. Watching their craftsmanship made for incredible TV, as it's clear that crafting a floating cake is no easy feat.
12. Sweet Illusions (Season 6, Episode 2)
In this Season 6, Episode 2 entry of "Halloween Baking Championship" titled "Sweet Illusions," judge Carla Hall asked the nine competitors to create Halloween candy croquembouche, incorporating a spooky illusion to fit with the theme and, of course, making things all the more impressive when it came time to judge. This classic French recipe consists of choux pastry puffs piled into a cone and bound together with threads of caramel. The tower appears to be a massive dessert all on its own. However, if you look closely, you will see that it's made out of many smaller choux buns. The bakers seriously impressed us with their creativity.
These little buns seem easy enough to create, but when you add a tower and the challenge of an illusion effect, the kitchen suddenly gets a few degrees hotter. We loved watching the creativity unfold with the illusions the bakers add to their croquembouche towers.
11. Maze Madness (Season 8, Episode 3)
Let's jump ahead a few seasons for our next best episode, "Maze Madness," which appeared in Season 8, Episode 3. Transport yourself to the corn maze you ran through as a child, but be sure to make it extra spooky, as this episode was all about haunted hedge mazes.
This episode raised the stakes with only one challenge. Instead of the usual two tasks levied against the contestants, bakers had to complete one big challenge. But with a big challenge comes a big elimination. Instead of just one baker leaving the set, this meant that two people had to go home.
In keeping with the theme, bakers paired off into teams instead of baking solo to create a huge hedge maze out of cake. The results were nothing short of our corn maze nightmares come to life. From there, each baker had to include an individual dessert that went along with the maze. The fascinating results and high stakes make this a must-watch.
10. Halloween Invasion (Season 5, Episode 1)
Everyone probably has a skeleton or two in their closet, but in Season 5, Episode 1 of "Halloween Baking Championship," host John Henson revealed all of the skeletons in his family's closet in an effort to inspire the eight remaining bakers. This episode's challenge called for making scary skeleton-themed desserts. These weren't your average store-bought cupcakes with sugar skeletons on top, of course. The bakers went all out to level up past the competition, resulting in bone chilling yet utterly delicious desserts.
After many seasons of watching "Halloween Baking Championship," we know a second challenge is in the works. For the "main heat," we transitioned from skeletons to monster madness in the kitchen. The bakers created a monster under the bed-themed creation to come out on top. The spooky Halloween creativity shows through in this episode as the bakers effortlessly went from skeletons to monsters with ease.
9. Creepy and Crusty Creations (Season 5, Episode 4)
In this case, "creepy and crusty" are insults. Rather, we're talking about some seriously good Halloween baked treats. Season 5, Episode 4 brings all the creepiness to "Halloween Baking Championship" while it's at it, too.
In this episode, the host poked fun at "mummy" issues as the bakers set themselves up to create mummy-themed crepe cakes in the pre-heat challenge. The bakers put on their thinking caps and got to baking, with no basic toilet paper mummies in this kitchen.
The main heat challenged the final five bakers to create Jack-o'-lantern pies using classic fall ingredients. Think pumpkin, cinnamon, and pumpkin spice ... you get the drift. Of course, there was a catch: the pies had to be half scary and half sweet. Could a challenge be as easy as only creating something pumpkin themed? Not on the "Halloween Baking Championship," that's for certain.
8. Gravely Delicious Desserts (Season 5, Episode 5)
If you couldn't guess by the name, Season 5, Episode 5, deemed "Gravely Delicious Desserts," will send you straight to the cemetery for some burial-inspired treats.
The host challenged the four remaining bakers to create grave robber-inspired desserts. Uncover the tombs and pass the flour! Here, the bakers got wild and creative in this deathly challenge that has us going underground.
"Halloween Baking Championship" rarely leaves us with only one challenge per episode, so we expected something good in the main heat. This episode's main challenge theme was a night at the cemetery. The deathly theme was brought to life as competitors sculpted marble tomb cakes. While the theme was indeed eerie and spooky, we couldn't help but drool over the sight of these lovely and creepy marble cakes. We think that two cake flavors are better than one, making this episode all the sweeter for its delicious spookiness.
7. Bewitching Treats (Season 3, Episode 2)
It's the witching hour at "Halloween Baking Championship." Season 3, Episode 2 took the bakers on a journey to create what we found to be genuinely bewitching treats. This episode truly showcased who amongst the group was a good witch and who was a bad witch.
The episode opened with a graveyard of edible toes and fingers. Be sure to away from the TV now if you have a weak stomach, as these creations looked incredibly realistic. In the pre-heat, the bakers received the challenge of making witches' fingers and toes to create a sauce and dip combination. The bakers then took to the kitchen to transform baking ingredients into creepy yet delicious body parts.
The witch theme continued through the second challenge as the seven bakers created desserts that not only resembled witches but also contained edible brooms in a baking display that had us drooling.
6. It's All In Your Head (Season 3, Episode 3)
Is it all in your head? It sure is in Season 3, Episode 3, where the challenges revolved around one crucial body part: the brain.
In the pre-heat, the remaining bakers formed teams to put their heads together and create the most outrageous left and right-brain-themed desserts they coudl imagine. Each member of the team was responsible for half of the brain, while each side had to come together to create a cohesive dessert. Two heads are better than one, but for some this caused extra drama in the kitchen.
The main heat then turned brains to bugs. In this challenge, the bakers faced their fears of insects and ghosts to create disgusting-looking but delicious-tasting desserts. Do cockroach crunch cupcakes sound good to you? If not, look away when this challenge hits your screen, as all the desserts followed this creepy crawly theme.
5. Cranium Epicurean (Season 4, Episode 7)
The final episode of Season 4 brought the graveyard to life. In season 4, episode 6, "Cranium Epicurean," the bakers gathered inspiration from a mysterious "skull man." Thankfully, he turned out to be less scary than some of the other chilling inspirations behind previous episodes.
In the pre-heat, the bakers brought skulls to life in dessert form, including eerie tarts, rum cakes, and chocolate mousse cakes. It was incredible to see the use of standard kitchen ingredients like rice puff cereal, food coloring, and icing to create the array of skull-inspired desserts.
The main heat took the competition up a notch and brought yet more of your nightmares to life. This time, it meant real fears like falling, being chased, or getting visits from someone who has died. However, we think the real nightmare is not finishing the dessert by the time the countdown stops.
4. A Haunting We Will Go (Season 5, Episode 6)
Finale episodes already have us on the edges of our seats, but Season 5, Episode 6 added a new level of haunting to the proceedings. The host suggests that some ghosts have been lingering around, so it only makes sense for the bakers to construct a "Ghostembouche" — that is, of course, the ghostly version of a croquembouche tower. It was gripping to see if the bakers could stack those cream puffs high without interference from ghosts or ghouls.
In the final challenge, the bakers faced off to create bleeding zombie cakes. The great debate of the episode: Do zombies bleed? We've think they only bleed when captured in a baked good like a cake filled with buttercream. Blood orange may be the flavor bakers added to their recipes here, but it was always going to be a bloodbath in the kitchen to win the grand prize.
3. FlamBakers and Open Wounds (Season 8, Episode 5)
Beware, this episode contains blood, bones, and brains! "FlamBakers and Open Wounds" calls for some flaming desserts in the form of ​flambé. Each baker accepted the task of reinventing this classic dessert, which they presented to the judges on fire, adding a layer of difficulty to the challenge. The creativity went unmatched as the bakers showcased all the different ways they could light their desserts on fire.
In the main heat, the bakers set out to craft realistic open wound cakes. If you've got a weak stomach, then this surely is an episode you've got to watch out for. Have you ever seen a cake with lips almost sewn shut? The bakers really stepped it up in this round to make these wound cakes look like real open wounds on an unfortunate body. See if you can separate gum bones from the real deal.
2. Fall Forward Desserts (Season 4, Episode 2)
In Season 4, Episode 2, the bakers created autumnal desserts with yams. But with every challenge on "Halloween Baking Championship," there was a creepy catch. The yam dessert could not be a pie and must evoke a classic scary movie cliche (via Food Network). Think chainsaws, masked men, bloody knives, and creepy dolls.
The main heat took on a more traditional Halloween route as bakers navigated the "bundtkin patch" to create a pumpkin patch made out of mini bundt cakes. You see it all in this challenge, from traditional chocolate cakes with chocolate glaze, ginger cakes with white chocolate ginger ganache, and even peanut butter confections mixed with Sriracha, which is perhaps more common than you might expect. The host added yet another layer of difficulty as the timer ran closer to zero, telling bakers to add an edible scarecrow to their pumpkin patch.
1. Circus of Dread (Season 4, Episode 6)
Get your tarot cards ready for the best episode of "Halloween Baking Championship." That would be Season 4, Episode 6, colorfully titled "Circus of Dread." This creepy episode laid out all the cards for the bakers and then some.
The pre-heat challenged bakers to make tarot-themed desserts, but with a mystery card. These cards outlined the flavor elements each baker must use, with bakers choosing one card for their dessert theme and another for the flavor elements. The combination helped them to create an unworldly dessert.
For the main heat, it was time to enter the Creepy Clown Hall of Fame. The bakers had two hours to make their creepiest clown dessert based on the clown sculptures displayed in the studio. If you hate clowns as much as we do, beware of scares. However, try your best to be brave and don't turn off the TV because the final dessert creations are incredible.