Homemade Italian Dressing Recipe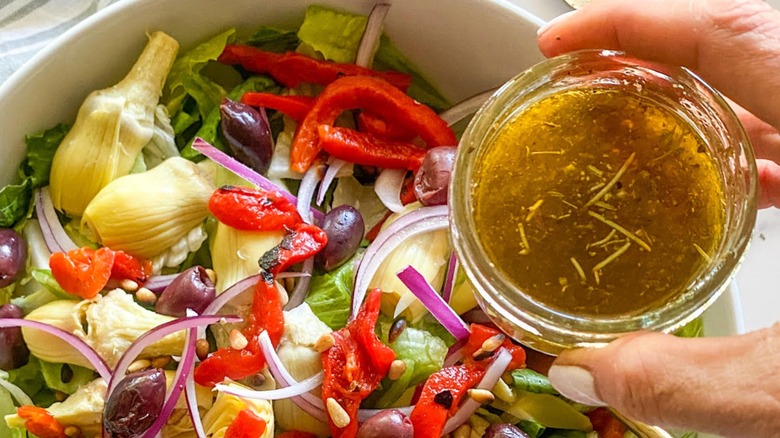 Miriam Hahn/Mashed
Hands up if you can tell a bottled dressing from a fresh, homemade one — we thought so!
Why ruin a good salad with the wrong dressing? Recipe developer and wellness coach Miriam Hahn brings us this recipe for homemade Italian dressing and remarks, "there is really no reason to buy bottled dressings. They are so easy to make at home!" We're betting that you have all of the ingredients sitting right in your pantry, and this whole recipe takes a whopping 5 minutes.
Setting the "easiness" aside, there is another reason to whisk up your own dressing. What's really in store-bought dressings? Chances are, lots of unhealthy additives that you might not notice if you aren't checking the label. Along with highly processed oils, sugar, and preservatives there can also be artificial coloring. Hahn says "I encourage my clients to start eliminating processed foods, and dressings are a great place to start. Making your own dressings gives you control over the ingredients and this also helps if you have dietary restrictions."
Gather the homemade Italian dressing ingredients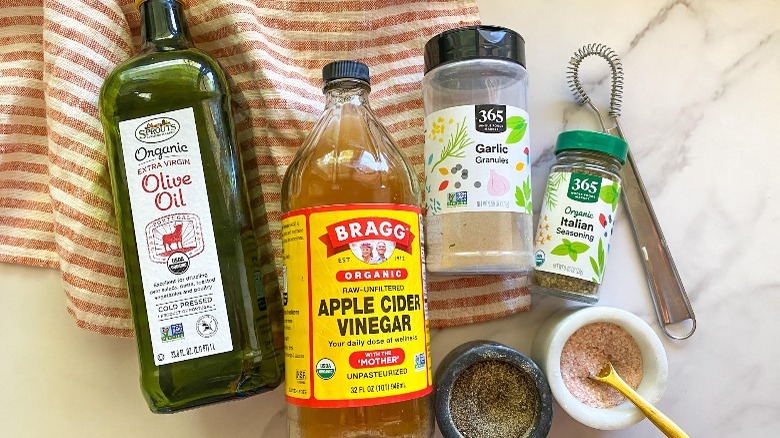 Miriam Hahn/Mashed
All good Italian dressings start with olive oil, so grab that along with apple cider vinegar, Italian seasonings, pink Himalayan salt, pepper, and garlic granules. "Pink Himalayan salt is not necessary for this dressing to taste spectacular" Hahn says, "but it's typically my salt of choice due to the high mineral count and health benefits."
Add the ingredients to a bowl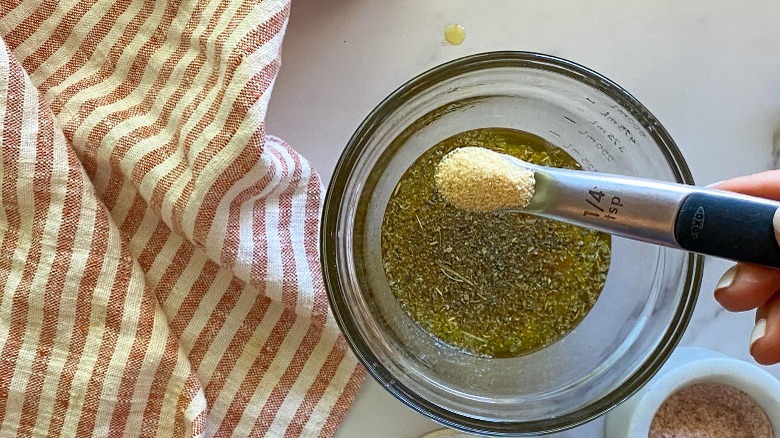 Miriam Hahn/Mashed
Using a small bowl, pour in the olive oil, vinegar, Italian seasonings, salt, pepper, and garlic granules. If you have lots of greens in mind for your upcoming week, double or even triple the recipe so you are ready to doll them up with fresh Italian flavor.
Whisk the dressing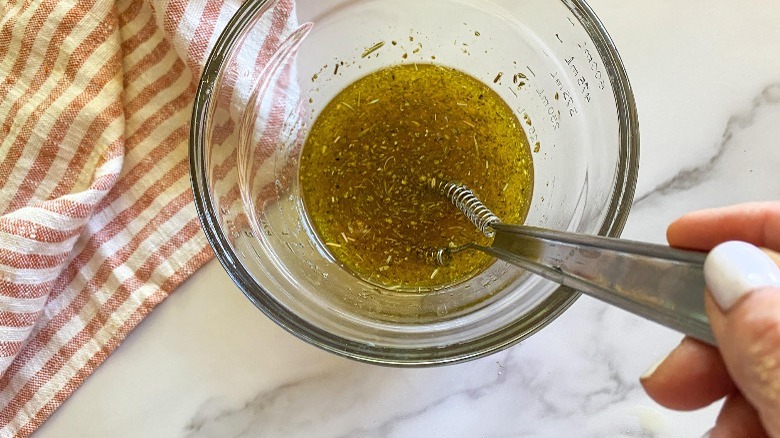 Miriam Hahn/Mashed
The last step in this easy process is to whisk the dressing. Hahn uses a small whisk made especially for dressings but a standard spoon will do. A small jar with a lid also works well with the good, old-fashioned shake method.
Use the dressing on your salad of choice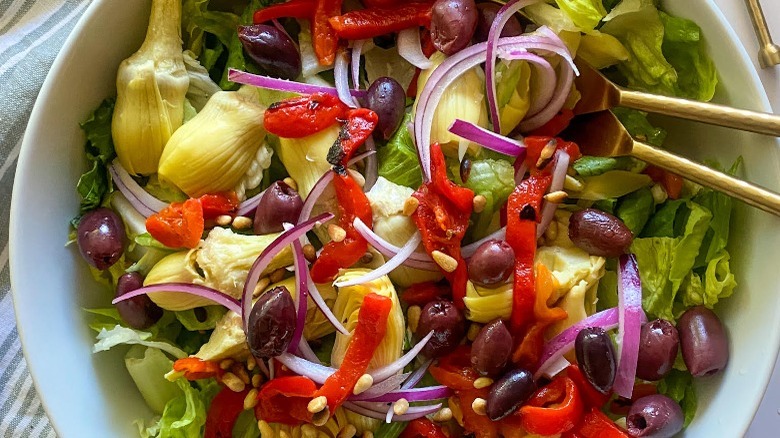 Miriam Hahn/Mashed
If your green leafys are ready to go, pour this flavorful dressing on your salad and toss. This dressing is also great on subway sandwiches, veggies, and pizza, so you can cash in on its deliciousness all week! It will last for up to 10 days in a sealed container in the fridge.
Homemade Italian Dressing Recipe
We can all tell a fresh, homemade dressing from a store-bought one. So the next time you're about to grab that bottle, whip up this easy recipe instead.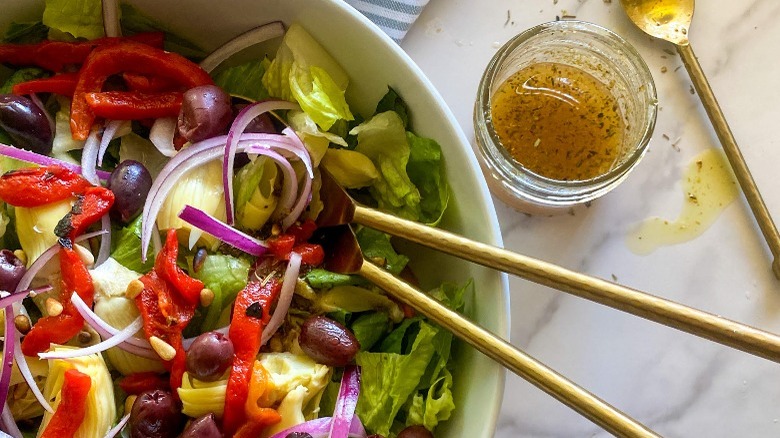 Ingredients
¼ cup extra virgin olive oil
¼ cup apple cider vinegar
1 teaspoon Italian seasoning
½ teaspoon pink Himalayan salt, coarse grind
½ teaspoon pepper
¼ teaspoon garlic granules
Directions
In a small bowl or jar, add the olive oil, vinegar, Italian seasoning, salt, pepper, and garlic granules.
Stir all the ingredients to combine.
The dressing is ready to use right away, or put in a sealed container in the fridge.
Nutrition
| | |
| --- | --- |
| Calories per Serving | 83 |
| Total Fat | 9.0 g |
| Saturated Fat | 1.3 g |
| Trans Fat | 0.0 g |
| Cholesterol | 0.0 mg |
| | |
| --- | --- |
| Total Carbohydrates | 0.4 g |
| Dietary Fiber | 0.1 g |
| Total Sugars | 0.0 g |
| Sodium | 45.3 mg |
| Protein | 0.0 g |