The Ina Garten Dish That Stanley Tucci Can't Get Enough Of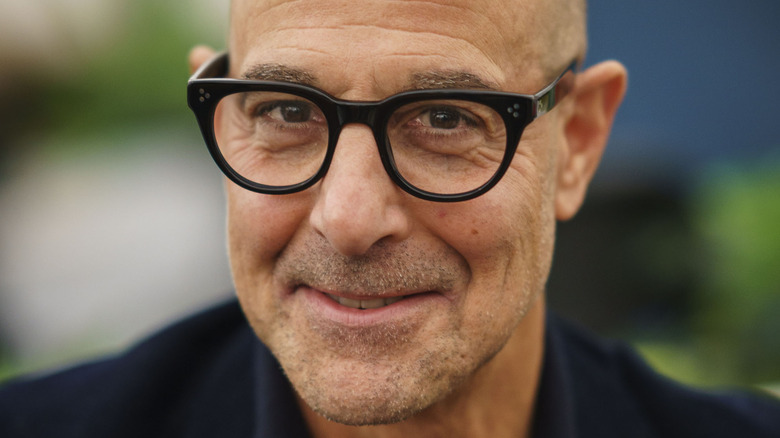 David Levenson/Getty
21% of people think Ina Garten can't cook, according to a recent poll. That said, you will be hard-pressed to find a soul who doesn't adore this down-to-earth celebrity chef. Even A-listers and the Hollywood elite admire Garten for her family-friendly meals and delightful dinner party skills. From Taylor Swift to Jennifer Garner to Michelle Obama, the Barefoot Contessa has a practically endless list of famous friends (via Delish). Even notoriously critical chefs admire her work, including Anthony Bourdain. When Bourdain was asked how he really felt about Ina Garten, the late chef revealed, "What [Garten] cooks on TV is legit and instructive. If you do as Ina does, chances are you are going to get a good product...I got real respect for her" (via Refinery 29)
Another member of The Barefoot Contessa fan club? Stanley Tucci. "The Devil Wears Prada" star was a recent guest on Garten's show "Be My Guest" and made pasta with seafood for the Hamptons hostess, according to an interview with The New York Times. According to Garten, the actor also served her a martini "at nine o'clock in the morning." "The rest of the day was really easy," Garten joked. When Tucci is not cooking for Garten, he's busy recreating her recipes at home with his wife. In a sweet Instagram post, the "Lovely Bones" star shared which Barefoot Contessa recipe had him drooling.
Garten's creation is fairly easy to make (and beautiful to look at)
If you find an Ina Garten recipe you adore, there's only one thing you need to do: spread the love. Stanley Tucci did just that by gushing about Garten's tomato & goat cheese crostata on Instagram. "Felicity made this. We ate it. We loved it. The second picture is what it once looked like. Thank you brilliant @inagarten," the "Hunger Games" star captioned the post. The accompanying photos featured a half-eaten crostata and the recipe for The Barefoot Contessa dish. Garten responded to the post in the comment section, writing "So glad you loved it!!"
While the recipe seems fussy, it's not overly complex. Eating Well described the dish as "surprisingly easy" to make, while the Food Network also ranked the recipe as "easy." While you may have to set aside an hour and 50 minutes of your time to whip up this masterpiece, the final result might be worth it. The next time you host an elegant summer soiree (and are cooking to impress), this dish would be a fabulous addition to any buffet table.