Foodies Told Mashed Which Mexican Dish Is Their Favorite - Exclusive Survey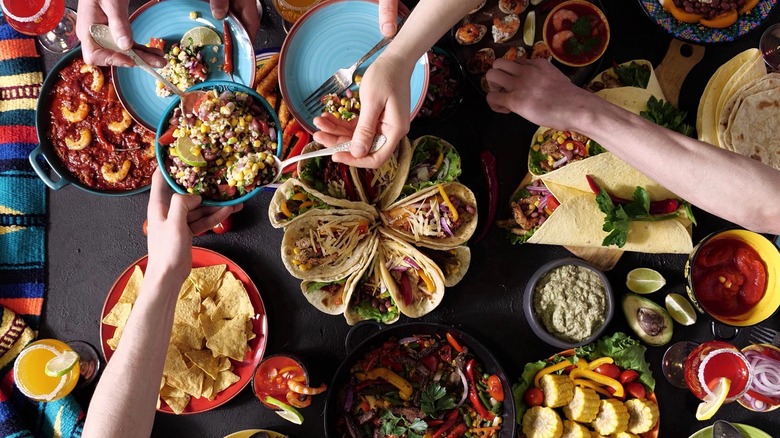 Fevziie/Shutterstock
People all over the globe love Mexican food. It's tasty, colorful, and unique because of its combination of warm and cold ingredients, spiciness, and use of texture. It's a palate pleaser that reminds us of fun, celebrations, and above all, comfort. Corn and chiles spring to mind when you think of Latin American cuisines — which makes sense because it's been used in dishes there for the past 9,000 years, ever since humans started selective planting methods on teosinte, an ancient ancestor of the corn plant.
In an exclusive Mashed survey, participants were asked, "Which Mexican dish is your favorite?" They were given a choice of six different dishes. 
Coming in at last place was nachos, with only 11.92%. Nachos are a relatively new Mexican dish. According to Food Network star Pati Jinich, they were invented back in the '40s when some women from Texas stopped at the Victory Club in the Mexican border town of Piedras and the chef was unavailable. The maître d'hôtel, Ignacio (aka Nacho) Anaya, quickly whipped together some appetizers he found in the kitchen, and nachos were born. Of course, those nachos were quite different from the snack you can grab at a ball park or movie theatre — that's an American adaptation. 
The runners up for most popular Mexican dish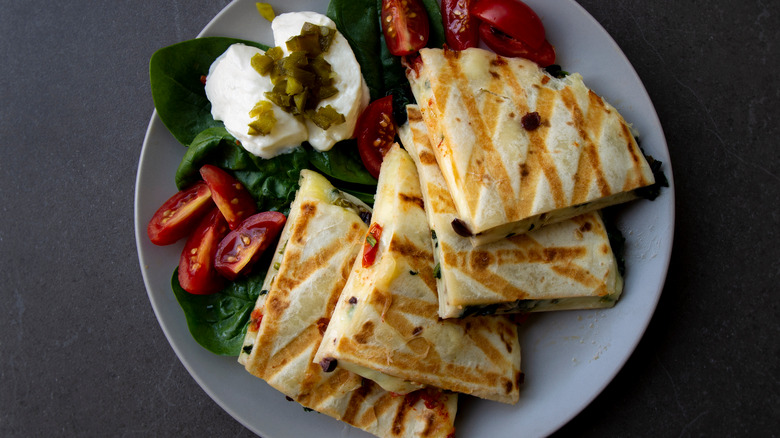 Let Geo Create/Shutterstock
In fifth place, we have the quesadilla, with 12.09%. While many debate the exact origin of this dish, something similar was mentioned in Italy during the 16th century and was used as a "portable snack." When the Spanish arrived in Mexico, they used corn masa for the dough as wheat was not readily available. The quesadilla is a folded tortilla filled with cheese, and sometimes more, and literally means "small cheese thing."
Coming in fourth place is the fajita at 17.22% of the vote. Technically, this dish is Tex-Mex as it was created in the USA in Texas Rio Grande Valley by Mexican ranch workers who would often be paid wages in meat. According to Days of the Year, this meat may have been skirt steak — hence the translation of "fajita" as "little belt." It would then be cut into small pieces and marinated to make it more tender before putting it into a tortilla for consumption.
The enchilada gets third place with 17.88% and is possibly one of the oldest dishes in human history. This dish goes back to the Aztecs when corn tortillas were used to scoop up other foods such as beans. They also stuffed them with meats "native to the area" and they were a daily staple. 
The top two Mexican dishes are neck and neck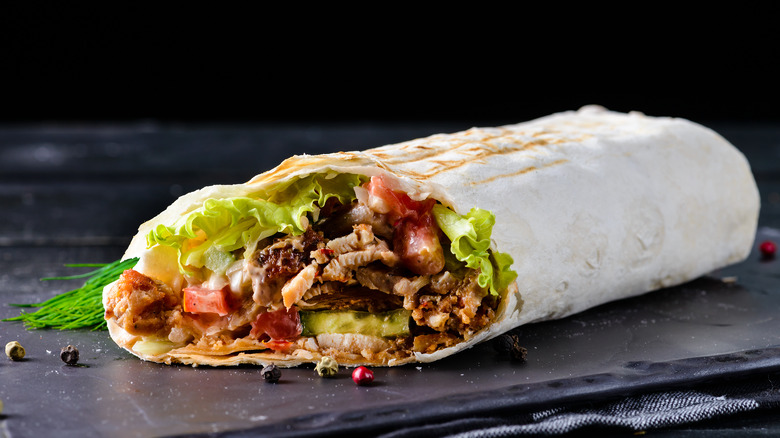 smspsy/Shutterstock
The top two Mexican dishes were incredibly close, but the taco came in second place with 20.20% of the vote. The origins of this dish are blurry but history professor, Jeffrey M. Pilcher, believes they date back to Mexican silver miners in the 18th century "because in those mines the word 'taco' referred to the little charges they would use to excavate the ore. These were pieces of paper that they would wrap around gunpowder and insert into the holes they carved in the rock face," per Smithsonian Magazine. 
Finally, in first place is the burrito with 20.70% — there was only a difference of three people voting between this dish and the taco! According to The Recipe, this dish dates back at least 10,000 years. Corn tortillas were used to wrap a variety of ingredients such as tomatoes, mushrooms, squash, or chile peppers. Today, wide variations on this dish have become items such as breakfast burritos, bean burritos, and chicken burritos are part of much-loved Tex-Mex fare. It's easy to see why it's also a favorite among survey participants.