Giada De Laurentiis Has The Perfect Eggplant Crostini For Your Halloween Weekend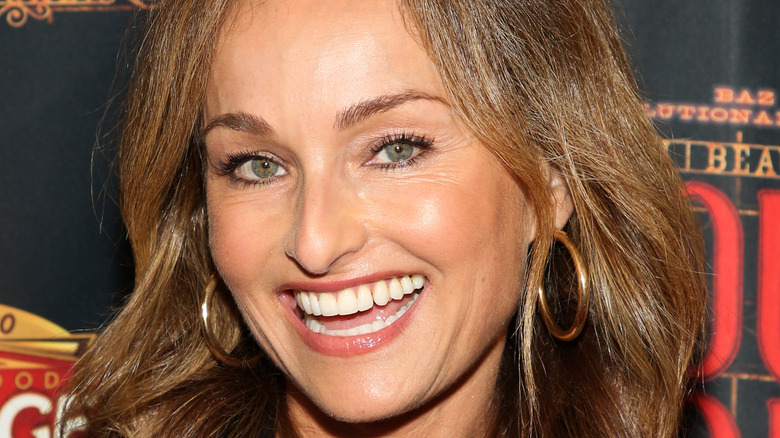 Paul Archuleta/Getty Images
Appetizers are fun to pick on, especially when you're a guest, but they might be a challenge to prepare if you're a host. When planning an apps-only party, Better Homes & Gardens recommends going with a selection of five to pass around if you're serving 10-12 guests, and a selection of nine if you're looking at 25 guests. The number increases to 13 if you have 50 guests, which is why it may be best to keep the recipes you use for your appetizer selections as fuss-free as possible.
Enter Food Network star Giada de Laurentiis, who went on social media to present her idea for a fuss-free appetizer — the Caponata Fontina Crostini. This dish takes just three ingredients: a loaf of good bread, fontina cheese, and a jar of Sicilian Eggplant Caponata. In a video shared via Instagram, the chef is seen prepping slices of oiled (or perhaps buttered) bread by adding a thin slice of fontina and then topping that with a generous spoonful of jarred caponata. 
Just what is caponata
MasterClass describes caponata as a fried eggplant dish, mixed with vegetables and tossed in a sweet and sour sauce which is then served at room temperature as an app or side. If you think caponata sounds a bit like ratatouille you would be correct because as the site puts it, both are eggplant-based dishes. But there are some key differences, including the flavor. Ratatouille is not meant to be sour and the eggplant in ratatouille is either baked, sautéd, or stewed. However, the eggplant is deep fried for a caponata, and both dishes make use of different — although equally vibrant and piquant — vegetables and herbs.
Giada de Laurentiis' serving suggestion got two thumbs up from her Instagram fans — one even responded by recommending that the bread and fontina be toasted lightly so the fontina became melty, before topping with the caponata.
When selecting your fontina, make sure you select a younger cheese as it becomes melty when it is heated. Per The Spruce Eats, younger fontina cheeses made by American, Swedish, or Danish cheesemakers have a higher moisture content than their older counterparts. The older the cheese is, the harder it gets — which will be useful to remember if you want to make your crostinis in a similar way de Laurentiis does. If you don't have this cheese on hand, here are the best substitutes for fontina.