Shoppers Are Not Impressed By Costco's Homemade Boba Variety Pack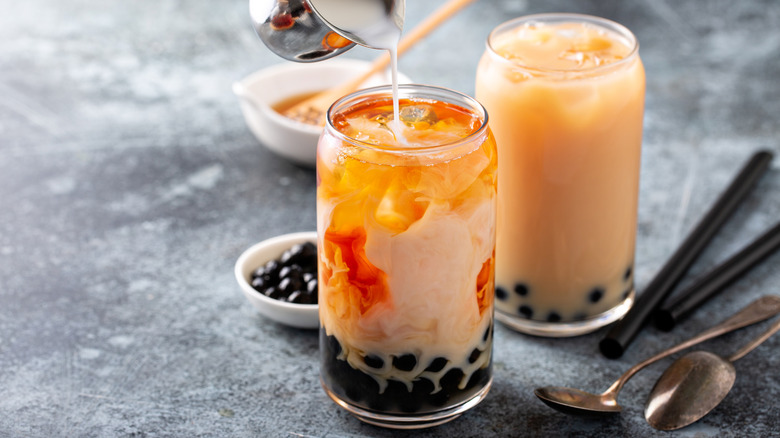 Elena Veselova/Shutterstock
Originally from the island of Taiwan, boba tea is a drink that has taken the internet by storm in recent years. Before it was found in modern-day shopping malls, the drink that would evolve into bubble tea was being enjoyed in Taiwanese teahouses as early as the 1940s (via CNN). The hand-shaken tea first sold in post-war Taiwan would soon become the wonderful beverage we all know and love. 
Sometime in the 1980s, a Taiwanese businessman named Liu Han Chien combined black tapioca pearls with milk tea, creating the modern version of bubble tea. Today, multiple forms of the beverage exist, including varieties containing pudding, grass jelly, red bean paste, and the original tapioca.
For those who don't have a boba tea shop near their homes, retail giant Costco offers shoppers a variety pack of pre-mixed instant bubble tea flavors. The instant boba tea has become a trend online with fans taking to Instagram and Reddit to offer their opinions on the tea.
The Costco boba tea pack was controversial on Reddit
Instagram user @costcobuys shared a video of the J Way bubble tea variety pack, creating a boba tea-fueled frenzy among the account's followers. According to @costcobuys, the pack retails for $14.49 for 10 teas, less than a standard boba tea at most big city tea shops. Some Instagrammers commented that they only liked certain flavors, while some mentioned that they appreciated the cost savings and ease of making it at home. Opinions on Reddit are mixed at best, with most users agreeing that, while the tea is flavorful, it isn't exactly boba shop quality.
One Reddit user commented, "Made the passion fruit tea one yesterday. Kids liked it. I made the brown sugar one today ... Not bad for what it is, which is powder based boba teas. It's quick to make even if I boil the boba packs instead of microwaving them." Even though they thought the boba flavor may have been lackluster, the same user also commented that the pre-packaged tapioca was "fairly chewy and didn't taste old."
Another Redditor didn't exactly agree with the other comments on the thread, saying, "I ordered the original flavor off amazon, wasn't my favorite and definitely doesn't taste like a tea from the shop. not sure about the others though!" Despite the mix of opinions, we think an instant version of our favorite boba shop drink is an offer too good to pass up.