Things You Didn't Know You Could Do With Greek Yogurt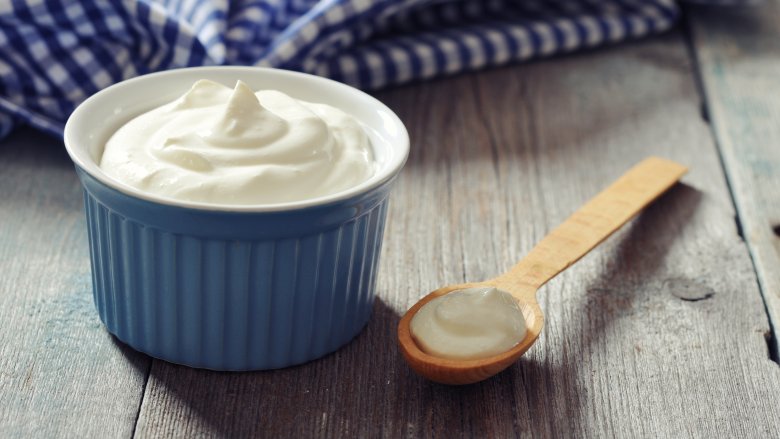 Shutterstock
You may enjoy Greek yogurt every day mixed with fruit and granola or added to your morning power smoothie. You probably already know what a smart choice Greek yogurt is — jam-packed with protein and gut-friendly probiotics, Greek yogurt is also low in sugar and calories. You may love it even if other dairy products don't always agree with you, since its lower lactose levels when compared to regular yogurt make it easier for many people to digest.
But can you truly say that you know everything about how you could be using this incredibly versatile food? Plan to be pleasantly surprised by all the ways you can be adding Greek yogurt to many of your go-to recipes, and beyond.
Make sandwiches sing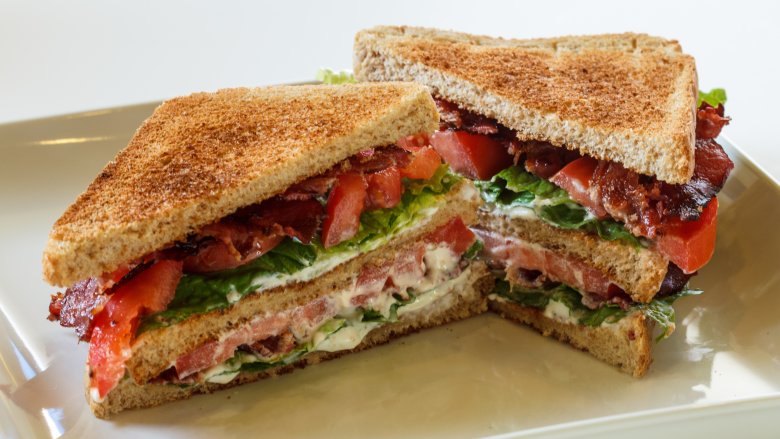 Shutterstock
Greek yogurt is not only lighter than mayo, but it also has a zippier flavor, while still providing the texture and mouthfeel you want in a mayo-filled bite. So go ahead and layer it generously onto your favorite sandwich instead of your regular mayo. This creamy alternative for mayonnaise is also perfect for anyone who needs to skip eggs due to allergies or dietary intolerances.
And when it comes to sandwich toppers, Greek yogurt isn't just for spreading. Consider swapping out the mayo for Greek yogurt the next time you're whipping up a batch of your choice of mixed salad like tuna, chicken, shrimp, egg, potato ... you get the idea. Just make sure you enjoy your creation within a day of eating — the lactic acid in the yogurt will eventually tenderize meats or fish.
Marinate on this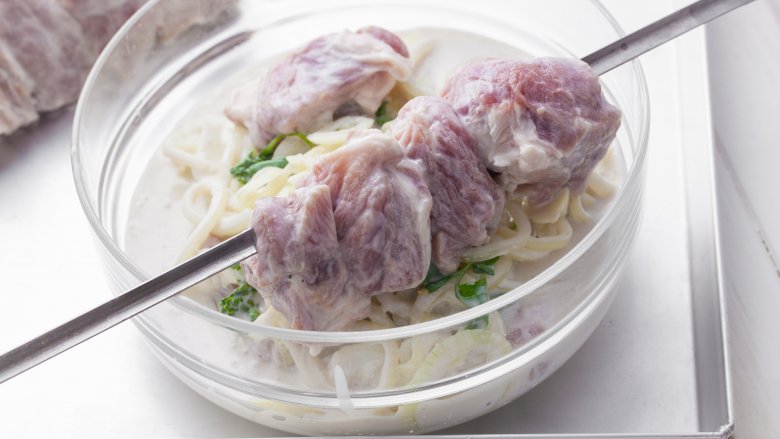 Shutterstock
If Greek yogurt acts as a tenderizer to meats and fish, it would stand to reason that it would be an ideal marinade. And it is!
We all know marinades are amazing for imparting flavor to meat. But you may have also heard that acids like citrus, vinegar, and wine, while popular in many marinade recipes, really don't do much to tenderize a tough cut of meat. In fact, the acid in them can often do the opposite, rendering a cut of meat tougher. Enzyme-based marinades, which include ingredients like apple or pineapple juices, can give meats a mushy surface. That's where Greek yogurt comes in.
Greek yogurt's acid, called lactic acid, is milder than other common acids, and when combined with calcium, performs some tenderizing action on meats that make Greek yogurt a perfect marinade base. When making a Greek yogurt-based marinade, allow for about a half cup of yogurt per pound of meat. Thin the yogurt out with kitchen staples like olive oil, broth, or water (or combine them) and then add some flavor. Ground spices, chopped herbs, grated ginger or garlic — all would be fabulous ideas to develop some big flavor in your recipe. Let the marinade soak as little as 15 minutes, or as long as 24 hours. Try it the next time you are making Greek beef kebabs or chicken tikka masala.
Dressing up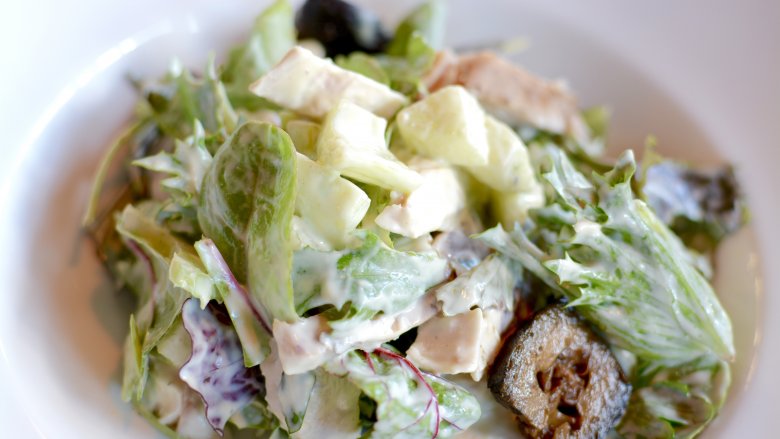 Shutterstock
I'm a huge fan of foregoing bottled salad dressings that are filled with questionable ingredients, in lieu of a quick and healthy homemade dressing. And Greek yogurt is the perfect tool for your salad dressing arsenal.
Once you've mastered the base of a Greek yogurt-based salad dressing, there are no limits to the ways you can snazz it up with more flavors. For the base, blend a half cup of Greek yogurt with a tablespoon of good olive oil. Add a couple tablespoons of vinegar like rice vinegar, red wine vinegar, or apple cider vinegar, plus some salt and pepper to taste. You may also want to sweeten it a tad with a bit of honey, stevia, or maple syrup. There. You now have the perfect creamy-yet-tangy base to use on its own or with added components.
So what will you add to your dressing? Try minced shallots, mustard, chopped herbs, grated garlic, chopped pickles, or even a spoonful of the sauce from a can of chipotle peppers.
For something not so heavy...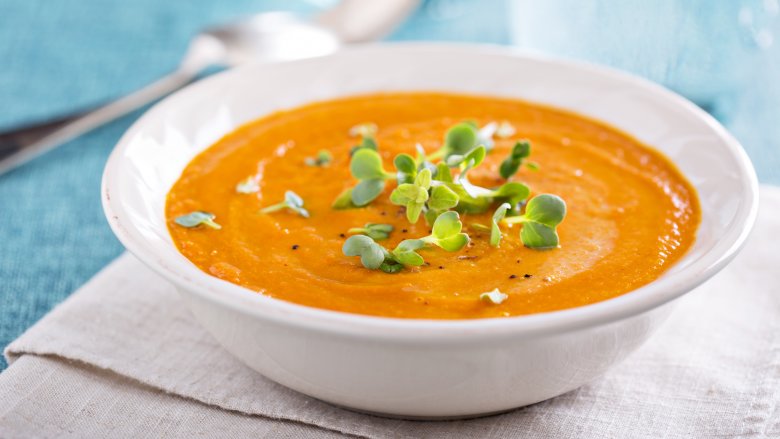 Shutterstock
Many soups can benefit from the luscious texture and thickening they get from a small (or large) pour of heavy cream. But heavy cream isn't exactly the lightest of ingredients, with a mere tablespoon clocking in at 51 calories, and a whopping 5 grams of fat. And that's where Greek yogurt comes in.
Greek yogurt will give you just the right amount of creaminess when making a velvety tomato soup or a broccoli "cream" soup that may even fool the biggest fans of this classic, cold-day treat. When adding Greek yogurt to hot soups, be sure to take the soup off the heat before stirring in the yogurt to prevent curdling.
If it's a little bit warmer outdoors, why not try using Greek yogurt in a simple chilled cucumber and dill soup which can be made by blending a half pound of peeled cucumbers with fresh dill, 1 cup low-fat milk, and 1 cup Greek yogurt, plus salt and pepper to taste.
Easy cheesy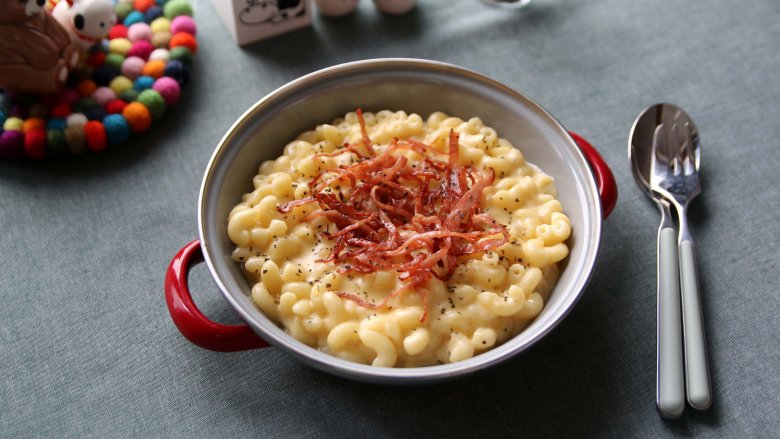 Shutterstock
Greek yogurt in mac and cheese? It actually makes a lot of sense. The creamy and tangy kick of Greek yogurt is just what a homemade mac and cheese needs to pair with your favorite blend of cheeses. Even boxed mac and cheese does well with a scoop of Greek yogurt  — I sub out the milk for it frequently when making my daughter's favorite mac and cheese, and she gobbles it right up.
One of the best parts of making a mac and cheese with a thick yogurt like Greek yogurt is that you can bypass the step of making a butter and flour roux as the base for your cheese sauce. Simply prepare a box of your favorite pasta, and as it cooks, stir together a half cup of Greek yogurt with a third cup of milk, 6 ounces of shredded cheese, 1 teaspoon dijon mustard, and salt and pepper. Drain the pasta, and stir it into your mixture until the cheese is nice and melty. Serve immediately.
Get creative with healthy additions like chopped veggies, or add some sliced chicken breast for a well-balanced meal. Interested in getting even more creative with your mac and cheese game? Check out Mashed's own round-up of the best cheeses to use in your mac and cheese.
Mash it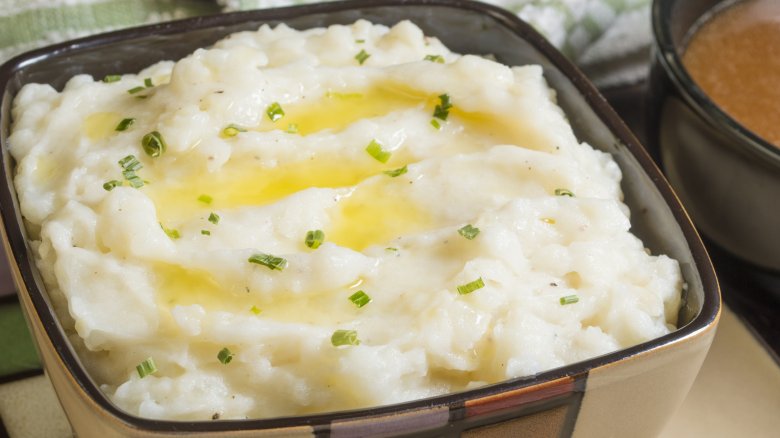 Shutterstock
Are you as big a fan of sour cream mashed potatoes as I am? When it comes to a super-yummy side for a quick, weeknight meal, sour cream mashed potatoes are my go-to, but they aren't exactly the lightest of accompaniments.
That's another reason I love Greek yogurt. It's got the same creaminess and acidic kick that sour cream does, without the heaviness. Try subbing out some or even all of the sour cream for Greek yogurt the next time you're mashing your spuds. (I prefer a half-and-half ratio.) The sour cream and Greek yogurt, plus some salt and pepper, is all you need in my opinion, but add any other favorites like butter, chicken stock, milk, or more flavoring like minced garlic or chopped chives. Taste as you go until you find your new favorite recipe.
I can top that!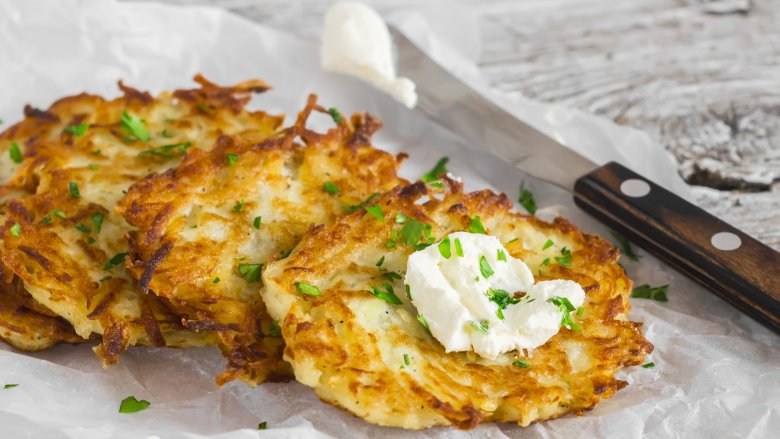 Shutterstock
If you've already caught on to the idea of subbing Greek yogurt for the sour cream in mashed potatoes, why stop there? If you love topping your foods with a dollop (or two or three) of sour cream, try swapping it out with Greek yogurt the next time you have a sour cream hankering. Go ahead and treat yourself to a scoop of Greek yogurt on baked potatoes, chili, tortilla soup, tacos, enchiladas, burritos, pierogies, or any other food that gets a boost from its tangy creaminess. My favorite topper on taco night is to stir equal parts Greek yogurt and sour cream with a squirt or two of Sriracha sauce for a cool and spicy topper option.
Move over buttercream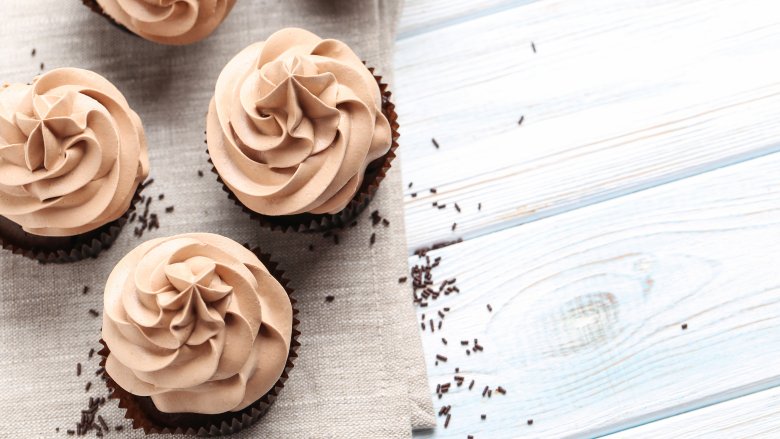 Shutterstock
When it comes to homemade frosting versus frosting from a can, there's really no comparison. A homemade frosting will win you some major points no matter which baked good you want to slap it on. One thing that so many homemade frosting recipes have in common is that they call for copious amounts of butter. Yummy, for sure, but there has to be a better way.
Why not try Greek yogurt instead of the butter? It's actually super easy to make a frosting using Greek yogurt instead of butter. A half cup of Greek yogurt mixed with 2 tablespoons powdered sugar is the base you need for the right amount of frosting for six generously topped cupcakes. Flavor it up with the addition of vanilla extract, citrus zest, cocoa powder, and more. Want to make it even easier? Start with a flavored Greek yogurt, like strawberry or coffee, and you've got a quick, healthy, and delicious frosting that will taste like it was much harder to make.
Mix it up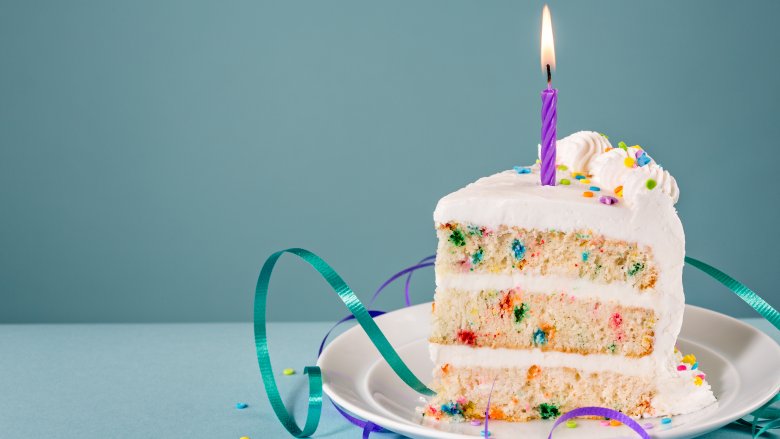 Shutterstock
Greek yogurt is also the ideal way to healthify your favorite baked goods. While you can certainly find plenty of from-scratch recipes that incorporate Greek yogurt, by far the easiest way to throw it into your baking is to add it to boxed cake mix. All you need to do is sub 1 cup yogurt and 1 cup water for the egg and oil typically added to the mix. The resulting cake will not rise as much as the original recipe, but it'll be equally delicious.
Another boxed mix that will stand up well to the addition of Greek yogurt is pancake mix. Simply sub equal parts Greek yogurt for the water called for in the directions of the mix. You may want to add an extra tablespoon or so of water if it becomes too thick to pour. Go ahead and cook the pancakes as you normally would, and get ready for the fluffiest pancakes ever. Get creative with flavored yogurts to create a new pancake recipe every weekend.
Take a dip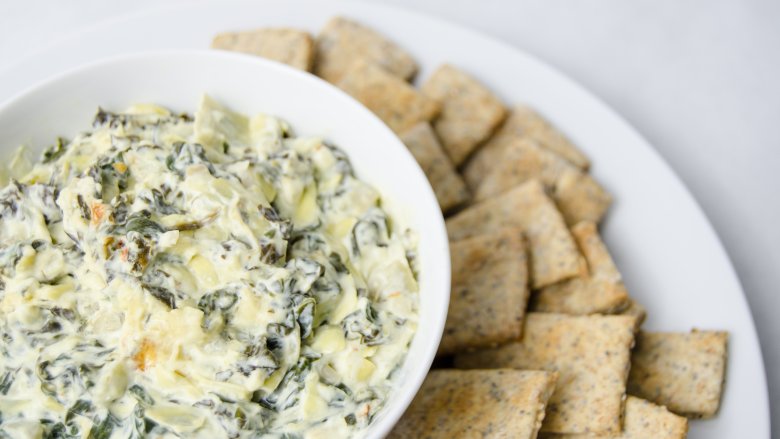 Shutterstock
Greek yogurt really finds its groove when we start talking about dips. Pretty much any dip recipe that calls for sour cream, mayo, or both can easily handle the substitution of Greek yogurt. So do it! Sub out the mayo or sour cream in your favorite onion dip, spinach dip in a bread bowl, or buffalo chicken dip. Make a lighter version of an awesome blue cheese dip for dunking your most-loved chicken wings. Play with the ratios until you achieve the flavor you want while still feeling great about how much you've lightened up your dip.
You may also want to consider adding Greek yogurt to dips like guacamole or hummus. It's a great way to stretch out a dip while also adding a lighter texture and a tangy dash of flavor.
Of course, for the classic Greek yogurt dip, there is nothing like tzatziki. Simply combine 1 cup plain Greek yogurt with one grated and drained cucumber, a clove of minced garlic, 1 teaspoon lemon zest, 1 tablespoon fresh lemon juice, and 2 tablespoons chopped fresh dill. Season with salt and pepper, then chill. Tzatziki is fantastic when served with freshly toasted pita chips or crudite. You may even find yourself slathering it on a grilled chicken breast or spread onto your next wrap or sandwich.
I'll toast to that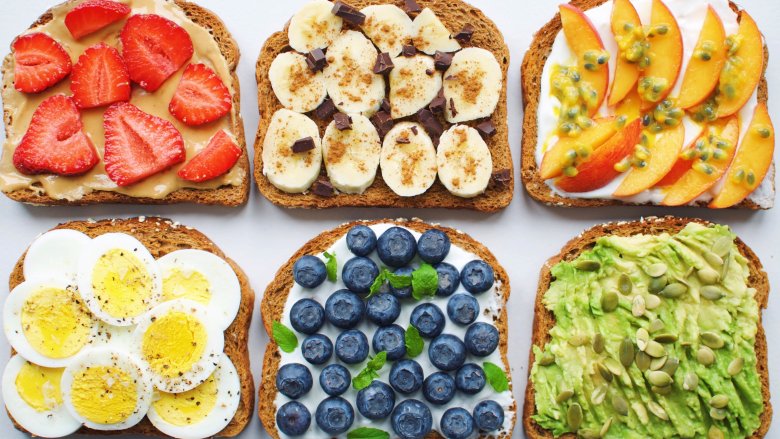 Shutterstock
Greek yogurt on toast? Yes, this is totally a thing. And once you've thought about all the dazzling possibilities it provides, Greek yogurt on toast may just become your new favorite breakfast, or even your four o'clock pick-me-up.
When you think about it, a nice, full-fat, plain Greek yogurt isn't a huge departure from other dairy-based toast spreads like butter or cream cheese. So with that idea in mind, decide if you want to go savory or sweet and then soak a lovely piece of toast with the stuff. Sweet options include a drizzle of maple syrup, sliced berries, honey and granola, or bananas with nut butter. If you're going savory, it could be as simple as some nice olive oil with sea salt, sauteed kale, or a spread of pesto sauce.
Egg-cellent eggs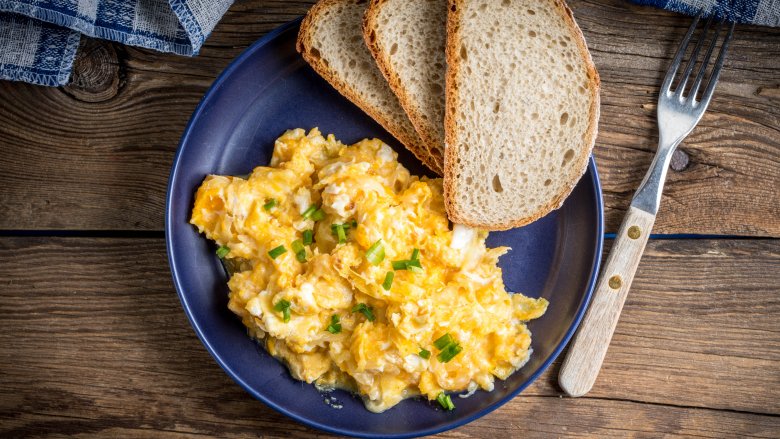 Shutterstock
By now you've figured out that there aren't many things that you can't add Greek yogurt to. Add scrambled eggs to the list. It certainly makes sense, since you've likely gotten into the routine of mixing a bit of milk, heavy cream, or even sour cream into your weekday scramble.
A tablespoon or two of plain Greek yogurt mixed with three eggs will deliver you the creamiest and fluffiest of scrambled eggs. Enjoy them as they are, or enhance the flavor with additions like chopped herbs, minced onion, or Parmesan cheese. Wrap it all up in a tortilla with some sliced tomato or avocado and you've got a healthy and satisfying breakfast to take on the go.
Devilishly good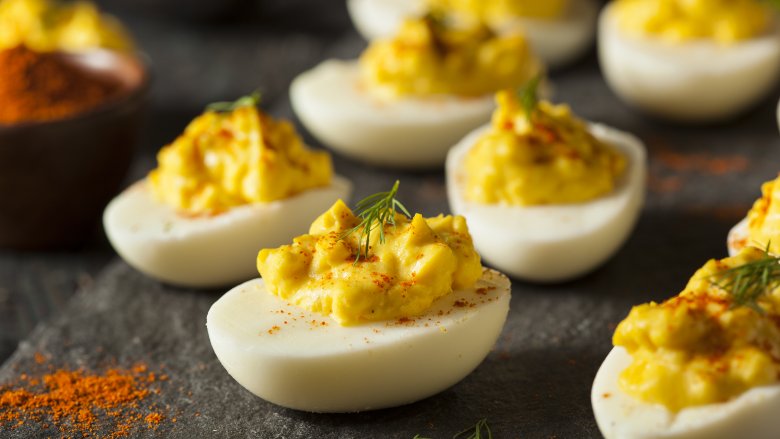 Shutterstock
Whether it's a game-day party, a holiday brunch, or a picnic in the park, deviled eggs fit in a lot of menus. The traditional recipe calls for the yolks of hard-boiled eggs to be mashed with mustard and plenty of mayo. If you prefer something a bit lighter, well, Greek yogurt to the rescue.
Mix the yolks of a dozen hard-boiled eggs with 2 tablespoons of a mustard like dijon. Add plenty of salt and pepper, and mix in 1 cup plain Greek yogurt. Give the mixture a taste and adjust the seasoning and mustard until it's just to your liking. You can now use the mixture to fill your egg whites, or give it more pizzazz with additions like hot sauce, minced fresh jalapenos, diced dill pickles, chopped red bell peppers, or crumbled bacon.
Oh, fro-yo!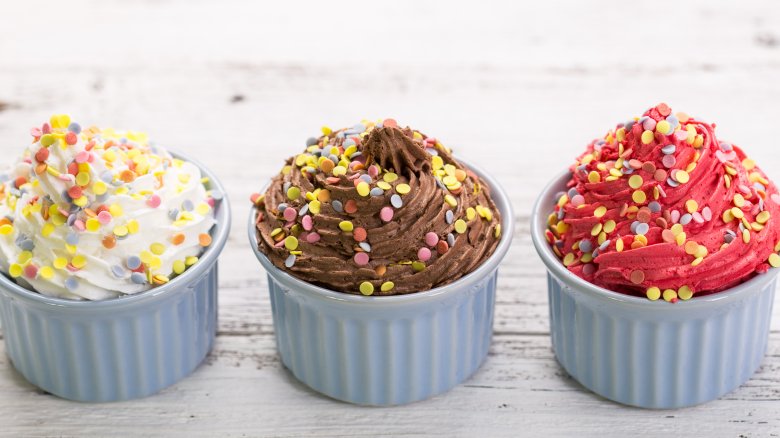 Shutterstock
You may think you'd need an ice cream maker to make a homemade frozen yogurt that would rival the kind you get at your favorite mix-in joint, but there's a far easier way.
For a really dynamite treat straight from your own freezer, add a quarter cup of Greek yogurt to a blender or food processor, along with 2 cups of frozen fruit. Add some honey or agave syrup (this is necessary not only for sweetness, but to ensure that you will have an easily scoopable treat) plus a half tablespoon of lemon juice. Blend for two or three minutes until nice and creamy. Transfer the mixture to an airtight container and freeze overnight. Experiment with flavors until you find your favorite. Want to get even more creative? Use the same mixture to make Greek yogurt popsicles for a cool and healthy treat in any season.
Whip it good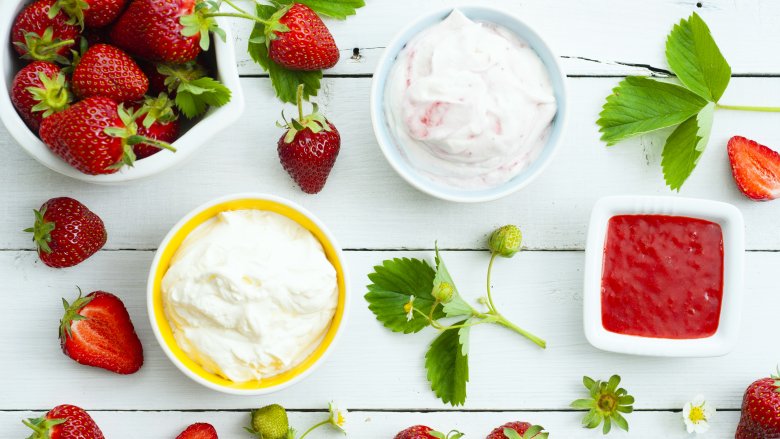 Shutterstock
Yes, you can whip Greek yogurt, and when it's added to a whipped cream, the results are going to be far healthier, a bit softer, and definitely lighter than your traditional whipped cream.
In the bowl of a stand mixer using the paddle attachment, add 1 cup plain Greek yogurt, along with three quarters of a cup of heavy cream. Sweeten it with 3 tablespoons of your choice of liquid sweetener like honey, maple syrup, or agave. Add a quarter teaspoon of vanilla extract and a pinch of salt, and you're ready to get whipped. Start out mixing it on low, then increase the speed gradually to high for a total mix time of about 5 minutes. Serve immediately, or store the mixture in the fridge up to one day.
Cheesy decadence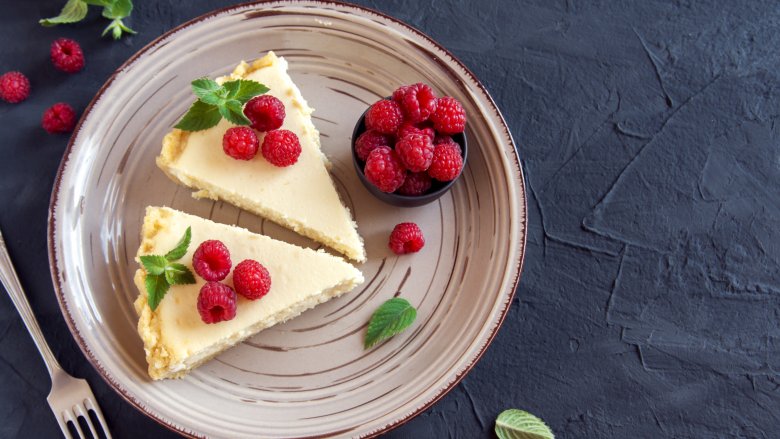 Shutterstock
Even a dessert as decadent as cheesecake can be lightened up with the addition of Greek yogurt.
In this recipe from Food Network, Greek yogurt is used alongside the traditional cream cheese and thickened with unflavored gelatin for a cheesecake that is lower on fat but not low on flavor or texture. It's even possible to make a "cheesecake" with no cheese at all. Elizabeth at Greek Yogurt Paradise makes her special "cheesecake" with Greek yogurt, almond milk, eggs, and a bit of cornstarch for a simple and healthy cheesecake with a traditional graham cracker crust.