Arby's Just Dropped A New Ranch 'N Swiss Roast Beef Sandwich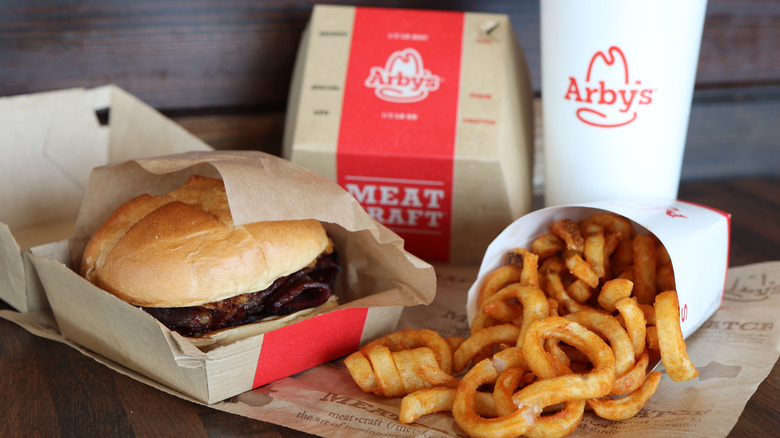 Deutschlandreform/Shutterstock
We all know that Arby's "has the meat" (for sandwiches), but yesterday, the chain had something else for its fans. In honor of National Sandwich Day on Thursday, November 3, the fast food joint gave its loyal customers something to think about when it asked a difficult question on its social media pages. "It's National Sandwich Day and you can only eat 3," read a post om the eatery's Instagram and Twitter accounts. It also offered followers nine options to choose from: the Real Country Style Rib sandwich, Diablo Chicken sandwich, Smokehouse Brisket, Chicken Bacon Swiss, Classic Beef N' Cheddar, Classic French Dip & Swiss, Double Roast Beef, Corned Beef Reuben, and the Greek Gyro.
Some, like Instagram user @babycryanimations, found it impossible to choose. "WHAT?! JUST 3?! IM OUTTA HERE," they commented, but for the most part, Arby's lovers were able to narrow down a trio of menu items to hypothetically munch on for the annual celebration of sammies. However, had the roast beef-slinging restaurant asked its fandom the same question today, they may have had a harder time settling on an answer. According to Chew Boom, Arby's just debuted a brand new sandwich on its menu, making it even tougher to select something to order from the chain.
The Ranch 'N Swiss Roast Beef Sandwich is on Arby's value menu
It's hard to beat the classics, which may be why several people opted to include Arby's classics, like the Beef 'N Cheddar and Double Roast Beef sandwiches, in their responses to the chain's National Sandwich Day question. However, if you consider ranch dressing to be the perfect addition to any meal, Arby's new Ranch 'N Swiss Roast Beef Sandwich may be for you.
Available now at participating Arby's locations nationwide, Chew Boom reports that this sammie features a serving of the eatery's thinly sliced roast beef, lettuce, Swiss cheese, and parmesan peppercorn ranch dressing on a toasted sesame seed bun. The saucy sandwich can be enjoyed à la carte or as a combo meal with some of Arby's famous curly fries. Additionally, the limited-edition handheld is also included on the chain's two-for-$7 Everyday Value Menu, along with mozzarella sticks and the buffalo crispy chicken sandwich (via Chew Boom).
Several foodies have already been able to get their hands on the new sandwich, including the YouTuber known as The Review. "Immediately I liked it, it's good. The ranch and the roast beef really go well together I think," he said during his on-camera sampling of the sammie, which he ultimately recommended others try. The Real Ones also enjoyed the entrée and was particularly fond of the parmesan peppercorn ranch. "If I'm an elitist about one thing it's ranch dressing...and this is a pretty good one," he said.