The Time Chick-Fil-A Asked Its Customers To Solve An Actual Crime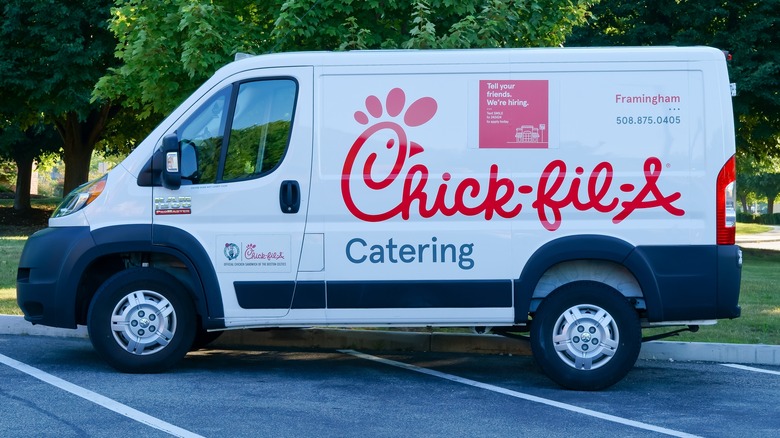 Yingna Cai/Shutterstock
Waffle fries, crispy chicken sandwiches, signature sauce, being closed on Sundays – the various things Chick-fil-A is famous for are well-documented. And who can forget the 2012 boycott of the chain that backfired, leading to what a Chick-fil-A spokesman called a "record-setting day," according to TribLIVE.com?
But what many people might not know about the "Eat Mor Chikin" eatery is that a location in Georgia once asked its customers for help in solving a theft. The Los Angeles Times says the crime happened at night on November 5, 2017. The item that was stolen? One of the restaurant's catering vans, taken from the Chick-fil-A parking lot in the city of Cartersville.
Although the suspect was caught on a security camera, and the police got involved, the man could not be immediately identified. And that's when Chick-fil-A had an idea. The owner reached out to the public via social media to ask for help in cracking the case, in exchange for what a superfan of the brand might consider one of the best rewards the chain could offer.
Chick-fil-A offered free food in exchange for an ID of the suspect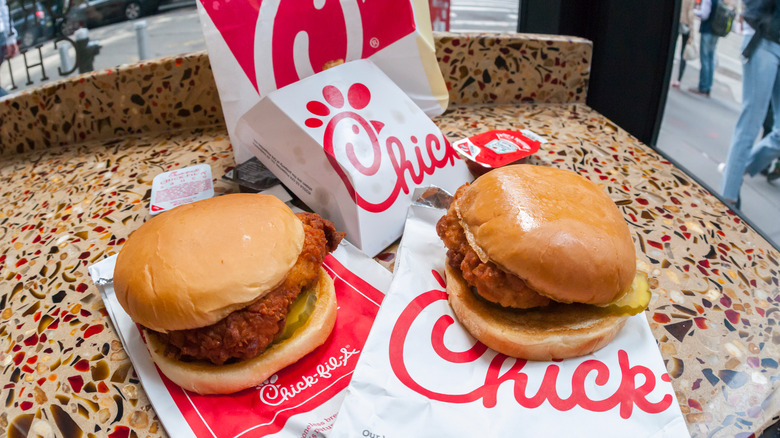 rblfmr/Shutterstock
A week or so after the van was stolen, a homeowner found it damaged and abandoned in his neighborhood, according to 11Alive. It had crashed, apparently damaging the homeowner's vehicle in the process. The suspect was still at large at that point. Chick-fil-A posted photos of the thief from the surveillance camera on Facebook, along with a plea for help.
Chick-fil-A promised to give a year of free food to the person who could identify the man in the photos if the man could be found and arrested. Did that mean free chicken sandwiches, chicken nuggets, fries, milkshakes, and anything else on the menu for an entire year? The reward offer didn't appear to mention any exclusions. SFGATE reported that the post was shared over 600 times within the first few days.
Now for the big question: Did anyone get the reward? Less than two weeks after the catering van was stolen, the suspect was identified and arrested, WSB-TV reported. Tips started pouring into the Cartersville Police Department after the Facebook post, and eventually, the thief was found. So yes, someone did get free Chick-fil-A for a year, but the restaurant stated that the details would not be disclosed, according to WSB-TV. Meanwhile, the rest of the country was left to wonder just how many days that "someone" went to Chick-fil-A for those next 12 months, and how much food (and beverages) they ordered.