A Cucumber Can Rescue Your Burnt Soup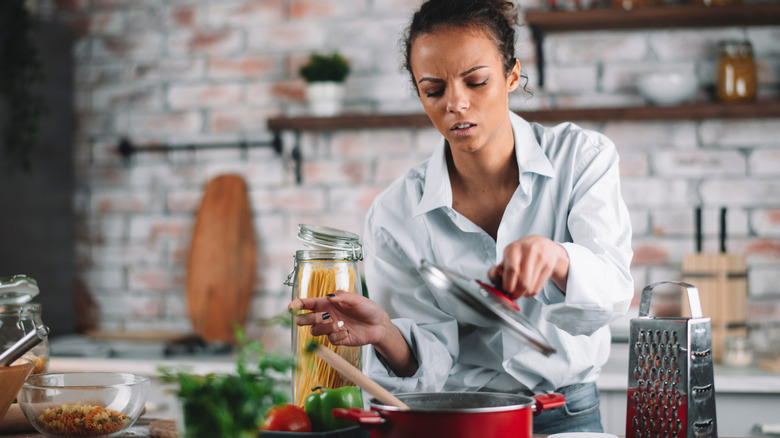 Just Life/Shutterstock
When savory aromas fill the air and the anticipation of tasting that delicious warm broth builds, preparing soup can be a rewarding experience. It can also be a crushing one in the unfortunate event that you forget to check the kitchen timer. Sadly, nothing ruins a pot of soup quite like a good scorching. Luckily, there may be a way to rescue soup that has been overcooked and burned.
One chef who knows how to rescue a soup that spent too much time on the flame is Fabrizio Schenardi. According to the Four Seasons website, Schenardi is the executive chef at the Four Seasons Resort Orlando at Walt Disney World Resort and has worked for the luxury hotel chain since 2010. As you can guess, he's made a lot of soup in his tenure. Included in his repertoire is a seafood-filled cioppino recipe. As the Italian-born chef told St. Louis Magazine, "My family in Liguria used to make it all the time for holidays and special events." Whether you overcook a soup you are preparing for the entire family or just for yourself, according to Schenardi, burning it doesn't have to result in throwing the whole dish out.
Cucumbers can come in clutch for otherwise ruined sauces and soups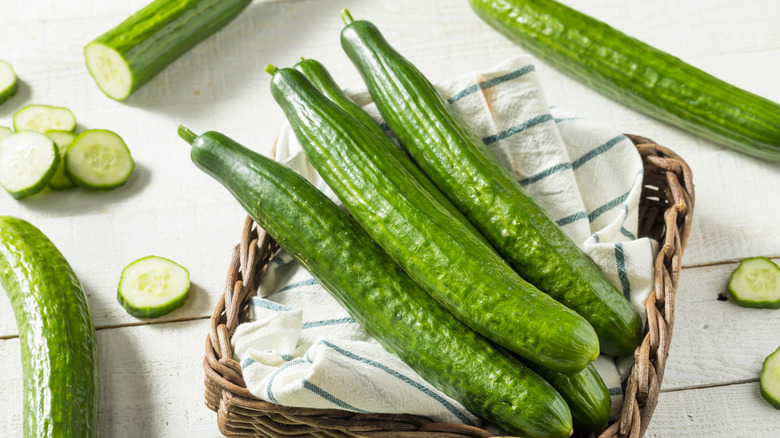 Brent Hofacker/Shutterstock
While crying over spilled milk may be acceptable, we'd hate to see you shed a tear over burnt soup as well. Since accidents happen to the best of us, if you happen to find yourself with some less-than-desirable, overcooked soup or sauce, don't despair. According to People, Fabrizio Schenardi recommends employing a cucumber to recover from scorches. 
Before grabbing that cuke, first you'll need to ladle or pour the cooked liquid into a new pot. Also, don't be tempted to scrape the charred bottom of the original pot — that bitter stuff is what you are trying to leave behind! If it happens to be a stainless steel pot you burned, when you are ready for clean up, Better Homes & Gardens suggests making a baking soda-and-water paste on the burnt part of the pot and scrubbing it with aluminum foil.
The cucumber comes in once your soup has been transferred. Schenardi advises, "Wrap an English cucumber in cheesecloth, crush it with the back of a knife, and drop it in the new pot" with the soup or sauce. The English cucumber should be left inside for 15 minutes to absorb the scorched flavor "like a sponge." Then, Schenardi recommends removing the cuke, simmering the soup, and seasoning as desired. Oh, and maybe don't burn it this time.