Ice Cubes Will Make Your Hummus Smoother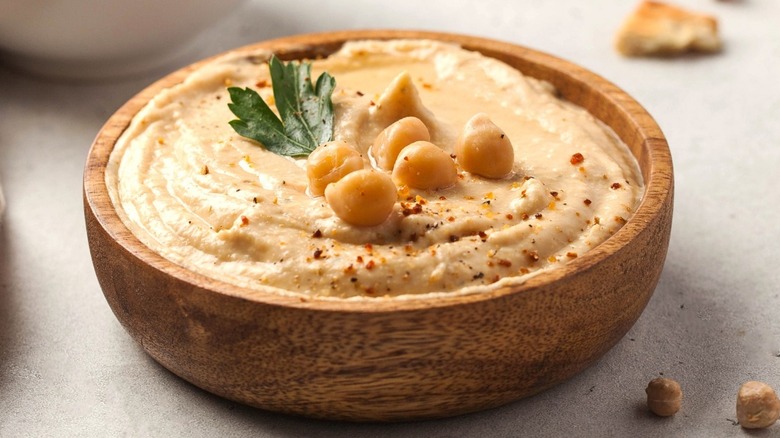 Victoria Popova/Getty Images
We may receive a commission on purchases made from links.
People love hummus because it's healthy, versatile, and tasty, according to Food Marketing Technology Magazine. Loaded with fiber, protein, iron, and other vitamins and minerals, conscious foodies of all ages seem to enjoy this chickpea-based spread.
Whether you're dunking your veggies in hummus, smearing it on a sandwich, or dolloping it over a salad, it's hard to argue with food that delivers on both taste and nutrition. However, if you're buying it in the store, you're likely to shell out almost $4 dollars for a 10-ounce container (per Target). Making it at home is a better value, Food52 reports, noting that you will pay more for ingredients up front if you choose to go the homemade route.
Chickpeas, lemon juice, garlic, and tahini — the most expensive ingredient — make up a basic recipe. Tahini, which retails at $11.28 per jar on Amazon, makes up a relatively small portion of the recipe, so you can make multiple batches before emptying the jar. Food52 points out that one can of chickpeas can transform into more than 20 ounces of hummus for an approximate cost of $5.41.
Making hummus at home is pretty simple, provided you have a food processor. But one chef's secret will ensure a smooth and creamy spread every time.
Creamy hummus depends on adding air to the mix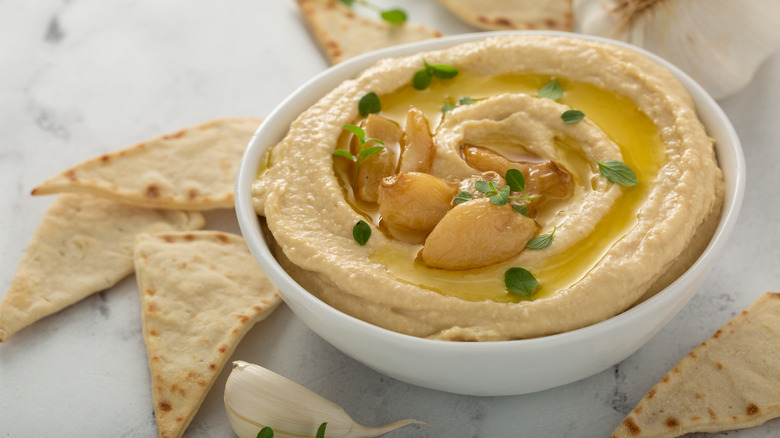 Elena Veselova/Shutterstock
Food52 calls homemade hummus "the gift that keeps on giving," for the holidays. Preparing hummus yourself doesn't require professional culinary skills, just a food processor and a few ingredients. If this is the route you choose, one way to ensure you get a smooth batch every time is to pop a few ice cubes into the food processor while you're blending up the ingredients (per EatingWell).
This works because the ice aerates the mixture as it blends. Experts recommend pulsing the hummus for at least several minutes in the food processor, tasting it for seasoning, and then blending some more. The longer the ingredients mix together, the more air will be incorporated, giving you a silky smooth texture.
It's important not to skip this step when making hummus at home because chunky hummus just isn't as satisfying as hummus that's creamy and dreamy. Another secret to achieving this texture is to add the ingredients to the food processor in a specific order, per Inspired Taste. Tahini and lemon juice should go in first and blend together for a minute or so before you add the rest of the ingredients.