We Tried Niagara Chocolates' New Holiday Flavors. These Sweet Treats Did Not Disappoint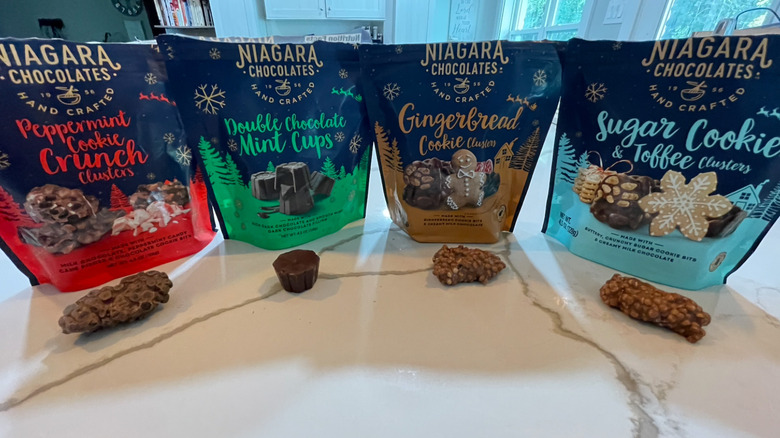 Mikala Lugen/Mashed
With the holiday season approaching, one thing that we can always count on is the plentiful arrangement of sweets. Honestly, it's what gets us through all those consecutive days with the whole family. As soon as the extended family members start asking about when you're going to get married or have kids, we're probably not alone when it comes to darting straight to the dessert table and keeping ourselves from answering those awkward questions by shoving some chocolate, cookies, or pie in our mouths.
When it comes to holiday chocolates, Niagara Chocolates has been a staple and sure-in choice to spice up the holiday dessert table since 1956. With its origins in Buffalo, New York, Niagara Chocolates has had the goal to create indulgent, simple chocolate with handcrafted processes, high quality, non-GMO and sustainable ingredients to make special occasions just that more sweet.
With over six decades under its belt, you can say that Niagara Chocolates knows the ins and outs of what makes a good piece of chocolate. Along with the company's classic year-round clusters, cups, chocolate bars, and sponge candy (if you know, then you know), its holiday and seasonal chocolate collections are something to be recognized. Just in time for this year's holiday season, Niagara Chocolates has launched its latest holiday chocolate collection.
Want to know all about Niagara Chocolates' new holiday chocolates and if they're worth trying? We tried them ourselves, and, yes, they were quite amazing.
What are the new holiday flavors?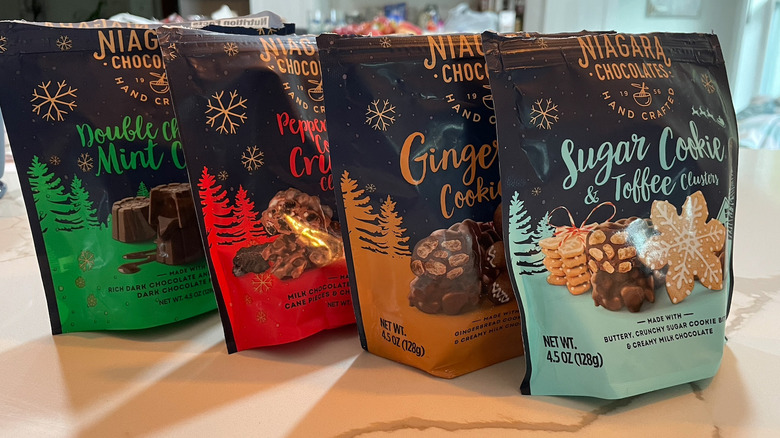 Mikala Lugen/Mashed
You can clearly tell that Niagara Chocolates took time in coming up with the year's holiday chocolate collection. The holiday flavors feature four new holiday-inspired tastes that are sure to find a liking to just about anyone's preferences. Chocoholics prepare yourselves; Niagara Chocolates' holiday flavors check off all of your chocolate dreams. The first one in the line includes Sugar Cookie and Toffee Clusters, infusing the flavors of both crunchy toffee and traditional sugar cookies with some smooth milk chocolate. Of course, what would the holidays be without some gingerbread cookies? Summoning the second holiday flavor: Gingerbread Cookie Clusters. Third in the holiday flavor roster features the classic flavors of peppermint candy canes in Peppermint Cookie Crunch Clusters.
Last but not least, for any chocolate lovers not wanting a crunchy treat, Niagara Chocolates has launched Double Chocolate Mint Cups for a refreshing, cooling dark chocolate treat. Just from the sounds of them, we're flooded with memories of baking cookies and being greeted into a warm home after trudging through several feet of snow during the holiday winter months, an honorary memory for anyone who lives in the Buffalo region where these are made.
While we tried Niagara Chocolates' four new holiday flavors, we wanted to mention that the company also offers Holiday Gift Boxes with its famed Milk Chocolate Peanut Butter Cups and Sea Salt Caramel Dark Chocolate Cups, Sponge Candy Gift Boxes, and Premium Nutcracker, Santa, and Turkey Foiled Chocolates.
How much do they cost and where can you buy them?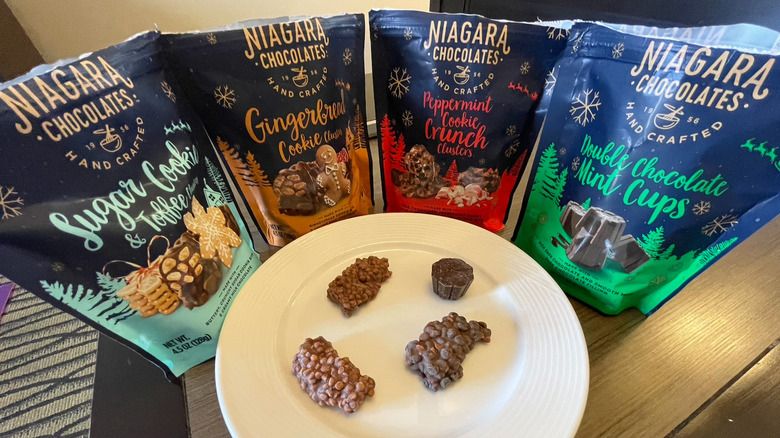 Mikala Lugen/Mashed
As a local business, you would think that you can only get these within the Buffalo region. That's not the case, though! You can actually use Niagara Chocolates' store locator on the company's website and find a store that sells local chocolates close to you. The holiday flavors will be available at select retailers throughout the country, including Safeway, Albertsons, Stop & Shop, Ingles, Food Lion, The Giant Company, Winco, Market Basket, ShopRite, Brookshire Brothers, Woodmans, Tops, Amazon, and Walmart. Niagara Chocolates are also available nationwide throughout the holiday season on Niagara Chocolates' website. Each holiday flavor comes in 4.5-ounce, resealable bags and is priced at $8.99 on the company's website.
You can also purchase the limited-quality Holiday Bundle 4-Pack on the company's website which features two packages of the Peppermint Cookie Crunch Clusters and two packages of the Double Chocolate Mint Cups for $30. Needless to say, they're the perfect size and price to add as a stocking stuffer, bring as a treat to a holiday party, or to munch on with family and friends as you take part in your holiday traditions.
What's the nutritional value?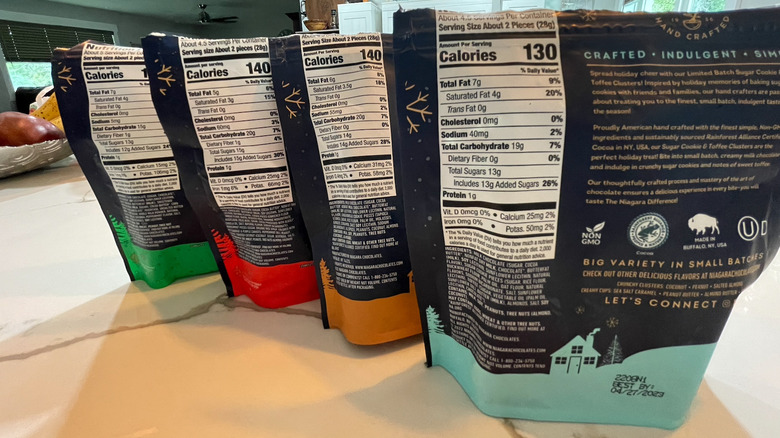 Mikala Lugen/Mashed
This is candy, so it's best to be transparent about its nutritional value. As much as we'd wish chocolate would contain mass amounts of immune-boosting vitamins and healthy components, it doesn't. When it comes to nutritional value, we hate to tell you that there isn't anything necessarily "healthy" about these. But hey, they are delicious (and more on that later).
What really sets these holiday flavors apart right off the bat from your traditional holiday candy aisle though is that all ingredients used are non-GMO and the cocoa is Rainforest Alliance Certified, meaning the products were "produced by farmers, foresters, and/or companies working together to create a world where people and nature thrive in harmony," (via Rainforest Alliance).
Each 4.5-ounce bag contains 4.5 servings per bag, with the exception of the Double Chocolate Mint Cups with five servings per bag. Each serving size equates to two pieces of chocolate, so you can totally treat yourself to a couple without a second thought. Even better is that each serving ranges between 120 to 140 calories, but also takes up close to 30% of your daily sugar intake. Each serving size actually does hold fair amounts of calcium, iron, potassium, and protein, so you're still giving your body trace amounts of nutrients by eating chocolate. We call that a major win! All of the holiday flavors also contain traces of milk, soy, peanuts, and tree nuts, with the possibility of eggs.
How do the Sugar Cookie & Toffee Clusters taste?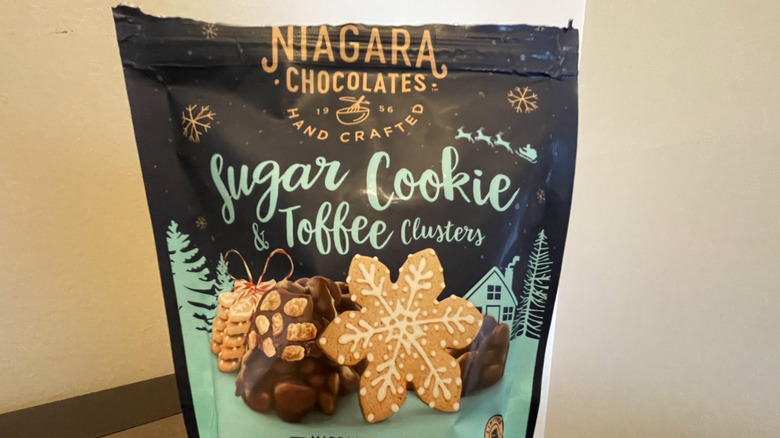 Mikala Lugen/Mashed
With a name like this, let's just say that we were overly excited to try these. Anything combining chocolate, sugar cookies, and toffee and we'll be there ASAP. Because of the name alone, these were the first ones we tried — and it set the bar extremely high. What surprised us was the perfect size of these clusters; not too big, but not too small. You can really take two or three bites out of each cluster, making you feel like you're getting your money's worth. The Sugar Cookie & Toffee Clusters do indeed have a great crunchy taste to them, similar to that of a Nestlé Crunch Bar, but better.
Each cluster overall has a strong toffee taste to it with the crunch of the sugar cookies without being overly sweet. With the toffee flavor being very detectible, it can almost overpower any sugar cookie flavor but it's still noticeable with the cookie crunch. This was definitely our favorite among the whole bunch and perfectly captures the holiday spirit and flavors we all know and love.
How do the Peppermint Cookie Crunch Clusters taste?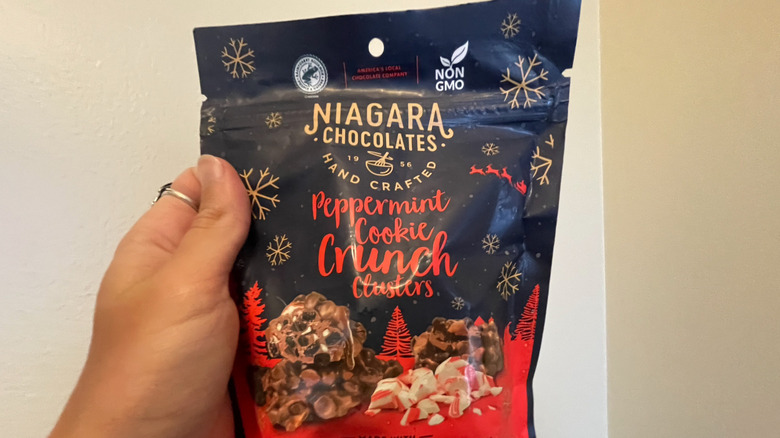 Mikala Lugen/Mashed
Listen, we're going to be upfront here. We actually hate the taste of mint. Don't ask us why, but ever since we were a child, mint just hasn't jived with us. We love all things sweet and chocolatey, but if it has mint in it, we almost always pass. When it came to tasting Niagara Chocolates' Peppermint Cookie Crunch Clusters, of course, we gave them a try. And as someone who doesn't like the taste of mint, they were actually pretty dang good. These clusters seem to have slightly bigger cookie crunch clusters than the Sugar Cookie & Toffee Clusters.
Once taking a bite, you're greeted with a perfect mix of chocolate cookie crunch and peppermint. The reason why we hate mint in food is oftentimes it can be too overbearing or taste like toothpaste. With these, they hold a subtle peppermint taste, which makes sense with the little pops of peppermint candy hidden throughout the clusters. Honestly, with the chocolate peppermint crunch consistency, we were instantly reminded of Girl Scout's famed Thin Mint cookies. Imagine those, but better and in chocolate candy form. After more investigation, we actually found that these clusters were a Most Innovative New Product Award Finalist at the 2022 Sweets & Snacks Confectionery show, and we now understand why. If you're looking for the next best chocolate peppermint candy for the holidays, these win first prize.
How do the Gingerbread Cookie Clusters taste?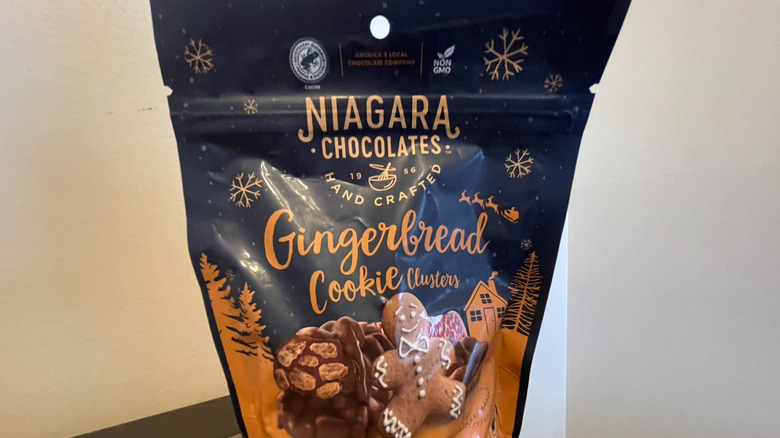 Mikala Lugen/Mashed
As the third and final of Niagara Chocolates' holiday cookie clusters, we were also very excited to try these. If you grew up making gingerbread cookies or gingerbread houses with your family growing up, these Gingerbread Cookie Clusters will be a hit. The creamy milk chocolate paired delightfully with the gingerbread cookie pieces in each cluster. Similar to the Peppermint Cookie Crunch Clusters, the gingerbread flavor wasn't overpowering at all, but the spice level was a little overpowering, specifically the nutmeg. Another thing we noticed was after eating a whole piece, there was almost a chalky aftertaste to these clusters. To test this, we had another Sugar Cookie & Toffee Cluster, and didn't have the same aftertaste effect.
It could be due to the more crumbly consistency of the gingerbread cookie pieces, but it does leave somewhat of a dusty, chalky taste in your mouth afterward. It didn't taste bad, it just felt kinda weird. Regardless, the taste of the chocolate gingerbread paired well with the milk chocolate and definitely sums up the classic flavor in a fun candy for the holidays.
How do the Double Chocolate Mint Cups taste?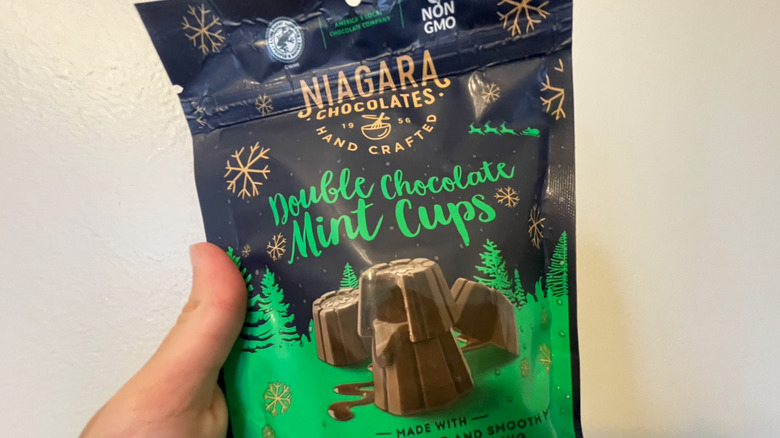 Mikala Lugen/Mashed
As the only non-cluster holiday chocolate, these cups were last on our list to try in order to get the full effect. Again, while mint is favored among many people when it comes to candy, we're just not that into it. Still, though, we were happy to see a dark chocolate offering in Niagara Chocolates' holiday collection so we gave it a go. What a surprise these were compared to the clusters! The Double Chocolate Mint Cups are perfectly bite-sized so you can delicately bite one in half if you want to see what's inside, or pop the whole thing in to burst in your mouth.
While you might expect a white or green filling for the mint taste — similar to Junior Mints – it was actually velvety dark chocolate mint cream in the middle. It wasn't runny at all and stayed in place when biting into it halfway. It definitely packs more of a mint flavor than the Peppermint Cookie Crunch Clusters, but in a good way! It is indeed rich, and you can probably only eat a couple at a time before filling up on the rich, mint dark chocolate. As someone who doesn't like mint, we can definitely see how these would be likened to a holiday candy offering for the sweet, cool mint flavors with decadent dark chocolate.