Easy Preserved Lemons Recipe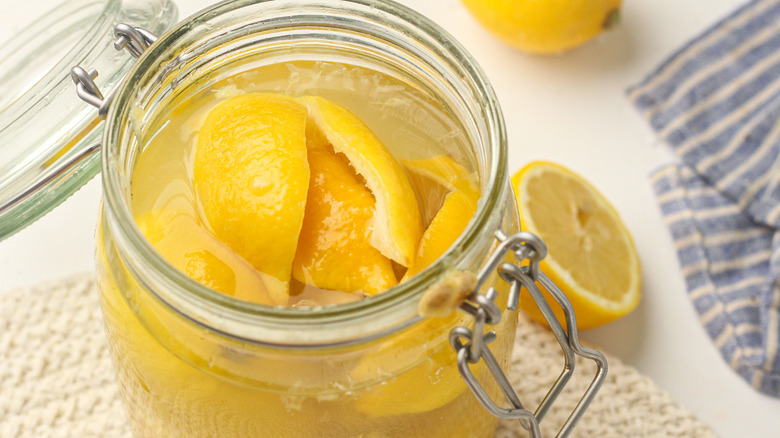 Susan Olayinka/Mashed
If you've never heard of preserved lemons, then you may be wondering why you should bother transforming the citrus fruit from its natural state. This tangy ingredient is a noteworthy feature of many North African and Middle Eastern dishes, as The Washington Post reports, and with good reason. Recipe developer Susan Olayinka from The Flexible Fridge shares an easy recipe for preserved lemons, and raves that "they add a bright, acidic flavour that can liven up a dish." She adds, "to think you can easily make them at home with just a few ingredients is great."
Unlike a standard lemon, she describes that, "The taste of preserved lemons is salty, sour, and slightly sweet." You won't be biting into a chewy rind either, as they soften throughout the process leaving a pleasant aroma and flavor. While you probably won't find yourself snacking on this tasty ingredient, Olayinka comments that preserved lemons are incredibly versatile and notes, "they can be used in so many different dishes."
Gather the ingredients for this preserved lemon recipe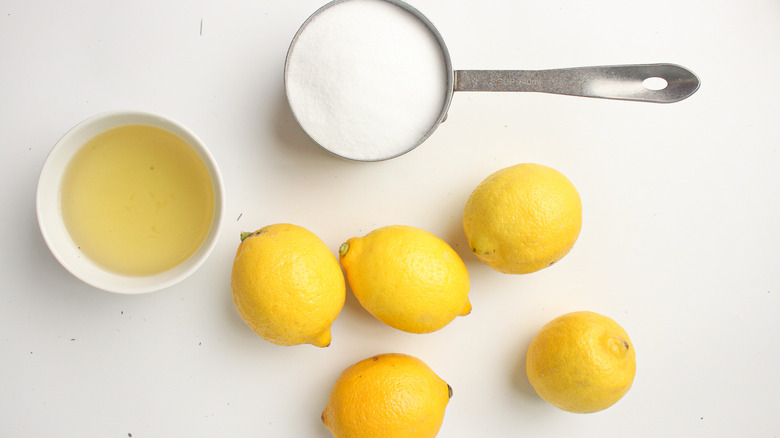 Susan Olayinka/Mashed
The ingredient list is short and sweet ... or salty and sour in this case. You'll need five lemons, and Olayinka emphasizes that "the key to making good preserved lemons is to use fresh lemons." You'll also need ¾ cup of kosher salt and 1 cup of lemon juice. 
Once you take a liking to this delicious ingredient, Olayinka recommends some fun ways to adapt the recipe. She suggests, "For example, you could try using limes or oranges in place of the lemons. You could also add spices like cloves, cinnamon, or bay leaves to the jar for extra flavor. Finally, you could experiment with different types of salt to see what you like best."
Start by prepping the lemons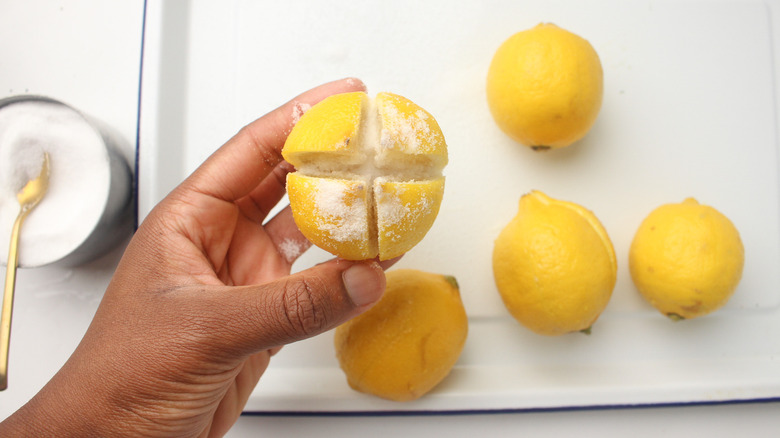 Susan Olayinka/Mashed
Make sure your lemons are rinsed, then set out a cutting board. Using a sharp knife, slice a cross into the surface of each lemon without going all the way through. They should open up but remain whole. Stuff each of the five lemons with ⅛ cup of kosher salt.
Next, transfer the lemons to a jar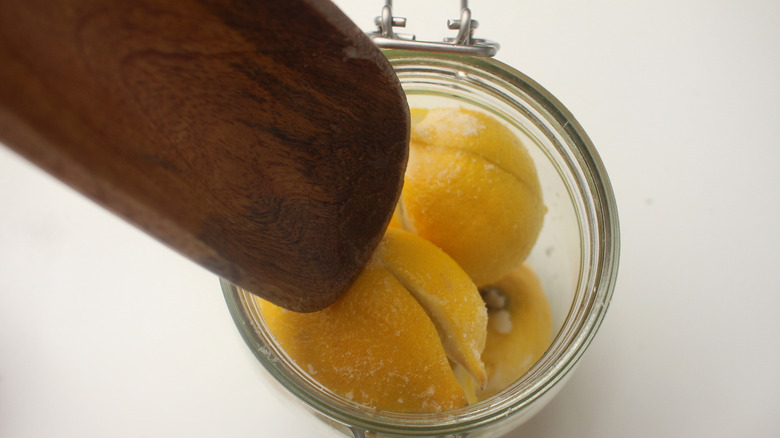 Susan Olayinka/Mashed
Now, transfer the lemons to a jar that's large enough to fit them all. Using the end of a rolling pin or blunt object, smash the lemons to flatten them and release any air bubbles. 
Then, cover them with 1 cup of lemon juice ensuring that the fruit is entirely submerged. Olayinka explains that this a key step "to prevent them from going bad." Finally, top the lemons and juice with the remaining ⅛ cup of kosher salt.
Move them to the refrigerator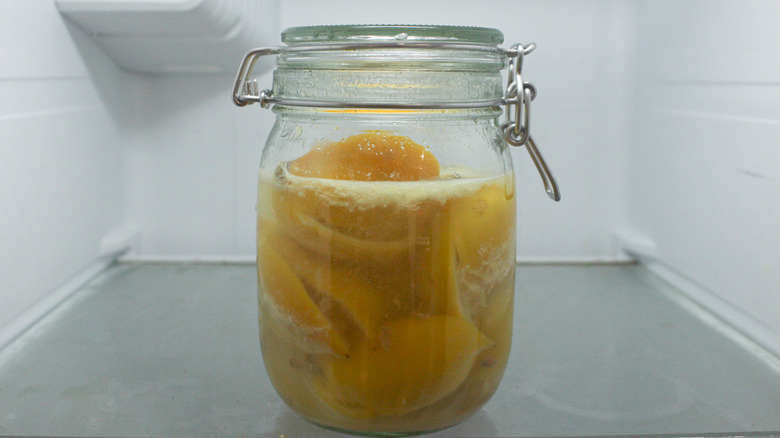 Susan Olayinka/Mashed
Properly seal the jar with an airtight lid and leave it at room temperature for three days. Give the jar a shake once a day to help the salt fully dissolve. 
After three days, transfer the jar of preserved lemons to the fridge and let it sit for at least three weeks. As long as they remain submerged in juice, Olayinka says "preserved lemons will last for up to six months in the fridge."
Use preserved lemons to add a punch of flavor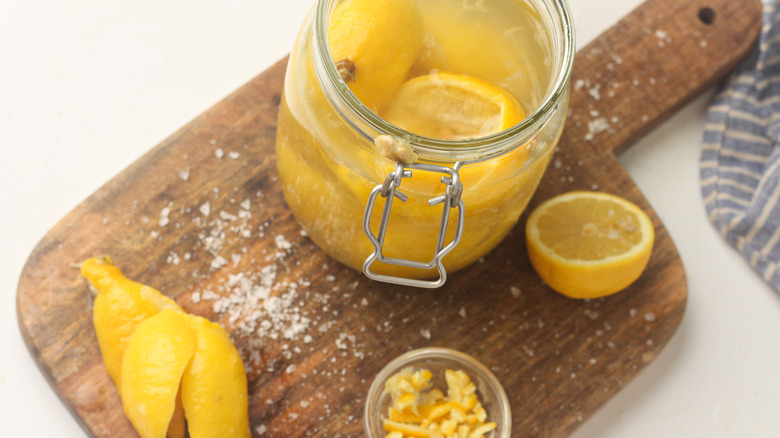 Susan Olayinka/Mashed
After three weeks you can start experimenting with your preserved lemons. Give them a quick rinse to eliminate excess salt then incorporate them into recipes as you please. Olayinka shares, "I love to add them to salads, soups, stews, pasta dishes, and even desserts," and adds, "really the possibilities are endless." Slice them thinly for a subtle yet noticeable tangy punch.
Easy Preserved Lemons Recipe
These easy preserved lemons do take some time to make, but they're incredibly versatile and will add tangy flavor to stews, grain dishes, dressings, and sauces.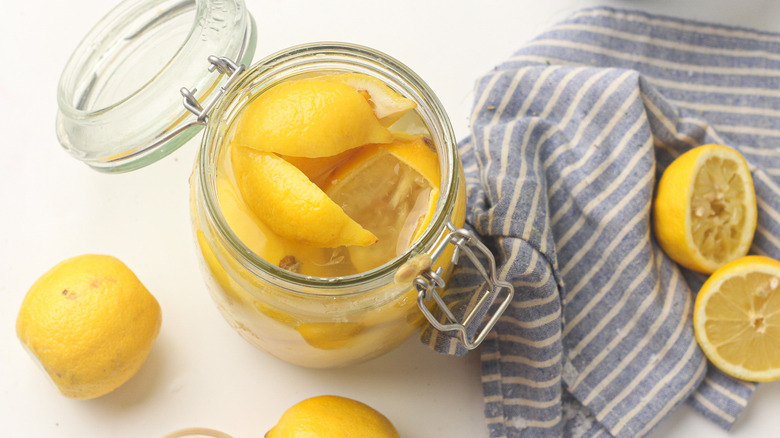 Total time: 504 hours, 15 minutes
Ingredients
5 lemons
¾ cup kosher salt
1 cup lemon juice
Directions
Carefully slice a cross into each lemon, without cutting all the way through.
Next, stuff each lemon with ⅛ cup of kosher salt.
Place the lemons in a jar.
Apply pressure to the lemons with the end of a rolling pin to smash them and release any air bubbles.
Cover the lemons with lemon juice and make sure they are entirely submerged.
Top the contents with ⅛ cup of salt.
Seal the jar with a lid and let it sit at room temperature for 3 days, shaking it once a day.
After 3 days, move the jar to the fridge and let it sit for at least 3 weeks.
After 3 weeks, the preserved lemons are ready.
Rinse the lemons in cold water, then use as desired.
Nutrition
| | |
| --- | --- |
| Calories per Serving | 27 |
| Total Fat | 0.3 g |
| Saturated Fat | 0.0 g |
| Trans Fat | 0.0 g |
| Cholesterol | 0.0 mg |
| | |
| --- | --- |
| Total Carbohydrates | 8.8 g |
| Dietary Fiber | 1.8 g |
| Total Sugars | 2.7 g |
| Sodium | 248.4 mg |
| Protein | 0.8 g |