Pop-Tarts Is Giving Away $15k For The Best Gingerbread House To Celebrate Its Returning Flavor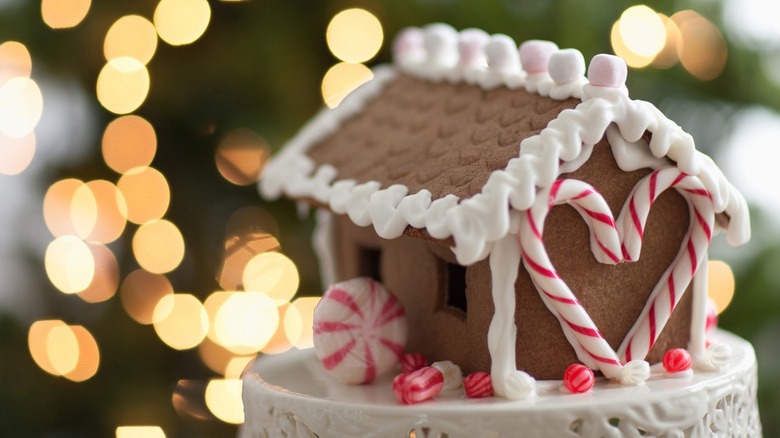 Tom Merton/Getty Images
Without the help of a kit, gingerbread house construction requires equal parts baking expertise and architectural knowledge. Even if you're confident in your go-to gingerbread cookie recipe, that won't necessarily help you with this holiday-season rite of passage. Per King Arthur Baking, gingerbread for houses (or structural gingerbread) is not generally meant to be eaten once baked. Structural gingerbread has to be dense enough to hold up beneath the weight of royal icing and candy decor, but if you still plan to chow down on your final creation, the baking authority says you'll want to add extra cinnamon and sugar to improve the taste of the flour-rich cookies.
If plain, super sturdy gingerbread sounds less than appealing for your holiday snacking, Pop-Tarts has another idea for your house-building that ditches the gingerbread entirely. This year, the brand is hosting a festive competition that will award $15,000 to whoever engineers the best "gingerbread" structure made of the beloved breakfast pastry.
You can use gingerbread Pop-Tarts, which are finally back on shelves
Folks wanting to jazz up their gingerbread house traditions (and save time on baking) can look to Pop-Tarts this year for inspiration. According to a press release, the brand's gingerbread house competition celebrates the return of gingerbread Pop-Tarts, which haven't been available in almost 10 years. The gingerbread toaster pastry has white frosting and features nine different designs. While gingerbread Pop-Tarts can now be found in stores next to their non-seasonal counterparts for $4.19, those interested in joining the contest don't necessarily have to buy boxes of the pastries; the contest rules also allow for a "no purchase necessary entry" of an illustrated Pop-Tart house.
Those who do decide to submit their epic gingerbread structure for the chance to win $15,000, though, have until December 16 to post a photo of their creation with the hashtag #GingerbreadPopTartEntry, tagging @poptartsusa. To kick off the contest, Pop-Tarts partnered with Zillow to create a Pop-Tarts Gingerbread Lodge that's located on Kellogg's Square in Wild Berry Woods. The lodge is a four-bedroom, two-bathroom, 35 square-foot farmhouse complete with a "handspun Eggo Frosted Maple Flavor area rug" and an "Edible Frosted Cherry sofa" — showing there may be more possibilities than you thought when constructing your own Pop-Tarts home.