Elton John Is Celebrating His Farewell Tour With A Vegan Fast Food Collab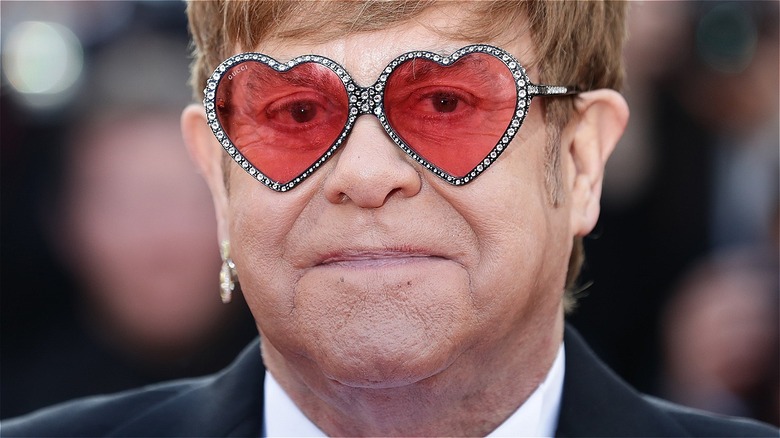 Vittorio Zunino Celotto/Getty
Pretty much everyone has heard of singer and superstar Elton John, whether you know him from his catchy songs or his incredible charity work. He was fairly unknown until he performed eight shows at the popular rock club Troubadour in Los Angeles the week of August 25, 1970, per the Los Angeles Times. Since then, John has become arguably "the most successful solo male in the history of the American charts and the third most successful artist overall," according to his website bio. He's earned one diamond album, 32 platinum and multi-platinum albums, and 21 gold albums over his music career and countless awards, and now he's going on one last world tour.
"Farewell Yellow Brick Road" kicked off in Pennsylvania in September of 2018, but it came to a halt due to the Covid-19 pandemic, according to AP News. Thankfully, John was able to continue his farewell tour in New Orleans in 2021, and he's been making his way around the United States since then. After his final North American show on November 20, 2022, John will travel to Australia, New Zealand, Britain, and the rest of Europe, with his farewell tour ending in Sweden. Since Los Angeles is where John got his start, that's where he wants his last shows to be. To celebrate his final tour, John teamed up with a California-based vegan fast food chain for a meal that's inspired by the iconic singer himself.
This meal includes 'tiny dancer' lemonade and bright blue ranch
John is celebrating the final North American shows of his last world tour in a very delicious way. John joined forces with Monty's Good Burger, a vegan chain with five locations in Southern California, to create a limited-edition meal inspired by the singer's distinct fashion choices and vibrant personality, per VegNews. 
It's called the Monty's Loves Elton meal, and it comes with a vegan cheeseburger and a "tiny dancer" drink to wash it down — AKA "pink lemonade with edible sparkles," the restaurant announced on Instagram. Also included in the $24.99 Happy Meal-esque cardboard box are a side of halt tots and half fries with electric blue ranch dressing, plus a sugar cookie with colorful sprinkles. The vegan chain also made a limited-edition Glitter Glasses milkshake inspired by John's easily recognizable sparkly shades, and it's an English toffee flavor that's made with vanilla oat milk soft serve and edible glitter, sold for $9. 
John may be Montys' biggest coup of a celebrity collaboration yet — and the chain is no stranger to partnering with stars, particularly musicians, according to The New York Times. Other celebs who have done custom milkshakes with Monty's include Finneas, Brockhampton, and Vince Staples.