Ree Drummond's Favorite Way To Dress Up Roasted Veggies
You may think enjoying fruit is out when winter is on the horizon. Though this season is commonly associated with warm foods, such as soups and roasts, fruits can still totally be enjoyed during the colder season. With snack plates such as charcuterie boards coming into massive popularity in recent years, having fresh fruit such as grapes and berries sprinkled among the more savory options adds a pop of color and loads of refreshing flavor.
Celebrity chef Ree Drummond is also an advocate of adding sweeter flavors to typically umami ordinary dishes. For example, Drummond's chicken salad recipe typically includes brown sugar. While many people might find this odd, it appears to go great with the combination of chicken, ​​chopped celery, chopped green onions, and sliced grapes — which also balances out the saltier elements in this recipe. So it is no surprise that in her roasted veggies recipe, Drummond also has an unexpected, fruity twist up her sleeve.
Pomegranates elevate any simple veggie dish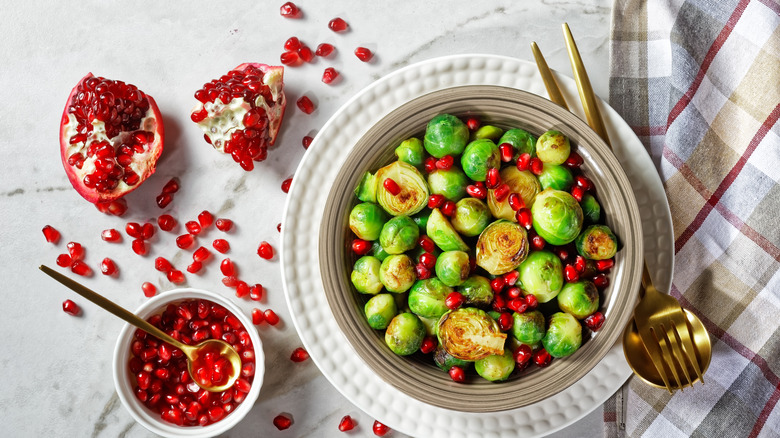 from my point of view/Shutterstock
For Ree Drummond, adding pomegranates as a topping to her roasted veggies takes the dish to an entirely new level. The Pioneer Woman shares some ways that the cookbook author enjoys adding the superfood to many dishes. Though many of her suggestions came in the form of beverages, one meal that stood out was the Pioneer Woman's recipe for roasted Brussels sprouts with pork belly and pomegranate.
Though Brussels sprouts are typically known for their bitter taste, Drummond brightens the dish with maple syrup. When the sweet pomegranate seeds are added, they combine nicely and add texture to the dish. In addition, she also adds a drizzle of pomegranate molasses, as a sort of dressing and an extra pop of flavor. According to Epicurious, pomegranates are at the peak of their season from October to January so can be a great way to heighten your roasted veggies during the winter.