Duff Goldman Is Ending The Chocolate Chip/oatmeal Raisin Divide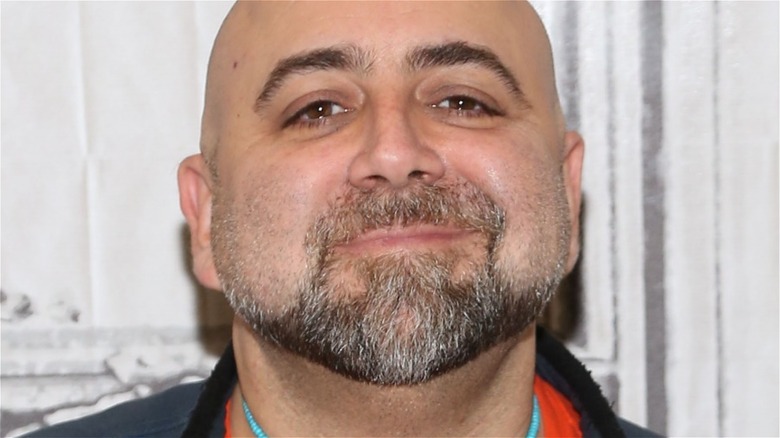 Manny Carabel/Getty
When it comes to eating desserts on the go, it's hard to top the humble cookie. Whether you want to buy one from a place like Crumbl or Insomnia Cookies or whip up a homemade batch from scratch, your sweet treat will likely be affordable, delicious, and fairly mess-free (minus a few crumbs here and there).
While there are so many things to love about cookies, one of the best parts is undoubtedly the variety of flavors. From snickerdoodles and sugar to macarons and gingerbread, the cookie world is truly your oyster. While some people like to switch it up now and again, most people have a favorite flavor that stands above all the rest. For instance, many people fall on one side of the age-old debate between chocolate chip cookies and oatmeal raisin cookies. While some prefer the chewier, healthier oatmeal raisin cookie, others are chocolate chip cookie lovers through and through (via Wild Grain). To help bridge the gap between the oatmeal raisin and the chocolate chip stans of the world, baker and Food Network star Duff Goldman has come up with the perfect solution — and it's simpler than you might think.
Duff Goldman's 'truce cookie' is the perfect way to appeal to all taste buds
Rather than combining chocolate chips, oatmeal, and raisins all into a loaded bowl of cookie dough, Duff Goldman has figured out a more creative way to blend the two famous cookie combinations. The Detroit native explained his solution for a chocolate chip oatmeal raisin recipe on a broadcast with First Coast News.
"So I teamed up with Sun-Maid, and we came up with the truce cookie," the "Kids Baking Championship" host revealed. To create the "truce cookie," Goldman starts off by making two separate batches of chocolate chip cookies and oatmeal raisin cookies. Right before the cookies are ready to go in the oven, the baker cuts one sphere of oatmeal raisin dough in half and one sphere of chocolate chip cookie dough in half. "And then you take the two halves and stick them together and bake them like that," Goldman continues. "Half oatmeal raisin, half chocolate chip, all delicious." Ingenius!
The "First Coast News" host applauded the idea, comparing the creation to the black and white cookie. If you are baking for a group with warring taste buds, Goldman's "Truce Cookie" recipe is available online (via Sun-Maid). The best part? It takes less than an hour to whip up a batch of these sweet treats.