Out Of Restaurant: Impossible Critiques, This One Hit The Hardest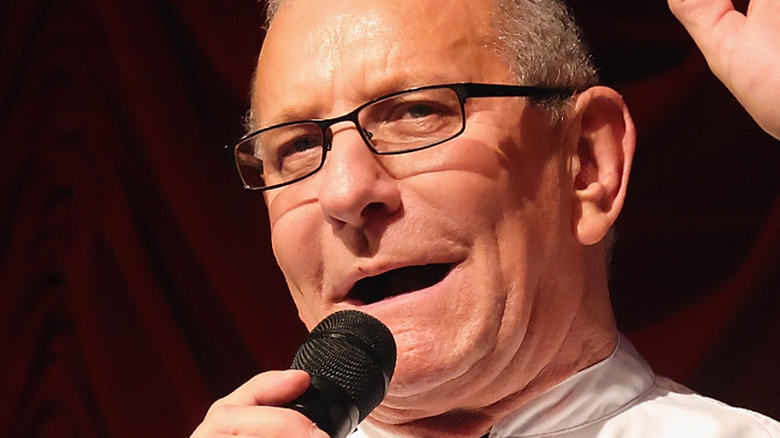 Taylor Hill/Getty Images
Learning how to take criticism can be a tough skill to acquire. One strategy is to not take those critiques too personally. When receiving some hard-to-swallow feedback, the Harvard Business Review recommends applying the criticism to your role rather than to yourself. Of course, if your role happens to be pouring your heart into a restaurant daily, it may be difficult to separate the two.
With the goal of rescuing otherwise doomed restaurants, chef Robert Irvine has certainly doled out his fair share of criticism on "Restaurant: Impossible." It may be easy to see why some of his feedback could have been taken personally by staff members. Take, for example, the time he visited Paliani's Restaurant in Burton, Michigan, and told the staff, "You should be ashamed of yourselves" (via Michigan Live). Or what about when he went so far as to denounce the Dinner Bell Restaurant in Madison, Tennessee by saying, "This has got to be the most desperate restaurant I've ever been to" (via Food Network)? As expected, some restaurant staff members have been more open to Irvine's advice than others.
In one episode, a couple who owned a restaurant together took Irvine's criticism especially hard. According to AOL (via Yahoo! Finance), Irvine has said the "Restaurant: Impossible" episode filmed at MaMa E's Wings & Waffles had "more arguments, more crying, more walk-offs, more hatred, than any show [he's] ever done."
The couple from MaMa E's had big reactions to Irvine's critiques
Things got more than a little heated in Oklahoma City when Robert Irvine showed up at MaMa E's Wings & Waffles, per AOL (via Yahoo! Finance). Of course, some of that emotion was likely a result of Irvine's heavy-handed criticism. It's probably not every day that restaurant owners are told, "This is the worst restaurant I've ever seen in my life."
As Irvine's website explains, in the episode Irvine visited Keith and Stephanie Patterson's second restaurant in 2014, five years after Guy Fieri gave the couple's first location accolades on "Diners, Drive-Ins, and Dives." Unimpressed with what he observed, Irvine referred to the restaurant as a "pig sty" and even delved into the couple's marital issues. At one point Keith said, "I don't care who you are, you won't disrespect me," and left the set.
Emotions aside, when cameras are rolling, it might be prudent for restaurant owners to keep in mind potential customers could be watching. On Reddit, someone who saw the episode revealed, "Robert Irvine had no complaints on the food but the episode made me dislike the owner so I've never returned." Ultimately, the second location of Mama E's closed (via OK Gazette), but from the looks of its Facebook account, the restaurant is operating as "Mama E's Soul Food" in a new spot and serving comfort food like fried chicken, oxtail, and black-eyed peas.