You Can Actually Visit The Vineyard Featured In The White Lotus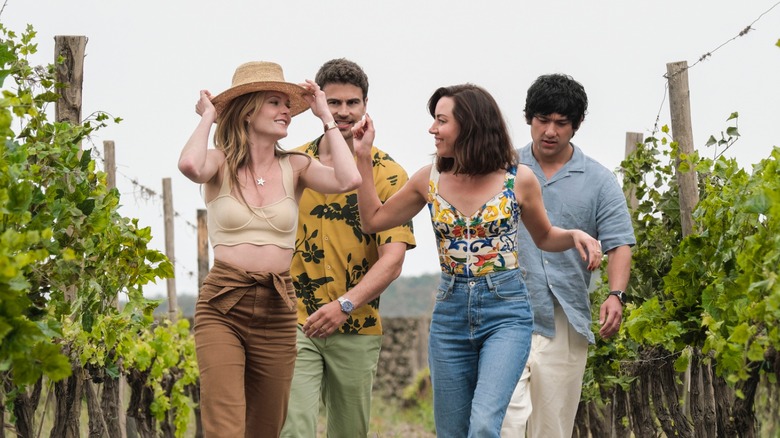 HBO
We all have our bucket list of places that we'd love to visit and you've probably added Sicily as a priority travel destination after watching this season of "The White Lotus." The breath-taking scenery of the surrounding landscape, the deep blue of the Ionic sea, and ancient architecture are enough to build a travel-craving in even the most unromantic of souls. 
For those unfamiliar with the quirky HBO dramedy, the setting is a chain of hotels called "The White Lotus." Season 1 was set in Hawaii and filmed on location during the pandemic at Maui's Four Seasons Resort. The story follows characters from various demographics, classes, and personality types as they deal with the emotional messiness that comes with being human. Writer Mike White told Vanity Fair that he was really hoping to film more seasons of the show in other locations with a brand new set of characters. 
Season 2 takes place in the toe of Italy's boot, Sicily. Like many shows filmed on location, it provides an international awareness to the beauty and culture of a place, helping you choose (or just dream about!) your next travel destination. Each episode seems to reveal something more about Sicily than the last. In Episode 5, characters Harper (Aubrey Plaza), Ethan (Will Sharpe), Cameron (Theo James), and Daphne (Meghann Fahy) visit a picturesque winery where Harper indulges just a little too much and starts to say things she may regret. 
Planeta Winery sits at the foot of an active volcano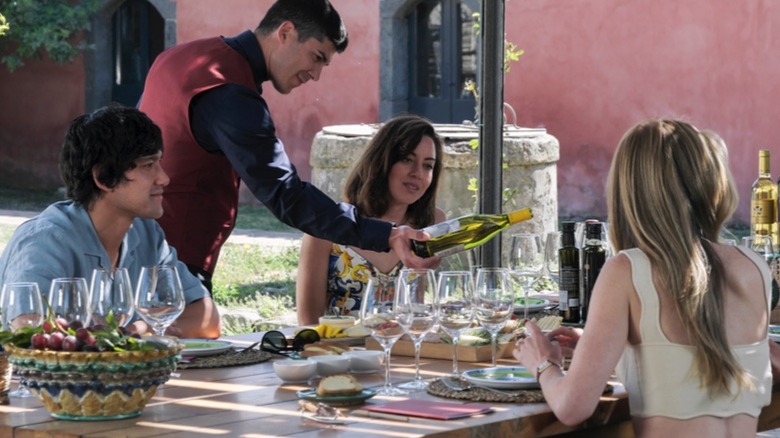 HBO
Unlike the first series, audiences are seeing a lot more of what this new Sicilian location has to offer. Filmed on the northeast coast in San Domenico Palace, Taormina — another Four Seasons Hotel built within the confines of what was once a 15th-century monastery, audiences may be thinking that nothing could be better than a resort that is not only steeped in history but offers delicious food and a beach and pool at your doorstep, as well as views of Mount Etna and a Roman amphitheater, per Condé Nast Traveller.
What about the winery where the two couples dined al fresco surrounded by sunshine, grape vines, the sound of birds, and a table laden with antipasto and numerous wine samplings? You can add that to your itinerary, too (via Elite Daily). The Planeta Sciaranuova Winery is situated at the foot of the active volcano Mount Etna and offers a number of different tours where you can sample the flavors of wines, bread, and cheeses that have been crafted in the region. The winery says that the unique volcanic makeup of the soil influences the flavors of everything that is produced there and their tours showcase everything the region has to offer. 
If you do happen to visit and partake of all that is offered, hopefully your experience won't be filled with as much drama as the "The White Lotus."