Pizza Hut Wants To Save Your Holiday Cooking Fail With A Free Meal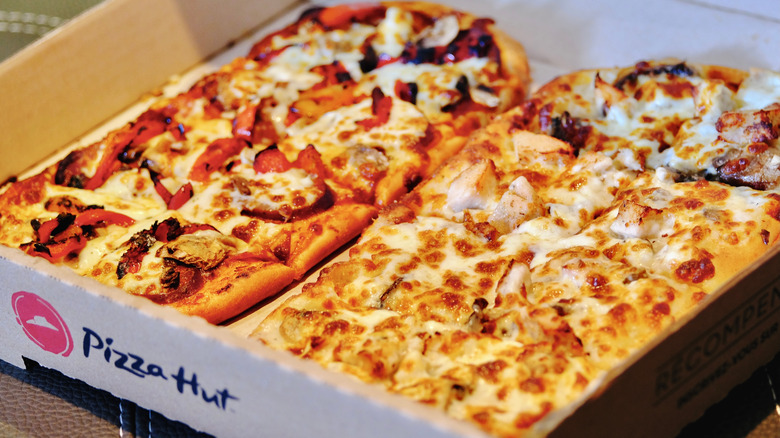 HeyDebbite/Shutterstock
Now that we have officially entered the last month of the year, the holiday season is fast approaching. There are so many reasons that December marks the most wonderful time of the year. From fun-filled winter sports to cozy indoor activities, the holidays mean getting to spend more time with friends, family, and loved ones. But that's not to say that this time of year is all sunshine and rainbows. With the long cold days, the countless social events, and exorbitant spending on travel and holiday shopping, December can be quite a dark month for many (literally and figuratively).
As you spread kindness this year, don't forget to put some in your own bucket too. Whenever you need a pick-me-up, buy yourself a Starbucks Peppermint Mocha, or take a walk and soak up all the festive wreaths, decorations, and holiday lights. The next time you are hosting a holiday meal, don't stress too much about overcooking the Christmas ham or putting too much cream in your eggnog. Pizza Hut has a special treat for those who need a culinary knight in shining armor to swoop in and save the day.
Pizza Hut is alleviating holiday stress with its Triple Treat Box
Hosting during the holidays is stressful. Unless you're a seasoned expert and have planned everything to the tee, it's easy to make a few mistakes here and there. Even the Hamptons hostess Ina Garten remembers the worst party she's ever hosted.
If you plan on hosting a soiree this season, Pizza Hut is going to make it a lot easier to laugh off the dropped dishes and spilled sauces. Before cleaning up your mess, make sure to take a picture of your dinner party blunder and send it to Pizza Hut at pizzahut@hutholidayrescue.com. A picture of your food fiasco will immediately put you in the running to receive a free Triple Treat Box, according to Food Beast. Every Triple Treat Box includes two medium pizzas, each with one topping of your choice, five breadsticks, and ten Cinnabon Mini Rolls — all wrapped up in a festive box, of course.
Even if you do not get your hands on a Triple Treat Box for free, you can still purchase this combo for $24.99 from Pizza Hut this holiday season. If you are feeding a small army, you can also choose to purchase Pizza Hut's new Melts, which come in four different flavors (via PR Newswire). Each Melt includes loaded toppings and cheese folded between two slices of pizza, along with a dipping sauce.