Outback Steakhouse Partnered With Netflix's Glass Onion Film In A 'Blooming' Good Deal
Although December is typically associated with feel-good, holiday movies, "Star Wars: The Last Jedi" director Rian Johnson will be releasing a thriller that will be available for viewing on December 23 via Netflix, according to Slate. Netflix's "Glass Onion" is a highly anticipated mystery film that comes as a sequel to "Knives Out" and covers a murder and the events that unfold after (via The Wrap). According to CNET, some moviegoers got to already see the film as it was already released for a limited time in select theaters from November 23 to November 29.
But for those who haven't watched the film yet, the movie actually doesn't have much of an association with the root vegetable, which interested viewers may imply from its name. In actuality, Johnson's film was titled after the Beatles song of the same name per Tudum. But that hasn't stopped people from forming puns for the movie, including Outback Steakhouse, which just announced its very clever partnership with Netflix.
Outback Steakhouse wants people to rise to the occasion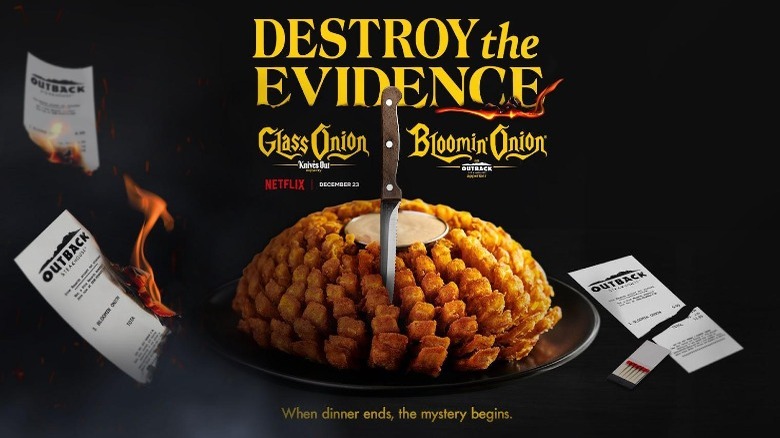 Outback Steakhouse
Outback Steakhouse just introduced a deal that is quite fitting for any eager person wanting to watch "Glass Onion" on Netflix. In celebration of the movie's pending Netflix release, the Australian style steakhouse chain will be gifting its famous Bloomin' Onion to customers upon their next visit if they order the appetizer.
With the deep-fried dish requiring a very specific cut in order to get its distinct shape, the Bloomin' Onion is the perfect promo item for this Netflix release. All diners need to do is to submit a video of them destroying an onion to BloominGlassOnion.com in order for them to claim their code for the free meal. The purpose of this multimedia aspect is to get people in the spirit of "#DestroyingTheEvidence," alluding to the mystery theme of the movie.
There are no specifications on how participants should destroy their onion — so whether you chop, grill, or smash the root vegetable, you can take advantage of the deal.