The Tom Cruise Bundt Cake Connects A Web Of Celebrities Every Single Year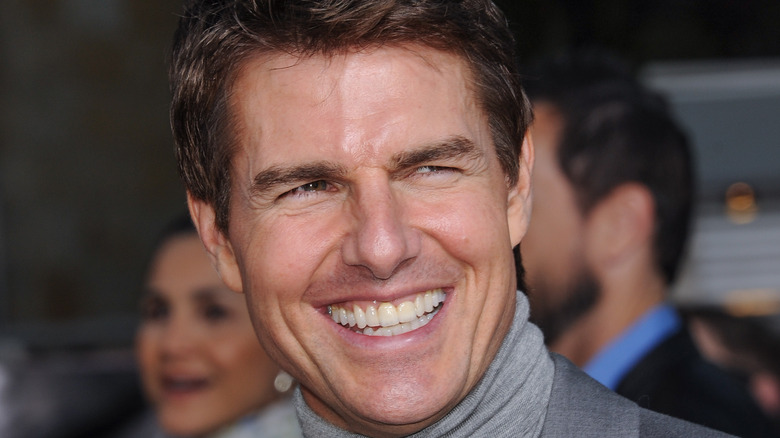 DFree/Shutterstock
The holidays are here, and that means Tom Cruise's long list of A-list celebrity friends are highly anticipating the arrival of a certain Bundt cake. The cake in question is a White Chocolate Coconut cake from Doan's Bakery, a family-owned and operated bakery based in Los Angeles. It's a coconut-flavored Bundt cake (the one in the shape of a circle) with chunks of white chocolate mixed in. It's topped with cream cheese frosting, with a mountain of shredded coconut along the top. The team at Delish tried the famous cake to see if it was really worth it, and it definitely is. They described the cake as "incredibly moist while still light and fluffy." And, to the delight of coconut flavor doubters, it wasn't too coconutty. 
Cruise was first introduced to the cake through Diane Keaton when she worked with Katie Holmes, Cruise's ex-wife. He's been sending the cake to friends ever since (via ET). Reviewers on the food delivery site Goldbelly love the cake. "This is my all-time favorite cake in the whole wide world. You can't go wrong with this one," wrote one fan, with another writing, "This cake is AMAZING!!! I can see why Tom Cruise would order it each year."
You can try the Tom Cruise Bundt Cake, too
Tom Cruise sends the cake to a long list of celebrity friends every year at the start of the holidays. He purchases the cakes, has them wrapped, and sends them out – even sending his private jet bearing the cake to his overseas friends (via The Sun). Much like the Kevin Bacon game, the Bundt cake is traceable to a veritable who's who of Hollywood big names with whom Cruise has worked. And considering how long Cruise has been a top draw on the scene, the list is as varied as you can imagine. 
A-list celebrities from Cobie Smulders to Jimmy Fallon to Renée Zellweger to British talk show host Graham Norton receive cakes (via E! News). Kirsten Dunst calls it the best coconut cake she's had (via YouTube), and comedian Rosie O'Donnell also receives one (via Instagram). James Corden (who also receives a cake) joked that Tom Cruise maintains his trim physique by sending everyone else cakes instead of eating one himself (via YouTube). And Cruise's generosity extends past the holidays – during an appearance on The Graham Norton Show, British documentarian and journalist Louis Theroux, cousin to American actor Justin Theroux, recounted the story of Cruise sending his grandmother 100 cupcakes for her 100th birthday (via YouTube).
If you want to eat like an A-list celebrity this holiday season, you can order one of these cakes through Goldebelly, which ships all over the United States, including Alaska and Hawaii.