The Time Duck Dynasty Stirred Up Major Beef For Cracker Barrel
Cracker Barrel is no stranger to scandal, having weathered more than a few in its past. In fact, sometimes the controversies are so headline-dominating that they practically eclipse the restaurant's country cooking. One of the most long-running involved a lawsuit brought by the NAACP in 2004, in which the civil rights organization accused the country fried steak purveyor of egregious claims, including serving white patrons before black ones, using segregated seating to separate people of color from others, and using racial slurs. The suits were settled in 2015 to the tune of an $8.7 million loss from Cracker Barrel, says Fox News.
That controversy wasn't a one-off, either. In 2006, Illinois store employees were awarded $2 million for a lawsuit, which claimed both racial and sexual harassment, per the U.S. Equal Employment Opportunity Commission. Also, way back in 1991, the chain hit a major PR disaster when it was revealed that the company had fired employees because of their sexual orientation. These firings were in line with Cracker Barrel's then-policy to not employ people, "whose sexual preferences fail to demonstrate normal heterosexual values which have been the foundation of families in our society," the LA Times reported. The company eventually backpedaled on this sentiment, adding terminology to their hiring and nondiscrimination policy to include sexual orientation as protected, says Law.com. Although these issues were all Cracker Barrel's own doing, in 2013, the company came under fire once again, thanks to one reality television star.
How comments by one reality star impacted Cracker Barrel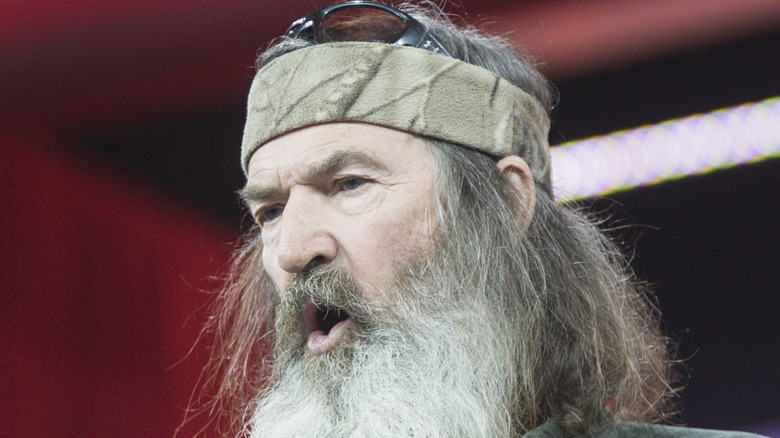 Kris Connor/Getty Images
The reality show "Duck Dynasty" was all the rage back in 2013 when patriarch Phil Robertson was quoted in an article in GQ Magazine sharing anti-LGBQ opinions. Among the comments in the interview, which also included racially-charged statements, Robertson referred to "homosexual offenders," who "won't inherit the Kingdom of God." He also added, "Don't deceive yourself. It's not right." At the time, Cracker Barrel gift shops around the country were stocked with products made by Robertson's company, Duck Commander, as well as branded show merch.
Cracker Barrel immediately issued a statement that the company functions "within the ideals of fairness, mutual respect, and equal treatment of all people," then said that "selected products which we were concerned might offend some of our guests," were removed from store shelves," Forbes reported. However, per HuffPost, customers pushed back against this move, and Cracker Barrel put "Duck Dynasty" products back on store shelves only one day later, complete with a statement in which the company apologized for offending anyone. The restaurant wasn't the only company that waffled on Robertson's comments. He was suspended from the show by A&E, a call that was later reversed a little more than a week later, Entertainment Weekly said.
Cracker Barrel, despite these many controversies, continues to do bang-up business, with a fourth-quarter revenue of $830.4 million in 2022, an increase of 5.9% compared with the same time last year (according to a press release). That's a lot of pancakes and green beans.