TikTok's 'Butter Candle' Could Be The Perfect Trend For Bread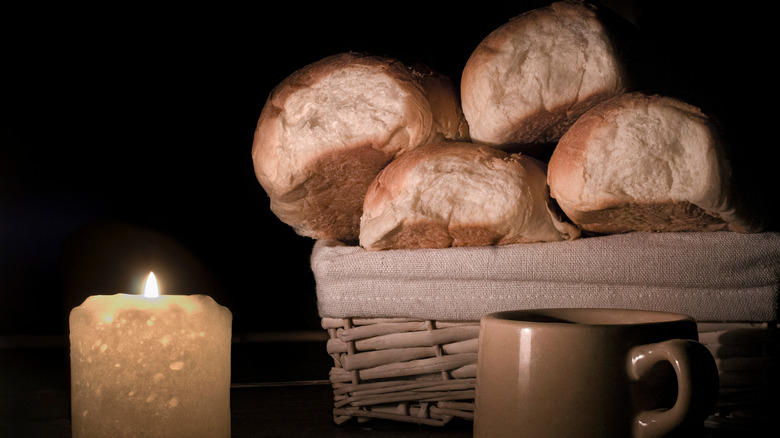 VG Foto/Shutterstock
Bread and butter make one of the most basic food pairings around. But just because it's basic, doesn't mean that it's not totally delicious. Just think about how people obsess over free restaurant bread, or how good that first bite of perfectly buttered toast tastes in the morning. Bread with butter is a staple from pretty much the most humble eateries to the finest dining establishments, and now, a TikTok trend is taking the pair to a Michelin-like level with edible butter candles.
We previously saw butter candles start to pop up around the end of the 2021 holiday season and New Year in 2022 when a viral TikTok video showed someone molding a stick of butter into a candle. Light the candle, the butter melts, and voila — you dip, dunk, and smear your bread with it, and you've upgraded a once basic food into a fun and fancy dining experience. The trend didn't die there, and in fact, it's now back and better (butter?) than ever before. But believe it or not, butter candles aren't totally new, and in fact, they really are like something straight out of a Michelin-starred restaurant.
How to make a butter candle
While the image of pouring a melted candle onto a piece of bread or roll might be shocking, what if the candle was actually made from rich beef fat? That was the idea at the Michelin-starred Restaurant Story, where chef Tom Sellers started serving bread with candles made of beef tallow in 2013 (via The World). The trend eventually moved stateside, and one Nashville restaurant featured in Forbes started serving candles made of beef fat, roasted garlic, herbs, and butter in 2017.
But beef fat isn't a super common ingredient in American kitchens, so it's hard to find at grocery stores. Enter the butter candle, which is now going viral (it was even featured on "Good Morning America"). On TikTok, there are lots of tutorial videos showing how to make a butter candle at home, and it ranges from the basic (molding softened butter into a log in plastic wrap, with a wick in the center), to the only slightly more elaborate — think adding roasted garlic puree, or herbs and other aromatics, to softened butter before molding it and adding a wick. Just make sure to use a food-safe wick (think hemp and organic cotton), and once the butter in your candle is set, you can remove it from the mold, light the wick, and start dunking your bread. Keeping things low carb? Don't worry — butter candles for steak exist, too!