Whole Foods '12 Days Of Cheeses' Is Back With Definite Crowd-Pleasers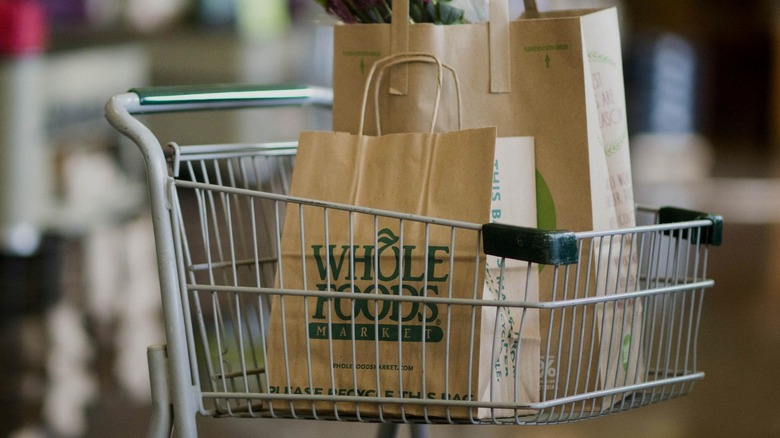 Bloomberg/Getty
Many of us love cheese so much that we can't imagine our lives without it. It could be the umami flavor of cheese that makes it so addictive (via Science Focus), or it could be the presence of casein, which is common in other products made with dairy and may trigger increased levels of dopamine. Thankfully for cheese lovers, Whole Foods has a special cheese promotion each year where it highlights 12 different cheeses at a discount for 12 days during December (per Whole Foods).
For 2021, Whole Foods' 12 Days of Cheese lineup included Uplands Pleasant Ridge Reserve, Neal's Yard Keen's Cheddar, Cypress Grove Humboldt Fog, Kaltbach Cave-age Le Gruyere AOP, Quadrello di Bufala, Cowgirl Creamery Organic Mt Tam, Corcuera Campo de Montalban, Agour Ossau-Iraty PDO, Klare Melk Truffle Gouda, Cellars at Jasper Hill Gin Washed Harbison, Mons Mary Dans Les Étoiles, and Rogue Creamery Enraptured Cherries Jubilee, per Cheese Professor. 
For 2022, the grocer's 12 Days of Cheese offerings include a few favorites from last year and a plethora of new cheeses to try — some of which have won awards and various recognitions (per Business Wire).
Cheese lovers will not be disappointed
According to a press release from Whole Foods Market, the popular health food store is celebrating the holiday season by bringing back its 12 Days of Cheese promotion. Whole Foods and cheese fans can look forward to enjoying four returning favorites such as Neal's Yard Dairy Keen's Cheddar, Cowgirl Creamery Organic Mt Tam, Cypress Grove Humboldt Fog, and Kaltbach Cave-aged Le Gruyere AOP, as well as eight new cheeses. This year, the newly added lineup includes Jasper Hill Farm Whitney, Rogue Creamery Organic Oregon Blue, Sweet Grass Dairy Thomasville Tomme Raw, Kaasaggio Robusto Gouda, Istara P'tit Basque, Mitica Sottocenere al Tartufo, Vermont Creamery St. Albans Cheese, and Herve Mons Gabietou. Whole Foods will also have a special sampler bag with salami, blackberry rosemary spread, crackers, and three of the 12 featured cheeses for $29.99.
Whole Foods also suggests specific pairings to complement the cheeses, such as prosciutto, blackberry rosemary spread, and Jasper Hill Farm Whitney cheese on a Croccantini and served with Monterustico Bianco wine. All 12 cheeses will be available at select Whole Foods Market locations for 30% off starting December 13, 2022 until December 24, 2022, per the press release. If customers are Amazon Prime members, they can also get an additional 10% off the featured cheeses.