TikTok Is Cracking Up At Gordon Ramsay's Reaction To This Egg Sandwich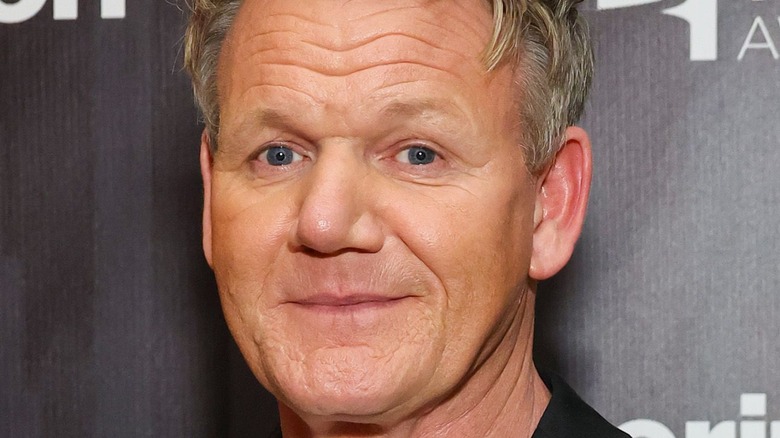 Mike Coppola/Getty Images
Gordon Ramsay has been involved in a number of notable feuds over the years, many of which are rooted in the culinary industry in some way or another. Recently, however, a surprising public figure declared war on the "MasterChef" host for a somewhat odd reason: his TikTok following. According to Dexerto, YouTuber and Twitch streamer Tommy Simmons, a.k.a. TommyInnit, took issue with the fact that Ramsay is the most-followed Brit on the social media platform. "This is a huge problem because Gordon is just kinda ... kinda mean," Simmons said in a TikTok video in February before declaring that he would try to surpass Ramsay's massive following, which, at the time, was around 31 million.
The streamer enlisted his fans to help with the cause. However, with his current TikTok follower count at 11.9 million, it seems Simmons still has quite a long way to go – though he did reveal during an interview with WIRED back in May that Ramsay had reached out to him asking if he could do one of his famous TikTok duet's with the YouTuber. "I'm still waiting on Gordon," he explained.
Fast forward to last week, and the wait is officially over. In a TikTok duet posted on December 9, the chef reacted to one of Simmons' videos from October in which he makes "the perfect egg sandwich so [he] can prove he's better than Gordon Ramsay." Just like the egg in TommyInnit's sandwich, Ramsay's comments had the social media platform cracking up.
Gordon Ramsay called YouTuber TommyInnit's egg sandwich 'a mess'
Social media star TommyInnit, né Tommy Simmons, may have deemed his egg sandwich "perfect" in his October 17 TikTok, but Gordon Ramsay hardly agrees. "Tommy Tommy Tommy ... why," he captioned the recent installment in his #RamsayReacts series in which he shared his thoughts on the YouTuber's grub.
The video starts off promising, with Ramsay praising Simmons for having a "packed fridge." However, criticism quickly ensues. The chef proceeded to slam the streamer for his methods of cracking and whisking his egg, as well as leaving in bits of shell, though arguably the biggest cause of Ramsay's distress is when his "enemy" adds an entire half of the eggshell into the pan to give his sammie some crunch. "C'mon Tommy...I'm calling your mummy," Ramsay said before declaring the final dish "a mess."
The long-awaited duet left many TikTokers in stitches, with one fan commenting "LAUGHING" along with the "Loudly Crying Face" emoji. "Omg he actually reacted to Tommy this is great ahah," another wrote, while a third said the video was "the collab we never knew we needed." Several others found Ramsay's claim that he would be contacting Simmons' mom particularly hilarious.
Simmons himself also caught wind of Ramsay's reaction, commenting "what" on Ramsay's TikTok before stitching the video on his own page. "Please get off my screen," he captioned his response in which he pokes fun at some of the chef's comments. Something tells us this feud isn't ending anytime soon.