The Foolproof Focaccia Technique For Flavorful Crust Every Time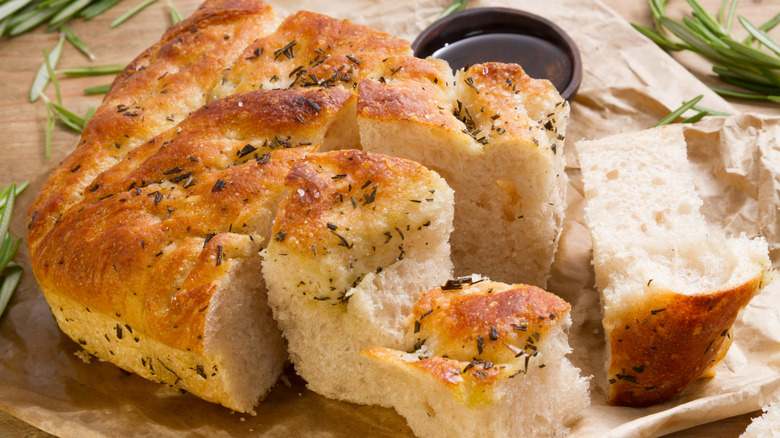 Nectarina/Getty Images
With a pillowy soft inside and a crisp, lightly salted outer crust, an Italian focaccia bread recipe is a rustic but refined treat for any occasion. This moist and airy Mediterranean staple may have originated either from the Etruscans of North Central Italy prior to the formation of the Roman Empire, while similar iterations of the bread also appear across Turkey, Greece, Italy, France, and Spain, according to The Sussex Kitchen. The name derives from the Latin panis focacius, which translates to "hearth bread." With its simple ingredients consisting of rough flour, olive oil, water, a very small quantity of yeast, and salt, focaccia began as a peasant's meal (via The Sussex Kitchen). Over time, bakers infused each loaf with new toppings, experimenting with savory additions like rosemary, sage, sundried tomatoes, garlic, cheese, and onions, and sweet adaptations which include honey, raisins, sugar, or lemon peel.
The focaccia dough, which tends to be very wet and sticky, should be kept wet and humid, allowing it to develop a smooth and elastic consistency. Recipe developer Mark Beahm, the face and blogger behind The Sunday Baker, shared an authentic Italian focaccia bread recipe and said that once the dough has doubled in size, you should "make sure the pan is coated all around with plenty of olive oil before transferring the dough" because "the olive oil also helps crisp the bottom of the focaccia." For best focaccia results, two Ligurian focaccia-baking brothers also present another important hack.
Use liquid malt for a perfectly crisp, flavorful crust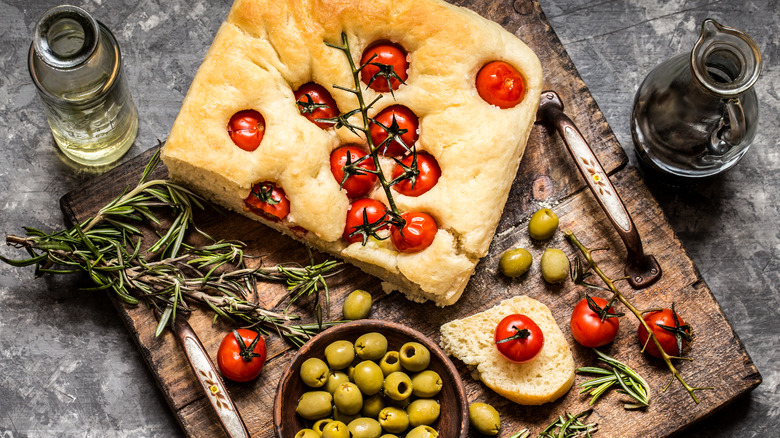 Tashanat7519/Getty Images
There are several techniques that can help you achieve an airy center and crisp crust. Two Italian brothers from Liguria who opened Dante's Bakery, a focaccia bakery in Michigan, suggest using liquid malt instead of honey as the sugar added to the yeast, which they claim is a widespread practice in Italy. The liquid malt, which is less sweet than honey, imparts a robust depth of flavor to the bread, adding "a subtle richness" and a crust that is "golden-brown" and "crisped to perfection," says Nicole Rufus, Assistant Food Editor at Kitchn, who tried the brothers' expert tip. 
Whether you add sundried tomatoes for a sweet and tangy flavor, or crumbled feta and green olives for a Mediterranean-inspired bake, a crisper crust is crucial. Now that you know the secret to the tastiest focaccia, try baking your own bread, perfect for sharing and tearing into, serving up as a side for soup or pasta, or on its own, accompanied with a bowl of olive oil for dipping.