Beer Cocktails You Should Be Making At Home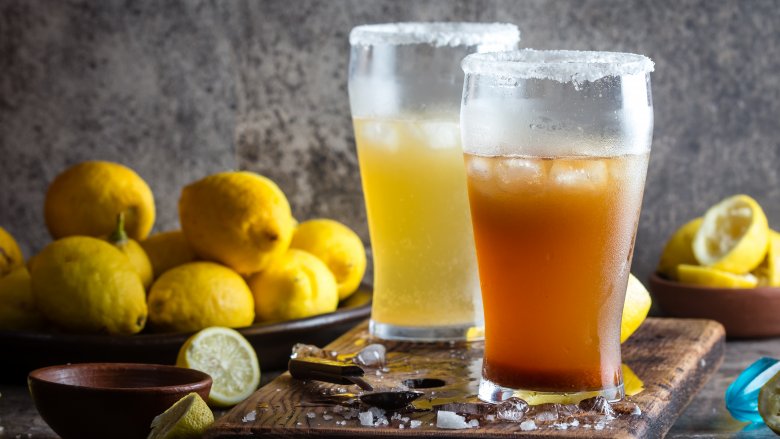 Shutterstock
What could be better than an ice cold, frothy pint of beer? A beer cocktail. Cocktails are mostly associated with hard liquor bases, but anyone who has had a cocktail made with beer will tell you that a beertail is the way to go. Jazzing up the average pint, beer cocktails can be fruity, smoky, citrusy, chocolatey, and anything else you can dream up. The ideal alcoholic beverage for brunch, lunch, sporting events, social gatherings, and celebrations of any kind, beer cocktails are what you've been waiting for. Taking beer to the next level, don't just drink a pint, mix it up with some complementary ingredients. Citrus fruits, liqueurs, bitters, seasonings, and other alcohols can all take your beer to the next level. If you're beer thirsty and ready to imbibe the cocktail way, then try one of these thirst quenching beertails. From well known favorites to a few newcomers, these are the beer cocktails worthy of drinking right now.
Beerita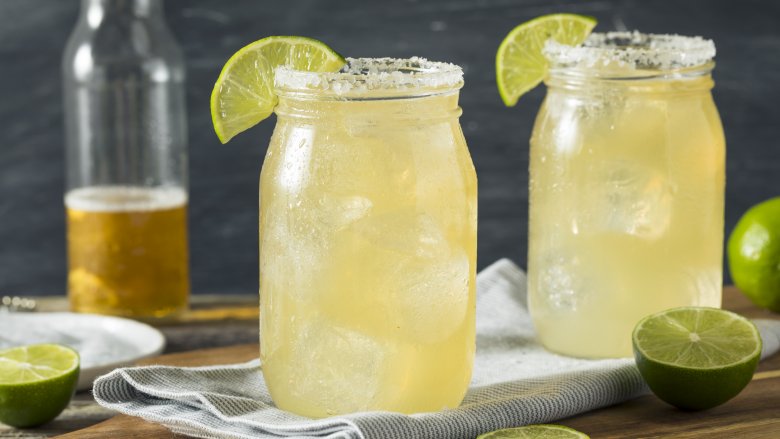 Shutterstock
Margaritas, move over, the beerita is here. Taking over summer cocktail glasses, the beerita is a refreshing suds-based cocktail best enjoyed by leisurely sipping — while lounging poolside or on a tropical beach of course. The thing you'll really appreciate about the beerita besides its taste is that it's everything you want in a margarita... plus beer. So when it comes time to deciding between a cocktail or a beer, you won't have to.
The key to this cocktail is achieving the right balance of sweetness. Too sweet and it'll be like drinking a sugary frou-frou drink. Not enough sweetness and you'll get nothing but a mouthful of alcohol. To make it right, squeeze fresh lime, simple syrup, a shot of tequila, and a 12 ounce bottle of Mexican beer in a mixing glass — Tecate, Corona, or Pacifico will do. Mix that up, then pour into a glass with ice and garnish with a wedge of fresh lime. Whether or not the glass is rimmed in salt we'll leave up to you.
Shandy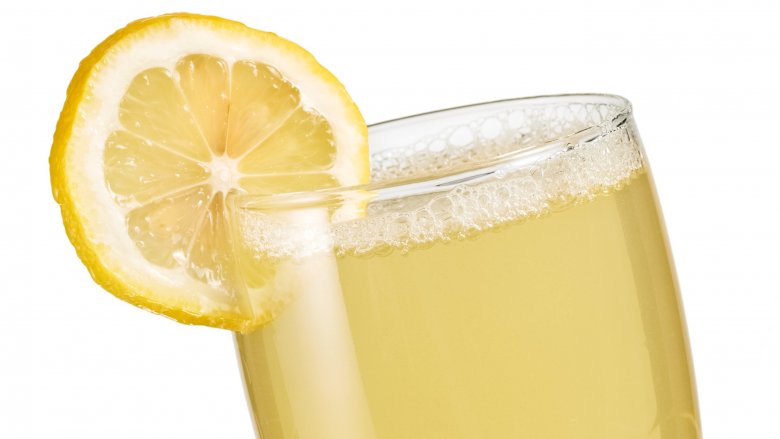 Shutterstock
On a hot day, nothing is quite as thirst quenching as a shandy. Light, flavorful, and downright refreshing, the shandy is a beer cocktail recipe you must have on hand. The cocktail itself, however, can be rather confusing. Look up recipes for a shandy, and you'll be bombarded with variations. Orange shandies, peach shandies, lime shandies, ginger beer shandies, the list goes on and on. The only technical requirement for this cocktail is that beer and fruit juice are used. Oh the possibilities!
While we could get caught up in all the ways to make a shandy, you simply can't go wrong with a Meyer lemon shandy. First, make a fresh lemonade mixer out of Meyer lemons, water, and sugar until the sugar has completely dissolved. Next, add it to your favorite wheat beer. Garnish with a slice of lemon then go relax on the front porch and enjoy the beautiful day. Or relax somewhere else, you're not at work.
Panache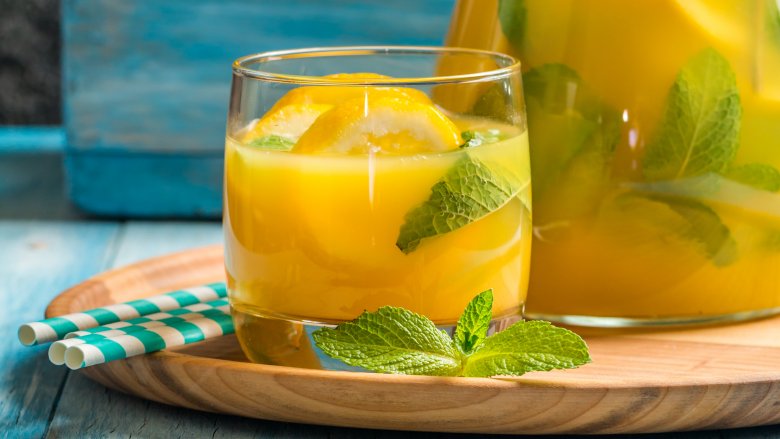 Shutterstock
This French beer cocktail sounds as fancy as a French 75, and tastes just as fancy too — after all, it is made with panache. Like a French version of a shandy, the panache includes both light beer and French-style lemonade. Fizzy and refreshing, this libation was made for relaxing in the afternoon.
If you're ready to quench your thirsty, pour a lager or perhaps even a light, fruit forward saison into a glass. Then top it with a French style lemonade like Lorina. If you can't find Lorina, San Pellegrino sparkling limonata will do. For a complementing floral flavor, add in St. Germain's liqueur. The elderflower of St. Germain pairs well with the lightness of the beer and the citrus of the lemonade, enhancing it with its bright, fragrant flavor. Give it a quick stir and get ready to enjoy. One sip and you'll agree that this cocktail tastes like spring.
Manmosa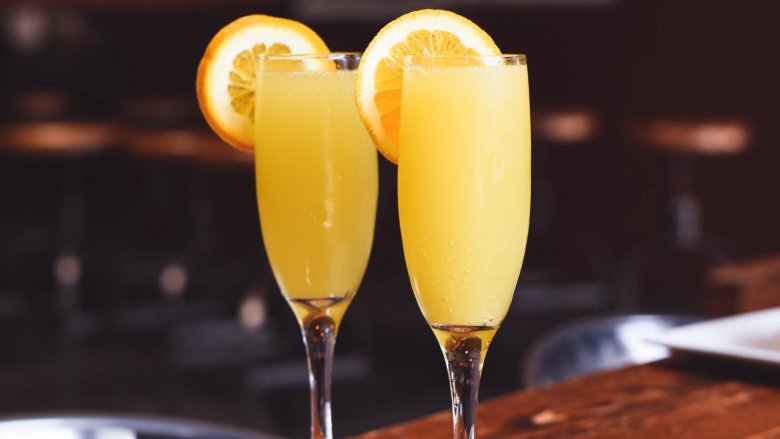 Shutterstock
You simply can't go wrong with a manmosa, or beermosa as some may call it. A two-ingredient cocktail, the manmosa is like a mimosa except instead of champagne it calls for beer. Meant for warm summer days, brunching with friends, curing hangovers, and the casual breakfast beer, manmosas are the way to go.
For this beer cocktail, it's best to keep it low profile and ditch the fancy glass for the average shaker pint glass. To begin this ridiculously easy two-step process, fill a pint glass with a cheap canned lager of choice. PBR, Bud Light, Coors Light, Miller High Life, these are all good options that mix well with juice. Then, top it off with orange juice. If you want to step up your game a bit, you could use grapefruit juice, cranberry juice, or some other type of fruit juice. Just be sure to keep the garnishes to a minimum. This is a manmosa, juice and beer is all you really need.
Beer sangria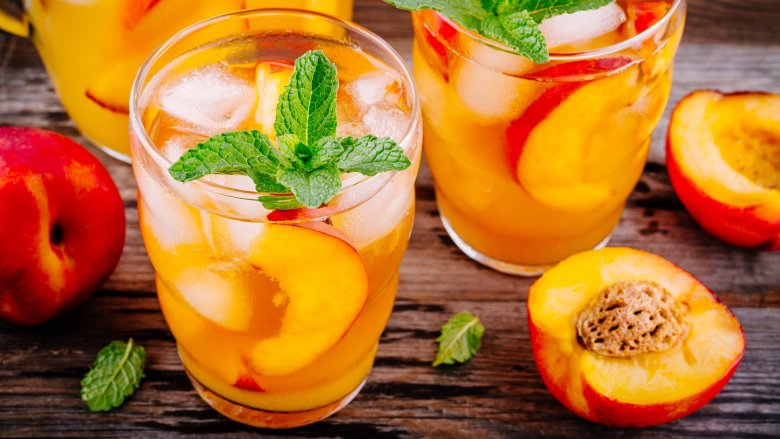 Shutterstock
How do you make a sangria taste even better? Sub the wine for beer. Sangria has a complex, fruity flavor profile that can be enhanced with a complimentary beer. Sweet, citrusy, bubbly, and boozy, even those who don't like beer will go crazy over the enticing flavor of beer sangria.
Ideal for any party or social gathering, beer sangria can be whipped up in a big batch and poured from a pitcher so you can please a thirsty crowd. To begin, in a large pitcher, toss in fruit like peaches, blood oranges, strawberries, and pears. Add in brandy, juice of choice to sweeten, and a complementing beer. Depending upon what fruit you're using, a wheat beer or saison will pair nicely. Give it a good stir and pour into individual glasses with ice once your guests arrive. If you're preparing the sangria the night before, don't add the beer until you're ready to serve. Since beer is carbonated, you don't want it falling flat before serving.
Michelada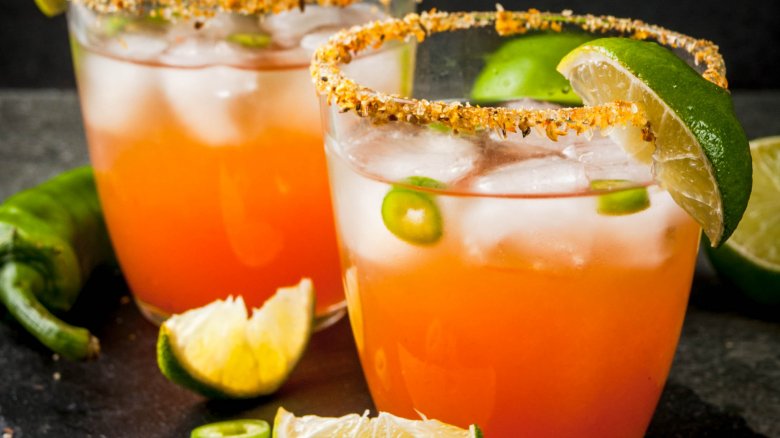 Shutterstock
Ahh the michelada. A refreshing spicy tomato beverage that gets you hooked first sip. Before you drink a michelada, you should know what its name stands for. A combination of a few Spanish terms, mi means my, chela is slang for beer, and helada means cold. Put that all together and you have 'my cold beer'.
Like it's name, the michelada is many things. Often thought of as the beer version of a Bloody Mary, it's the brunch drink of choice, the perfect hangover cure, the cocktail that tastes impeccable with your authentic Mexican food, and a superb way to doctor up any cheap beer. Make it extra spicy or drink it mild, as long as you drink it cold, you're staying true to the name.
There are a few ways to mix up a michelada, but it should always include beer, lime, and tomato juice. One foolproof method is to blend up salsa with canned tomatoes and add lime juice. If you're looking for a short cut, you can skip the salsa and canned tomatoes and use Clamato juice instead. Either way, once you have your tomato juice, pour it into a glass with a Mexican beer, then add in hot sauce, soy sauce, and a few dashes of Worcestershire sauce. Top with a lime for garnish, add in a few ice cubes, and you have a super fresh michelada. If you want to add a little more spice, you could rim the glass in Tajin seasoning for a bit of a kick.
Black and tan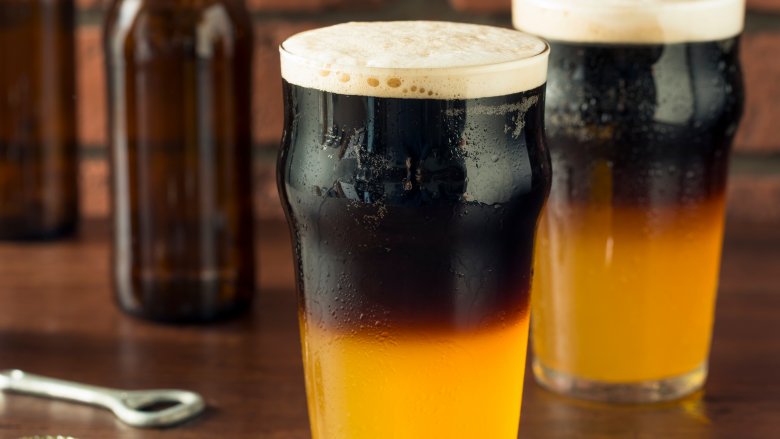 Shutterstock
If you've ever been around a Guinness drinker, you've no doubt heard of the black and tan. One of the more widely known beer cocktails, the black and tan is all beer. While you could use any pale beer and dark beer, the black and tan is generally made by layering equal parts Guinness on top of Bass Ale in a pint glass. No need for mixers here, when you have the contrast of a quality pale and a dark beer, beer is all you need.
The black and tan may sound as simple as pouring, but when it comes to pouring anything involving Guinness you need to use finesse. In a pint glass, pour your pale beer of choice halfway. To top it off with Guinness, take a spoon and place it over the glass with the concave side down. Slowly pour the Guinness over the spoon. Let the Guinness settle, then you're ready to imbibe.
Black velvet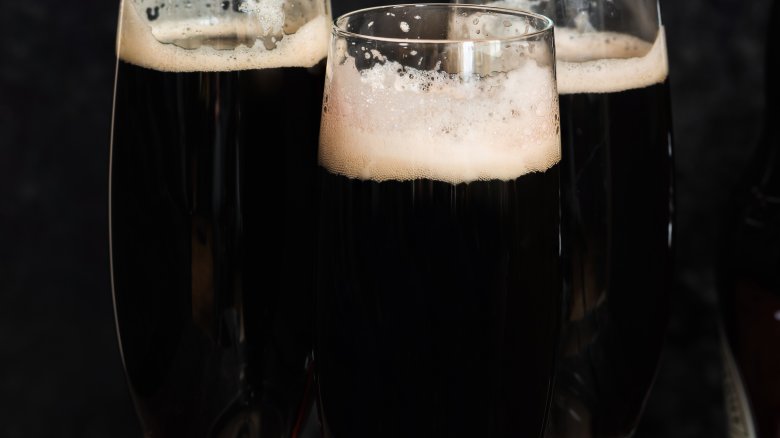 Shutterstock
Want a little bubbly in your beer cocktail? Go with the black velvet. Similar to a black and tan, this beer cocktail calls for a stout. Yet unlike the black and tan, the black velvet replaces the pale beer with sparkling wine instead. Working class or high class, this cocktail doesn't care. It brings together the best of both worlds in one highball glass. Drink it elbows on the table or raised pinky on a glass, makes no difference to us.
To make this beautiful concoction, pour a stout into a glass — preferably Guinness — until it's halfway full (or halfway empty if that's how you see it). Then top it off with your favorite champagne, prosecco, or sparkling wine. You'll notice how the sparkling wine cuts through the robust stout with its effervescence, creating a complementing marriage between the crisp sweetness of the sparkling wine and the toasty notes of the stout. Thick and luxurious, you've never had a beer cocktail quite like this.
Texas grapefruit radler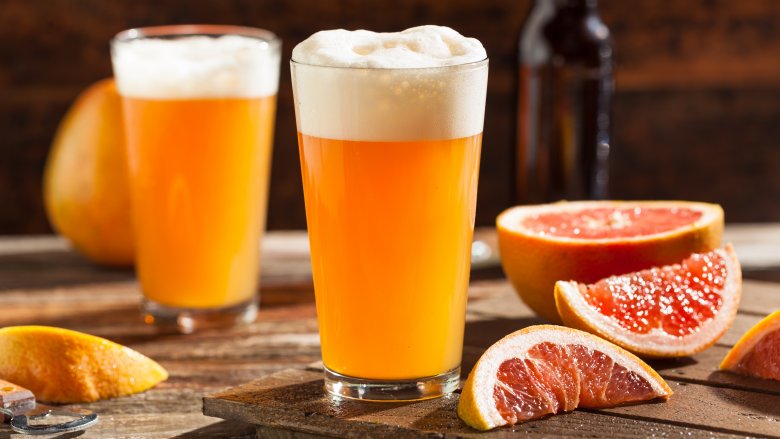 Shutterstock
What exactly is a radler? A radler is basically the German version of a the ever popular shandy — seems like everyone across the globe has their own version. German for cyclist, the radler consists of 50 percent beer and 50 percent fruit soda, the original soda used being lemon-lime soda. So what then is a Texas grapefruit radler? Exactly what it sounds like. A radler that's made with Texas beer and grapefruit juice. Insanely refreshing, the Texas grapefruit radler is one beer cocktail you have to add to the list.
When choosing a Texas beer for this cocktail, there are basically two brews to choose from that work exceptionally well. There's the beloved Lone Star lager, or if you want to make it extra grapefruity, there's Shiner Ruby Redbird. In a glass, pour in whichever beer you like, then top it off with fresh ruby red grapefruit juice. After a quick stir, this two-step cocktail is ready.
Raspberry snakebite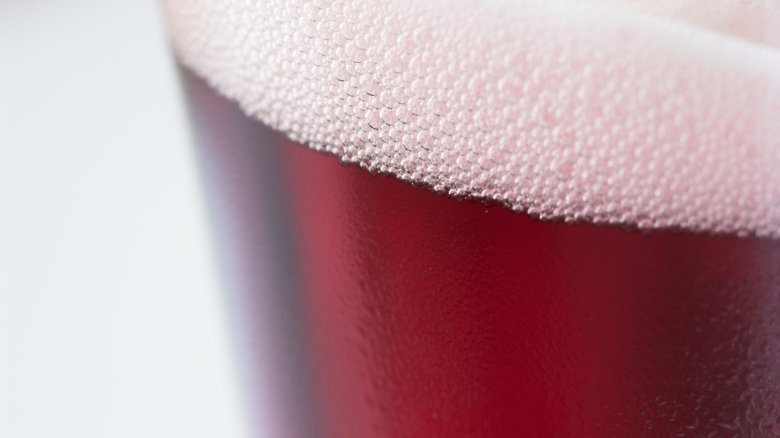 Shutterstock
You're probably already familiar with the snakebite cocktail. One part lager, one part hard cider, the snakebite is like a cross between the black and tan and the black velvet. Sweeter than the black and tan and fruitier than the black velvet, the snakebite lands somewhere in the middle. Taking this concept to the next level is the raspberry snakebite. Subbing out a stout for a porter and cider for a lambic framboise, the raspberry snakebite is almost like dessert in a glass. It's fruity, it's chocolatey, it's a match made in heaven between two beer styles.
A raspberry snakebite is only as good as the beer you use. You'll want a quality porter with roasty, chocolatey notes that compliment the sweet, tangy raspberry flavor of the lambic framboise — framboise is French for raspberry. In a glass, pour in the lambic then add equal parts porter. If you're looking for a nightcap, try an imperial porter.
Sake bomb
The sake bomb is a guilty pleasure. Under normal dining circumstances, you would never be encouraged to hover a shot of sake over a beer with chopsticks and then chug until it's all gone. When you see sake bomb on a menu — especially a happy hour menu — this is no normal circumstance, this is time to celebrate. Gathering with friends or making new ones at the bar, sake bombs bring people together. And that's what a good beer cocktail is all about.
For the inexperienced, there is a right way to do a sake bomb. First, you take a pint of Japanese beer like Sapporo and set a pair of chopsticks on top. Next, carefully place a cheap shot of sake on top of the chopsticks, making sure it doesn't drop in just yet. Now, here's where the bonding comes in. After everyone has their glass prepared, in unison pound both fists on the table next to the glass. Once your shot drops, chug the sake bomb. Like we said, it's a celebration. Be careful though, glass does break. We don't want anyone to get hurt having fun.
Boilermaker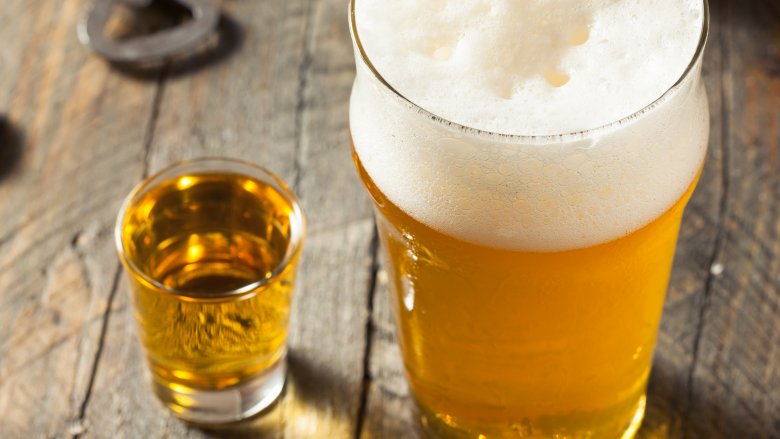 Shutterstock
The boilermaker is the cocktail made for the working person. It combines the hardness of liquor with the relaxation of a beer, making it the ideal drink after a long, hard day at work. Taking off the edge, all you need is a few ounces of whiskey and a cold one to pull of this beertail.
When it comes to making this beverage, there are two ways to go about it. You can either drink it sake bomb style by dropping in a shot, or you can add the shot to a pint of beer and sip. The latter is a touch more classy, so we'll go with that. In a pint, pour in a cheap beer of choice. Then add in a shot of smooth quality bourbon or rye whiskey — make it a double if it's been a really long day. The cocktail you really want at the end of the day, pour yourself a boilermaker and take a load off.
Rub and rye
Shutterstock
Beer and beef jerky, does it get any better? It does if you combine it into a single cocktail like the rub and rye. While the combination of beer and beef jerky doesn't exactly scream classy, in the form of rub and rye it couldn't get more sophisticated. Don't believe us? Whip one up for yourself and see.
First up, the rub. Grab an old fashioned glass and rim it in a dry rub — the smokier the better — then add a couple large cocktail ice cubes. Now grab a shaker and add one egg, lemon, rye whiskey, smokey bitters, and a touch of maple syrup. Shake that sucker up and strain it into the old fashioned glass. Top that off with a Belgian beer or a rauchbier for an extra smokey flavor. Add a strip of your favorite beef jerky and there you have it, a savory, classy, pinkies-out rub and rye beer cocktail
Bull's eye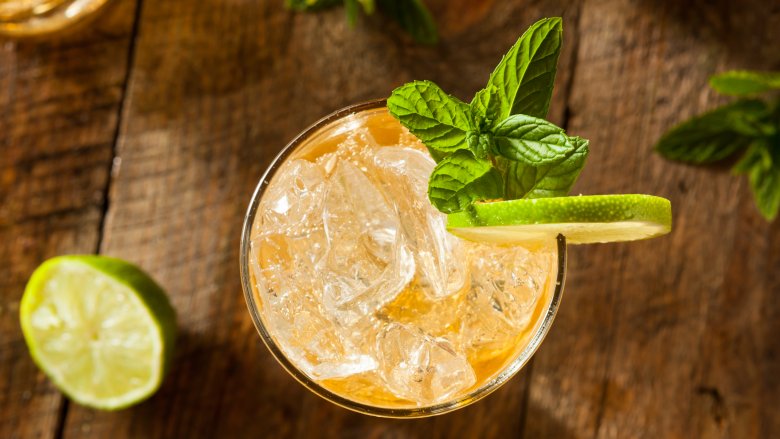 Shutterstock
Lime, ginger ale and beer? Bull's eye! I mean, that's what it takes to make this delicious Cuban cocktail. Sort of like a moscow mule minus the vodka, the bull's eye is super refreshing and impossible to pass up. If you're in the mood for a good refreshment, grab a glass and let's get started.
The bull's eye is simple to make. In a glass, squeeze in fresh lime juice and a touch of sugar. Stir the two together until the sugar has completely dissolved. Next, add in ginger ale, a light lager, and stir gently. Toss in a few ice cubes and you're all set. You can add more or less sugar depending upon the sweetness level desired. Also, if you're more of a ginger beer fan, you can replace the ginger ale with the ginger beer. Either way you'll have a delightful cocktail that even beer purists can't resist.
Stout float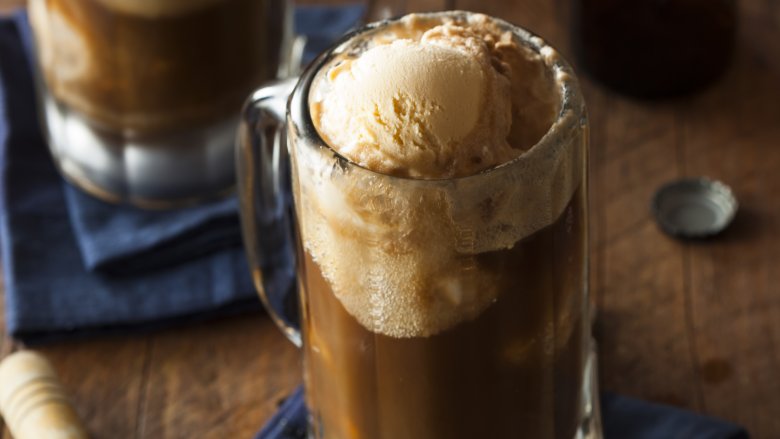 Shutterstock
No beer cocktail is better suited for dessert than a stout float. Ditching root beer for dark beer, the stout float will make you feel as giddy as a kid all over again, expect with alcohol this time. Simply sinful, what could be better than a glass filled with creamy ice cream and a dark robust stout to top it off? Nothing, that's what.
The decadence of this cocktail is all in the ingredients. Marrying a suitable ice cream with a chocolatey stout can easily presents a conundrum. Do you go with classic vanilla? Or what about doubling down with chocolate? Or maybe strawberry is best? It's really a matter of what you're in the mood for, but I suggest upping the game with a salted caramel coffee ice cream paired with a chocolate stout. Simply add two scoops of ice cream to a pint glass and slowly pour the stout over so it doesn't foam too much. Grab a spoon and dig in!