Everything You Need To Know About The Cheetos Duster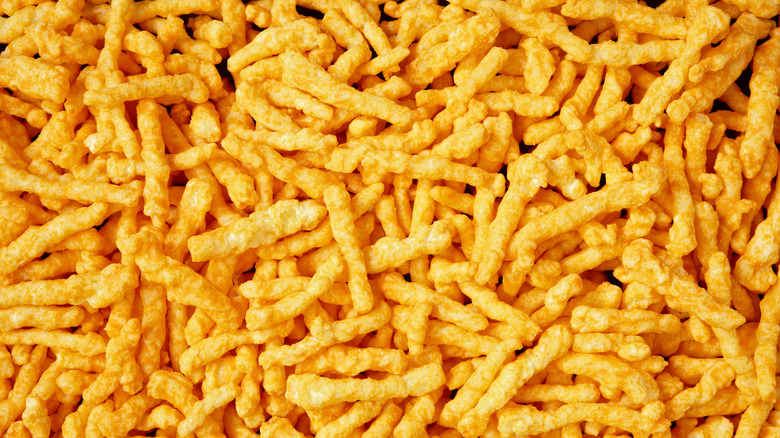 Abbieimages/Getty Images
We may receive a commission on purchases made from links.
While we're all familiar with the crunchy, cheesy snack known as Cheetos, not everyone is familiar with the many strange Cheetos products that have come into existence over the years. For instance, 2021 saw the introduction of Cheetos mac n' cheese in Bold, Flamin' Hot, and Jalapeno flavors.
According to Eater, Cheetos has also released countless unique and unconventional flavors around the world, like strawberry-iced Cheetos which launched in Japan in 2008. There's also the collabs with fast food chains, like the KFC Cheetos sandwich and Taco Bell's big flop of a Cheetos burrito.
In addition to weird snacks and fast food collabs, Cheetos has also seen its fair share of lifestyle items. Per Style Caster, Cheetos partnered with Forever 21 back in 2019 to create an entire Cheetos-themed clothing line. That same collab included a Forever 21 x Cheetos highlighter and bronzer — you know, so you can get the Cheetos look without actually wiping Cheetos on your face. But the surprising Cheetos products don't end there. The company just launched yet another product, and it might leave all others in the dust.
What exactly is the Cheetos duster?
Just looking at the name, you could probably think of several possibilities for a product named the Cheetos duster. Is it fuzzy orange fingers you slip onto your hand to dust your blinds? Is it a tabletop mini vacuum to clean up your Cheetos crumbs? Is it a blender or food processor designed especially for Cheetos?
As it turns out, the Cheetos duster is pretty much a coffee grinder, but rather than beans, it's for grinding up Cheetos. According to Mental Floss, you could do the same thing with a food processor, but whatevs. You only live once, so you might as well have a Cheetos-specific Cheetos grinder.
The Cheetos duster's Amazon page includes countless recipe ideas, from Cheetos-encrusted turkey legs to Cheetos mozzarella sticks and even Cheetos gingerbread cookies. Okay, but does anyone else think Flamin' Hot Cheetos ramen actually sounds really good? Regardless, the Cheetos duster has unfortunately already sold out, but you can sign up to be notified when a second batch becomes available.