Hardee's Is Adding A $6 'Choose Your Happy' Combo For A Limited Time
We all like having options. Venue options for date night, clothing options, ice cream flavor options, TV show options, and food and beverage options for lunch. Hardee's gets it. That's why the chain has decided to add a $6 "Choose Your Happy" combo deal to its menu, according to The Fast Food Post.
With this offer, you can choose any four sandwich/burger, dessert, or beverage items from a select menu to build your own meal for just $6. Choices include the Original Hot Ham 'n' Cheese sandwich, a small cheeseburger, small fries, apple turnover, and small sweet tea. Sportskeeda claims the offer is available at "all participating stores." You can order in person, on the website, or by using the Hardee's mobile app.
Hardee's promoted the "Choose Your Happy" 4 for $6 menu on Facebook by updating its cover photo on December 14 with a graphic featuring all the items available with the offer. The following day, it posted the news on Instagram, to which one fan replied with, "Finally a good value menu. Awesome!!" Another posted a fire emoji to express their approval.
Hardee's tested the deal before bringing it nationwide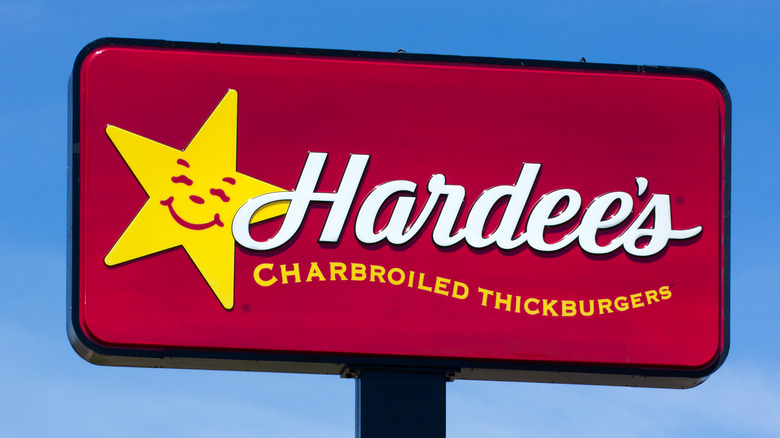 Ken Wolter/Shutterstock
Chew Boom claims the decision to offer the $6 menu nationwide comes after Hardee's and Carl's Jr. conducted a trial of the deal over the summer at "select" stores in California, Illinois, and Kentucky. Needless to say, it seems that the trial was well-received by customers.
Although the trial was also offered at Carl's Jr., Chew Boom claims it's unclear if the chain's sister location will offer the deal moving forward. Neither the Carl's Jr. home page nor its online menu include any details about the Choose Your Happy 4 for $6 menu. Hardee's home page, on the other hand, does mention the deal in big bold print.
According to Chew Boom, the 4 for $6 mix-and-match deal is available for a limited time. There are more than 1,700 Hardee's locations peppered throughout 31 of the United States of America. To find one near you, visit the Hardee's website, click your state, and search through the list of cities.