Paula Deen's Controversial Past Is Back In The Spotlight After Mar-A-Lago Visit
What do you get when you combine six sticks of butter with a history of slinging racial slurs? You get fired from the Food Network and an onslaught of national scorn. Paula Deen, 75, learned that lesson the hard way, according to The New York Times. The popular cooking network gave Deen the ax in 2013 after she admitted to making racist remarks and fostering an environment of racial hostility in her restaurants. While Deen did publish a public apology video for all of the "hurtful language" she used, her reputation was forever tarnished, per Eater. Today, Deen seems to be as synonymous with racism as she is with clogged arteries and type 2 diabetes.
This Southern foodie may not have a home on cable anymore, but Deen was greeted with open arms this week when she arrived at Mar-a-Lago, according to New York Daily News. The former television chef spent time with former President Donald Trump's daughter-in-law Lara Trump at the Palm Beach resort.
Former president's daughter-in-law welcomes Deen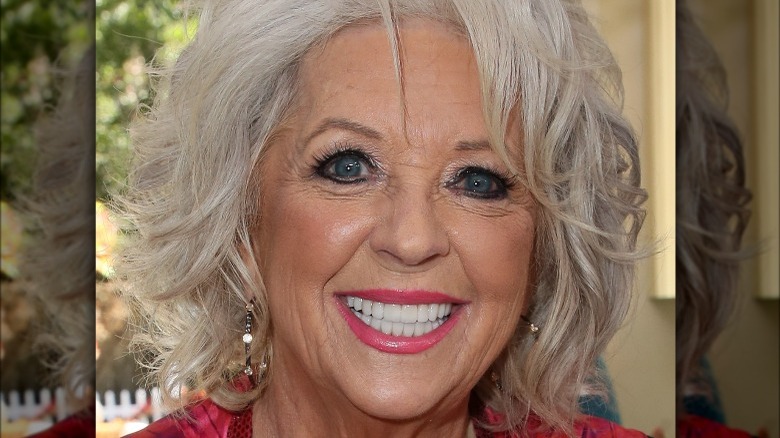 David Livingston/Getty Images
Paula Deen, who's known for whipping up Southern comfort food and dishing out racial slurs, has flown relatively under the radar for nearly a decade after getting fired from the Food Network. Now, she's in the news after visiting Donald Trump's daughter-in-law in Mar-a-Lago, according to the New York Daily News. Lara Trump posted a photo on Facebook of herself posing with Deen. She captioned her photo with a few choice emojis — the stick of butter, the American flag, and a white heart.
Deen and Lara Trump share the trait of racial insensitivity, per Indy100, which noted that Trump said she doesn't think that telling someone to leave the United States if they have negative things to say about the country is racist. Trump also made headlines when she campaigned for her father-in-law with "proud Islamophobe" Laura Loomer, who cheered for the deaths of 2,000 migrants and said she hoped that number would double, per Insider.
Deen didn't advertise the visit to Mar-a-Lago on her social media platforms.