Rachael Ray's Secret To A Perfectly Seasoned Burger Patty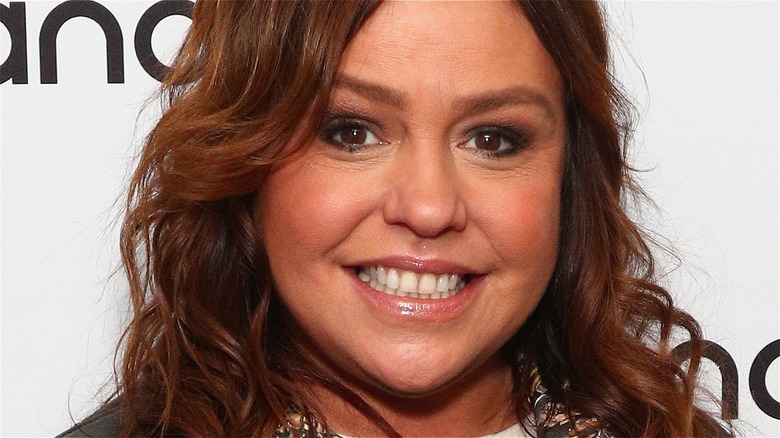 Astrid Stawiarz/Getty
We may receive a commission on purchases made from links.
Aside from Rachael Ray's husband, John Cusimano, the TV personality has a few great loves in her life. For one, the "30-Minute Meals" star can't get enough garlic. Ray gushed about this bulbous vegetable in one of her Instagram videos. "I'll put garlic in just about anything, Ray revealed as she grated a clove. "That would have been a deal breaker. If I met a man that didn't like garlic, forget about it."
Another one of Ray's favorite foods? The humble hamburger. Known for her easy, straightforward, and delicious meals, it's unsurprising that Ray holds a soft spot for this quintessential American dish. In an interview with the Food Network, the New York native referred to herself as a "burger-obsessed person." "I love burger night — I love ground meat of any kind," Ray continued. In fact, Ray is such a burger enthusiast that she has a whole cookbook dedicated to this handheld dish called "The Book of Burger." Whenever she's whipping up her own batch of burgers, Ray is able to achieve the perfect beef patty with a simple seasoning hack.
Rachael Ray likes makings mini burgers to test out her spice rubs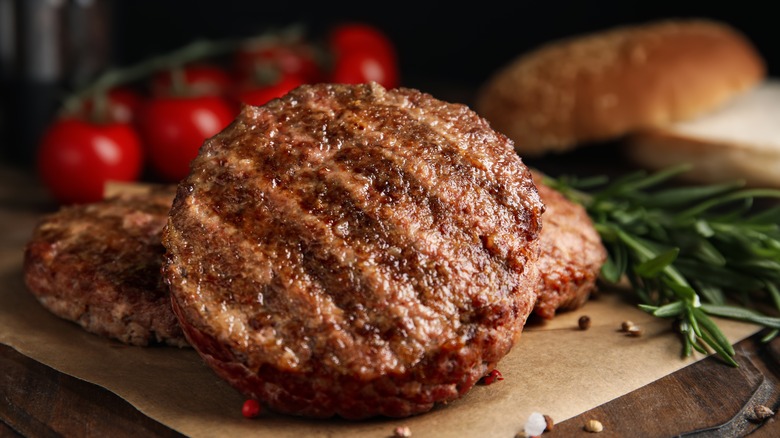 New Africa/Shutterstock
Rachael Ray has not just one but multiple signature burger recipes. According to her official website, some of the celebrity chef's most delicious burger recipes include the Portabella Parm Burger and the "Can't Beat It" Veg Burger. That said, in one episode on the Food Network, the TV personality breaks down how she would make "A Burger for Rachael." "I call this one my favorite burger 'cause it's got all my favorite flavors in one burger," she explained.
This masterful concoction includes sirloin steak, ground pork, provolone, smoked mozzarella cheese, tomatoes, and red onions, among other ingredients. As for how she seasons her patties? The cookbook author sprinkles grill seasoning, fennel seed, red pepper flakes, and some Worcestershire sauce on top of her patties before frying them up on the stove.
But how can you test whether your burgers are perfectly seasoned? You can't bite into a meat patty before it's cooked. In an interview with People, Ray shared one of her tips for making perfect burgers and how she goes about getting just the right blend of spices. "Make a little patty about the size of a quarter, and place it in a hot skillet — it'll cook in less than 30 seconds," Ray shared. If your burger needs a sprinkle of salt or a dash more pepper, you can adjust your spice rub from there!