George Clooney Teased Prince Harry At His Own Wedding Via Cocktail
Dave J Hogan/Getty
On May 19, 2018, 1.9 billion people across the globe witnessed Prince Harry's and Meghan Markle's televised nuptials (via People). And while everyone may remember the moment when the Duke and Duchess of Sussex exchanged vows, said "I do," and exchanged a kiss at St. George's chapel, no one was able to tune into the celebration after the ceremony. The couple's wedding reception was filled with famous faces, frivolity, and fun. The royal couple had their ceremonial first dance to the song "Land of 1000 Dances." "I just really wanted the music to be fun. Even our first dance," Markle, shared in the "Harry & Meghan" Netflix series.
According to Insider, almost 200 people attended the evening reception, and many of the guests made a memorable mark on the event. Elton John performed some of his show-stopping hits, Idris Elba tried his hand at DJ-ing, and Serena Williams engaged in some beer pong. Meanwhile, James Corden was the unofficial emcee, and George Clooney was spotted tearing it up on the dance floor with both Kate Middleton and Meghan Markle. The "Ticket to Paradise" star also dabbled in a little bartending, making fun of the groom in the process.
The Descendants star's signature cocktail was called When Harry Met Meghan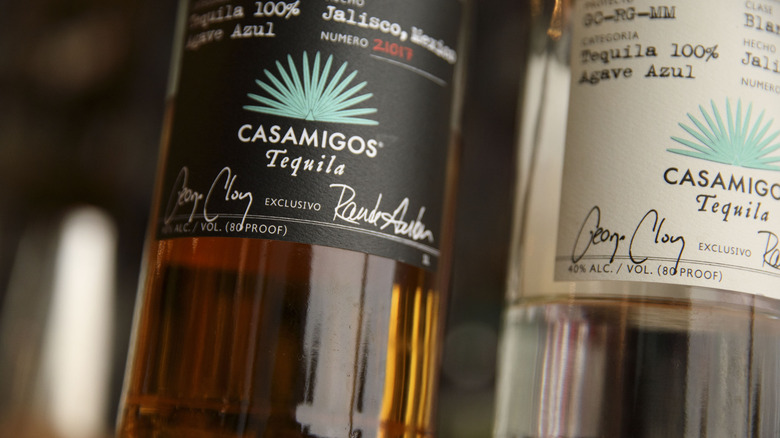 Patrick T. Fallon/Getty Images
While Prince Harry is known for many things, one of his signature qualities is his shock of red hair, a feature he shares with his two kids with Meghan Markle, Archie and Lilibet. When he was crafting cocktails for the Duke and Duchess of Sussex's wedding guests, George Clooney gave a subtle "wink wink nudge nudge" to Prince Harry's hair through his beverages. According to People, the Kentucky native's cocktails heavily featured ginger — get it? According to Insider, the signature cocktail that was made was a rum and ginger cocktail dubbed "When Harry Met Meghan." The cocktails were paired with dishes such as baked potato, pork belly, and meringue.
While the actor may not be a professional bartender, Clooney had his own ties to liquor when he co-owned Casamigos Tequila alongside Rande Gerber. The duo has since sold the company, but they originally launched it as a way to create the "perfect" tequila when they were traveling in Mexico. "As you do when you're in Mexico, you drink a lot of tequila," Gerber shared with CNBC. "After a couple of months trying a lot of different tequilas, George turned to me and said, 'Why don't we just make our own? One that's perfect for us to drink?'" The rest is history.