The Best Keto Ice Creams To Satisfy Your Sweet Tooth In 2023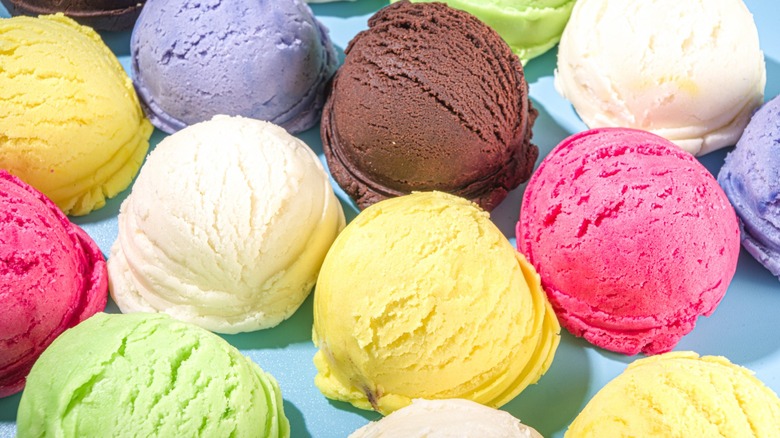 Rimma Bondarenko/Shutterstock
Not much can match the enjoyment of a good scoop of ice cream. Whether it takes you back to your childhood or just helps to satisfy your sweet tooth, the dessert is certainly popular in the United States, with the average American downing around 20 pounds of it annually (via United States Census Bureau). With a few tweaks to the classic recipe, you can even enjoy it while following a keto diet. 
The goal of maintaining a keto-friendly lifestyle is to decrease carbs and rely instead on ketones produced by the liver for fuel, according to Harvard Health. Ice cream with its high-fat content seems like a no-brainer for keto diets — except for that pesky sugar. Removing sugar is an option but creative alternatives such as using plant-based sugar alcohol keep the taste sweet.
The end result is a sweet product with a texture similar to ice cream that gives everyone the satisfaction of tucking into a pint. As the popularity of keto diets grows, so do the options for keto ice cream, so we've rounded up the best selection across the board for 2023.
How we chose products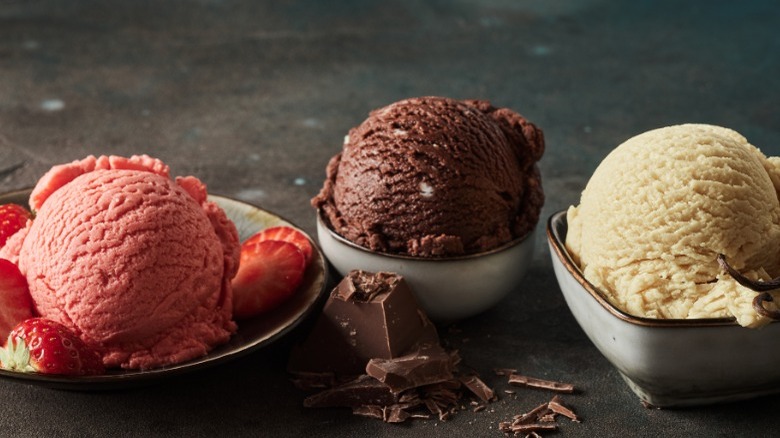 Stock Creations/Shutterstock
There is a plethora of keto-friendly ice creams on the market today and narrowing down the assortment isn't exactly easy. The options we selected are among the most delicious and consequently, some of the most popular products around. We excluded any ice cream that had major textural or flavor issues and instead focused on the ones that delivered on all fronts, offering a range of flavors, a reasonable price point, and an appropriate sugar content. 
Additionally, we scoured internet reviews and consumer websites to identify which pints were worth including. While we focused on ice creams that had wacky and wild flavor combinations, we also tracked down those that successfully executed simple classics like vanilla and chocolate. Ultimately, we ended up with a variety of keto-friendly ice creams that will help you stick to your keto lifestyle while enjoying the sweeter things in life. You might even be able to bring your skeptical friends to the other side.
Best overall keto ice cream
Rebel Creamery has done an exceptional job of crafting a keto-friendly pint that is easy to decipher and also tastes great. Since being mindful of carb intake is a priority on a keto diet, having the carb content boldly labeled on the front of the ice cream pints makes it extra straightforward to determine appropriate portion sizes. You may have to hunt down this ice cream as some customers report, but it is more than worth the search (via Sugarless Crystals). 
While this brand excels across the board, it does especially well with pared-down flavors such as chocolate or vanilla. The plain chocolate flavor is rich, creamy, and perfect for chocolate lovers. Between the consistency and range of flavors — vanilla cookie dough, coconut almond swirl, pistachio, and peanut butter caramel chip to name a few — Rebel is satisfying and as close as you can get to ice cream without opting for the real deal. One Amazon reviewer even found it hard to believe that this wasn't traditional ice cream.
Order Rebel Creamery ice cream on the company's website for $6.49 per pint as of January 2023.
Best dairy-free keto ice cream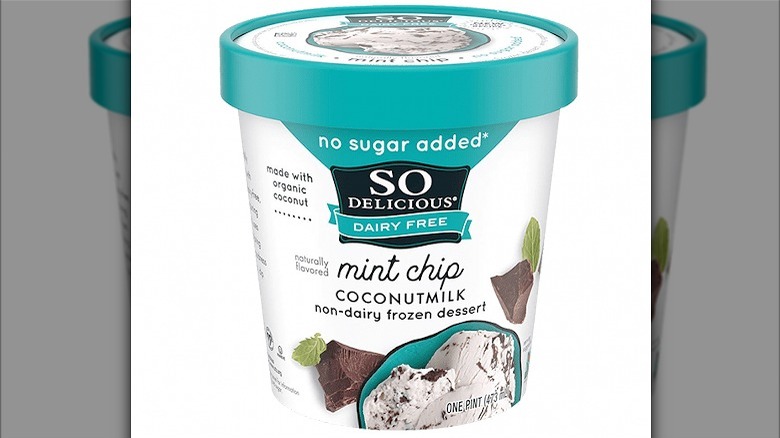 So Delicious Dairy Free
Low-sugar keto ice cream is already fighting an uphill battle, so if you remove the dairy too, you might expect an underwhelming result that's devoid of any creaminess. That's not the case with SO Delicious Dairy Free no sugar added mint chip coconut milk frozen dessert. Although you won't be fooled into thinking this is ice cream, there's a good chance that this treat can help satiate the craving for ice cream if you're eating a sugar and dairy-free diet.
Coconut milk is the number one ingredient in this frozen dessert, and it's hard to miss because of the coconut flavor present in each bite. One Amazon reviewer calls it "the best sugar-free [frozen dessert] I've had." It's about as creamy as a non-dairy dessert can get, but it's best to leave it out at room temperature for 15 minutes before serving. The flavor of mint and chocolate chip is rich without overpowering the coconut element of the dessert.
So Delicious Dairy Free no sugar added mint chip frozen dessert is available on Amazon for $6.49 a pint as of January 2023.
Best keto ice cream bars
Ice cream bars are not only nostalgic, but they're also a convenient way to have a sweet treat on the go. Pints of keto ice cream are slightly easier to find than ice cream bars, but thankfully Enlightened's Keto Collection dark chocolate ice cream bars are available, clocking in at 1 gram of net carbs. 
The sumptuous dark fudge ice cream bar on a stick is perfect for keto diets but also for anyone looking to cut back on sugar intake. It is sweetened with erythritol, a sugar alcohol that is a staple in many keto households, and also contains cream, water, egg yolks, and monk fruit extract for additional sweetness. The brand offers a range of keto-friendly bars in flavors such as caramel dark chocolate peanut, vanilla double dough, and peanut butter chocolate. Customers agree that pretty much any bar from the line is a home run.
Cost Cuisine gives the dark chocolate caramel peanut bars an 8.5 out of 10 on the taste scale, explaining that the bars may not be a complete dupe of the real deal but are a great option for a keto ice cream bar. An Enlightened reviewer declared that these are "the best tasting chocolate bars made for keto diets."
Enlightened Keto Collection dark chocolate ice cream bars are available on Instacart for $9.19 for a pack of four as of January 2023.
Best creamy-textured keto ice cream
In addition to sweetening food, sugar contributes to the structure and softness of ice cream, according to Dream Scoops. So when you replace sugar you end up with an ice cream that may lack the proper texture. That's why Nick's Swedish-style light ice cream is a game-changer. 
Founded by Nick Luthman in 2016 after a pre-diabetic diagnosis, Nick's uses sweeteners made from plants, such as erythritol, stevia, monk fruit, and birch sugar. Instead of using dairy fats, Nick's incorporates EPG, which is a plant-based fat that offers richness and a familiar ice cream consistency without all of the calories.
While the brand makes a whole range of flavors, peanöt choklad cup is a real standout and consists of tiny peanut butter cups surrounded by peanut butter ice cream. It's almost impossible to detect that this is a modified ice cream, and as one Redditor put it, it has "no off flavors."
Nick's Swedish-style light ice cream pints are available for $9.99 as of January 2023.
Best flavor keto ice cream
We'd be remiss not to include Halo Top in our keto ice cream lineup. It is arguably the low-calorie ice cream brand that had everyone wagging their tongues from the start. But what was once one of the most popular brands of ice cream sold in the United States according to Food Dive, momentarily tumbled from the top of the charts after it reworked its signature recipe.
However, the company seems to have gotten back on track following plenty of experimentation. It bills itself as the light ice cream that actually tastes like ice cream, but the brand really shines when it comes to flavors. Sea salt caramel hits all the right notes, with one Amazon reviewer declaring it has "the perfect balance of sweet and salty." The extra caramel swirled throughout the ice cream adds to the flavor of this treat. Ultimately, this product has the decadence you expect from ice cream and is a well-executed example of how to make a sea salt caramel dessert while keeping macro ratios in check.
Halo Top sea salt caramel is sold on Amazon for $6.29 a pint as of January 2023.
Best keto ice cream using clean/minimal ingredients
Keto diets shouldn't necessarily be conflated with healthy or clean eating. The goal of following a ketogenic diet is to have your body rely on ketones instead of carbohydrate sugar, explains Harvard Health. It's all about high fat intake while reducing carbs. As with any other way of eating, there are plenty of foods considered unhealthy by other standards that get a green light from keto. For those who prioritize minimal ingredients, it's nice to have an option for keto-friendly ice cream that is made with less stuff.
That's why Mammoth Creameries has made waves in the low-sugar world. The brand's vanilla bean ice cream contains only seven ingredients: cream, butter, xylitol, egg yolks, vanilla extract, vanilla bean, and salt. As any good keto snack should be, it's low in sugar and high in fat ... but it's also low in indecipherable ingredients. 
The final product is delicious and very similar to ice cream. Although there are occasional textural issues such as some crystallization on the top layer according to Primal Feeding, this is to be expected when removing sugar. But with some thawing, Mammoth Creameries' vanilla ice cream is creamy and full of flavor. An Amazon reviewer who has tried a large selection of keto-friendly vanilla ice cream deems this one their favorite because of the optimal flavor and texture.
Mammoth Creameries ice cream is available on Amazon for $5.84 per pint as of January 2023.
Best xylitol-free keto ice cream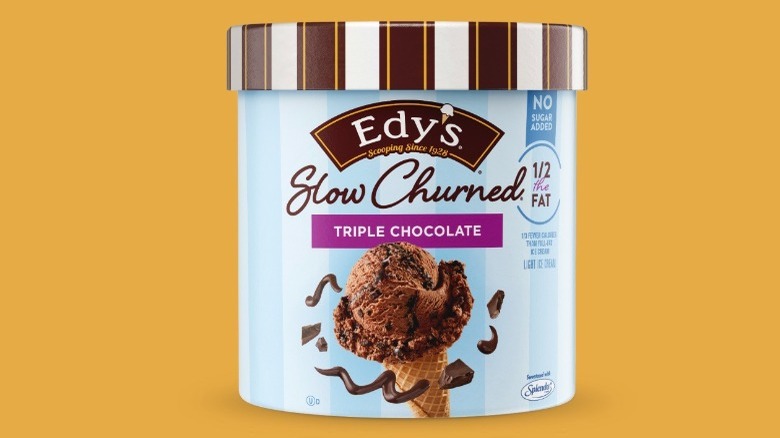 Edy's
Xylitol is one of various sugar alcohols that have helped people with diabetes enjoy their favorite sweet treats. These compounds are common in household items such as chewing gum, toothpaste, and nose sprays, and are also typical sugar alternatives in keto-friendly snacks. While they can be a miracle ingredient for some people, xylitol is extremely toxic to dogs even in small amounts, explains Pet Health Network. If you want to keep it out of your house, xylitol-free products are a good start.
Edy's slow churned triple chocolate ice cream with no sugar added is a xylitol-free dessert that uses maltitol, sucralose, and sorbitol instead. Not only is it a safer choice to keep in a house with dogs, but it's a superb flavor with lots of different textural elements that make it more interesting to eat. Chocolate chips add crunch while the fudge swirls incorporate rich smoothness to the already decadent chocolate ice cream. While finding a xylitol-free option might not be at the top of everyone's list, anyone will be satisfied to dig into a pint of Edy's.
Edy's slow churned triple chocolate no sugar added ice cream is available on Instacart for $8.69 per 1.5-quart container as of January 2023.
Best keto ice cream on a budget
At its core, maintaining a low-sugar diet is straightforward. Just cut out desserts, right? The execution is certainly easier said than done, and with some pre-packaged foods on the market, you end up spending more for items that fit your lifestyle. 
Breyers CarbSmart ice cream is the answer to your budgeting prayers. It won't break the bank if you're picking up a pint or two to accompany a keto cake for a potluck. At under $5 for a 1.5-quart container, it's one of the more budget-friendly keto-friendly ice creams on the market. Not to mention, it has a fantastic flavor to match its attractive price point. One Walmart reviewer went as far as to describe it as just as good as regular Breyers. 
The brand's CarbSmart line contains a range of flavors like double chocolate chip, brownie a la mode, and coffee cookie crunch. Call us purists but the vanilla is a must-try. It's got the texture and creaminess you expect from traditional Breyers, and while it does lack sugar, your tastebuds will quickly calibrate — especially since this checks both the keto box and the delicious box.
Breyer's CarbSmart is available at Walmart for $4.97 for a 1.5-quart container or by the pint for $2.98 as of January 2023.
Best keto ice cream for a splurge
Want to splash out and bring your picky friend the very best keto ice cream there is to offer? Look no further than Enlightened + Delish p.b. cookie & brownie dough. While there are some other keto-friendly ice creams that are more expensive per pint, we ranked Enlightened as our top pick for the category because it's festive and downright delicious. 
It might even be one of the best flavored keto-friendly ice creams on the market with its chunks of soft peanut butter cookie and brownie dough. With the mix of vanilla, peanut butter, caramel, and chocolate, which one Amazon reviewer describes as all distinctly present, it's a pint that you'll have no problem grabbing on your way home after a long week. This is the dessert to bring to low-sugar skeptics to show them that the possibilities are truly endless. 
Order Enlightened + Delish p.b. cookie & brownie dough ice cream on Amazon.