We Tried Gordon Ramsay's New Times Square Restaurant. It's A One And Done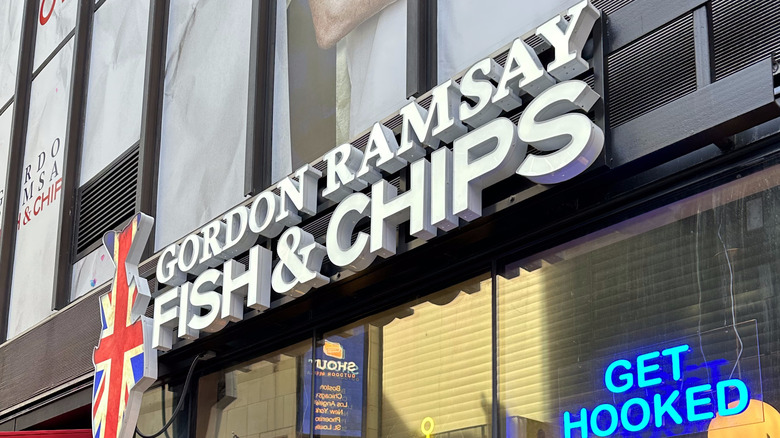 Olivia Bria/Mashed
Gordon Ramsay is a cooking legend. That's why when we heard he was opening a fish and chips restaurant in Times Square, we were instantly curious. Fish and chips are not necessarily a common find in the United States, especially from a world-renowned British chef like Ramsay. The "Hell's Kitchen" host and judge doesn't necessarily hold back when it comes to reviewing dishes, so we won't either. 
Gordon Ramsay Fish & Chips currently has three other locations in Las Vegas, Orlando, and Washington D.C. It's safe to say that the television personality has changed the culinary industry in more ways than one, with his 58 restaurants earning a culmination of 17 Michelin stars over the years (via Escoffier). Now his recipes have made their Big Apple debut and we are here to tell you exactly what your taste buds should expect. So without further ado, let's dig into what his newest eatery is offering.
It has a fast food vibe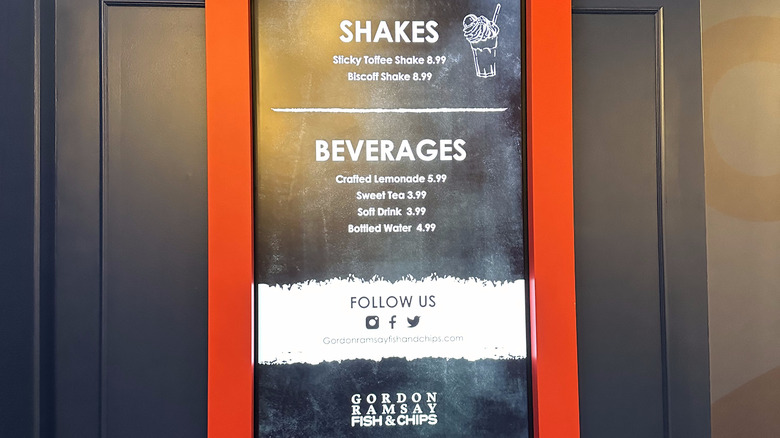 Olivia Bria/Mashed
The first topic that we should get out of the way is that Gordon Ramsay Fish & Chips is not where you should go if you are looking for a gourmet meal. According to the restaurant's website, the eatery is described as "fast-casual" which we would agree is an accurate adjective. When you first walk into Ramsay's place, you head down a long ramp and make your way to the ordering counter. The restaurant was incredibly clean despite being one door away from the dirty streets of New York. 
The menu is limited, but hard to miss behind the cashier, so ordering is a quick process. Similar to fast food restaurants, you pay before you eat and then grab your food when your order is called. The open kitchen concept allows you to see the cooks making your grub, so of course, we parked ourselves at a table right near them. If you are a Ramsay fan looking for a quick meal in the middle of Times Square, then we say this is a solid option. 
The restaurant plays on classic English pub food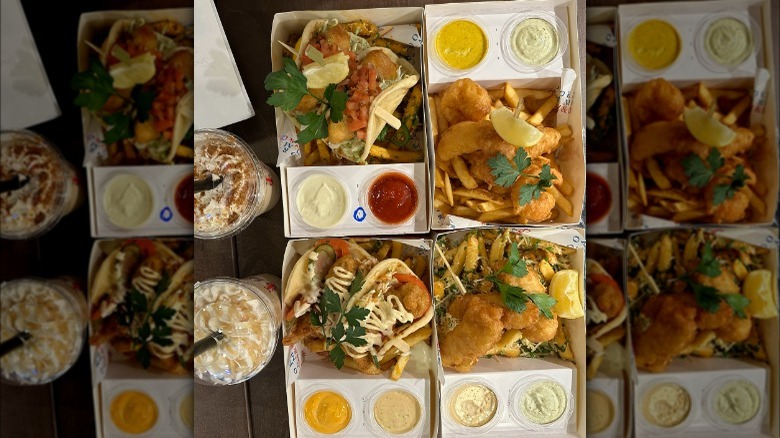 Olivia Bria/Mashed
Gordon Ramsay Fish & Chips is supposed to be the chef's take on a classic dish. The overall food menu included six combos, six dipping sauces, and four chips (or as we call them in North America, French fries). Beverage options included two milkshakes, crafted lemonade, sweet tea, soft drinks from a soda vending machine, and bottled water. 
We splurged for the lemonade and bottled water as a palate cleanser, and we would judge the lemonade as pretty tart but thirst-quenching. If you aren't a fan of the original fish & chips, Ramsay offers shrimp and chicken as a replacement. Each is served with natural sea salt chips (unless you upgrade to the more flavored fries) and two dipping sauces of your choice. 
For elevated fish & chips, the television personality curated a Fishwich Combo" and a Chickenwich combo. Imagine tacos, but with fried meat inside and some toppings. That's pretty much what these were. 
The fish and chips were subpar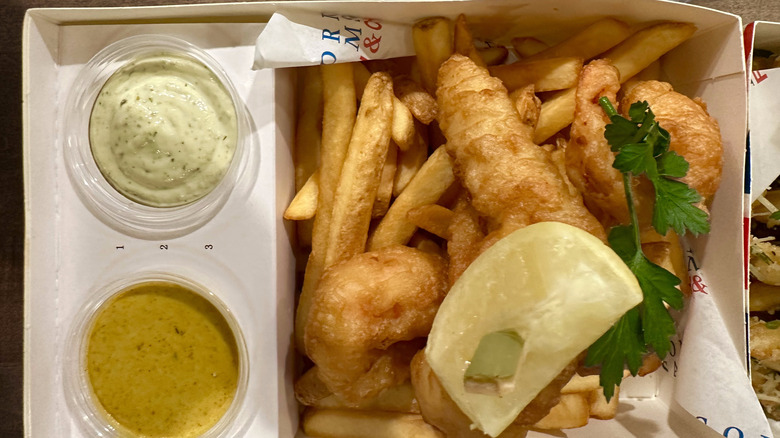 Olivia Bria/Mashed
Now let's get to the juicy part — how the food really tasted. We would like to get one thing straight before moving forward, and that is that greasy food is not our forté. So you can understand our skepticism going into a fish & chips restaurant where almost everything is fried. We were thoroughly surprised to see that the meal was not greasy at all. In fact, the cod, shrimp, and chicken were all cooked perfectly — tender with a thick breaded coating that did not overpower the meat.
However, what the meal made up for in the frying, it completely lacked in flavor. It seemed as though the fish was a vehicle for the dipping sauces instead of the fish being the centerpiece of the meal. A dash of salt or pepper would have gone a long way! Considering Ramsay's cooking expertise, we expected a bit more seasoning from the "MasterChef" judge. 
The sandwiches were the real stars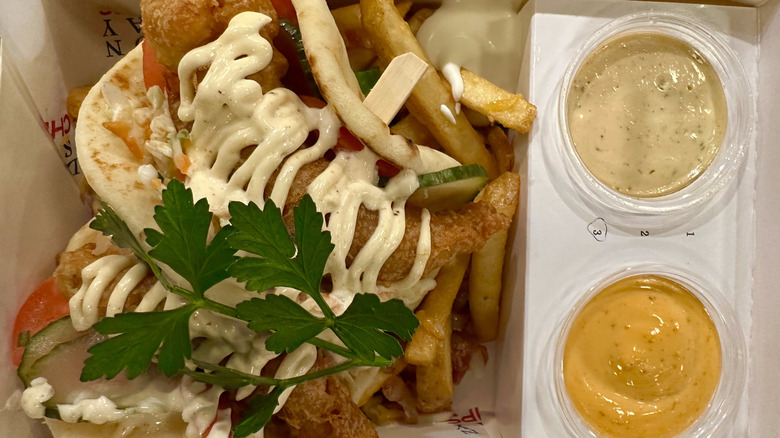 Olivia Bria/Mashed
We aren't really sure what to call the Fishwich combo and Chickenwich combo other than sandwiches or fancy tacos. Per the restaurant's website, the Fishwich combo consists of one piece of crispy cod, avocado sauce, shredded cabbage, and a fresh tomato relish wrapped between naan bread. 
What we found most interesting about this meal was the naan bread, which was incredibly soft and a unique twist to fish and chips. The Fishwich was probably the second favorite meal of the day, with the Chickenwich combo taking the crown. The Chickenwich was also served in naan bread, but with one chicken tender, cabbage slaw, sliced Roma tomatoes, house pickles, and a drizzle of Old Bay dressing. 
The Old Bay dressing and cabbage slaw really stole the show here, as it elevated the fish and chips one step further from the classic dish. The sous chef kindly informed us that everything on our the table was made in-house down to the pickles, which we would definitely expect coming from a Gordon Ramsay eatery. 
There are four different types of fries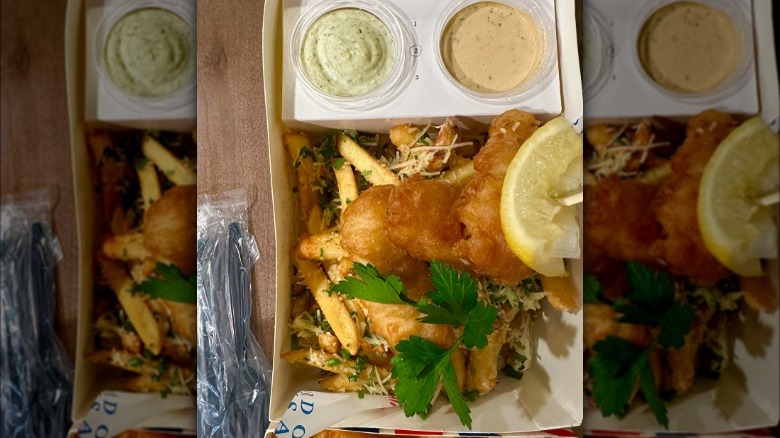 Olivia Bria/Mashed
The Just Chips menu was particularly intriguing. The natural sea salt menu item can be compared to the classic French fries, although we couldn't really taste the sea salt at all. Ramsay's dipping sauces really saved the day with those chips! In addition to the classic fry offering, the restaurant sells three kinds of Dirty Chips.
If you are going to dine at Gordon Ramsay Fish & Chips any time in the near future, we recommend grabbing Dirty Chips #1. The fries are topped with jalapeño, chorizo, cotija cheese, red onion, chives, and parsley, and can be served on the side or underneath the fried fish with the combo meal. Cotija cheese is an aged Mexican cheese with a saltier taste that presumably allowed for more flavorful chips. Unfortunately, the fries being placed underneath the other food made for some soggy potatoes, so make sure you eat fast! 
Continually, Dirty Chips #2 with truffle, parmesan cheese, chives, and parsley were lacking the taste of truffle. Dirty Chips #3 carried a baked potato flavor with bacon, cheddar cheese, green onion and sour cream. The cheese on both menu items could have been melted for an optimized tasting experience.
The shakes are a fun add-on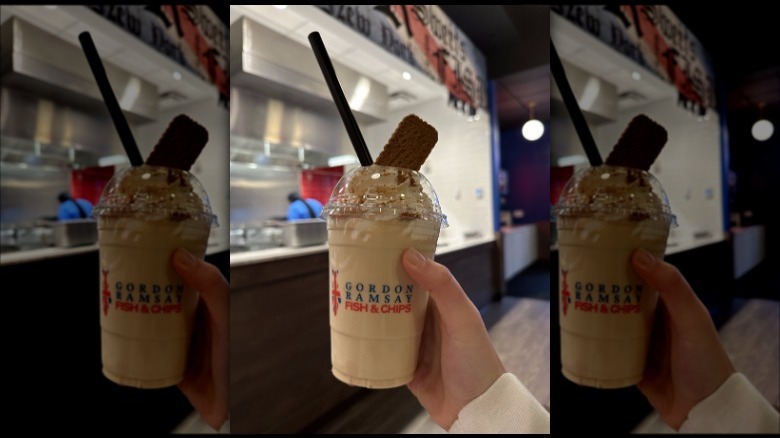 Olivia Bria/Mashed
Like many fast-casual eateries, Gordon Ramsay Fish & Chips had an option of thick milkshakes. The Sticky Toffee Shake reminded us of our childhood when all we wanted after school was a sweet vanilla milkshake topped with whipped cream. There wasn't an overpowering toffee flavor but a delightful and subtle hint of salted caramel. This allowed for a smooth drink that should be easy to gulp down beside your meal.
Sticky toffee pudding originated from the United Kingdom, so we also appreciated that fun flavor being incorporated into Ramsay's menu (via Britannica). Another European favorite, Biscoff, was highlighted in the Biscoff Shake. The beverage was topped with a classic Biscoff cookie and a light crumb coating for an extra treat. We would compare this milkshake's taste to that of a gingerbread flavor, and it was quite enjoyable overall. Both drinks were somewhat filling, so you can even take the cups to-go as you walk around the city. 
These are the best sauces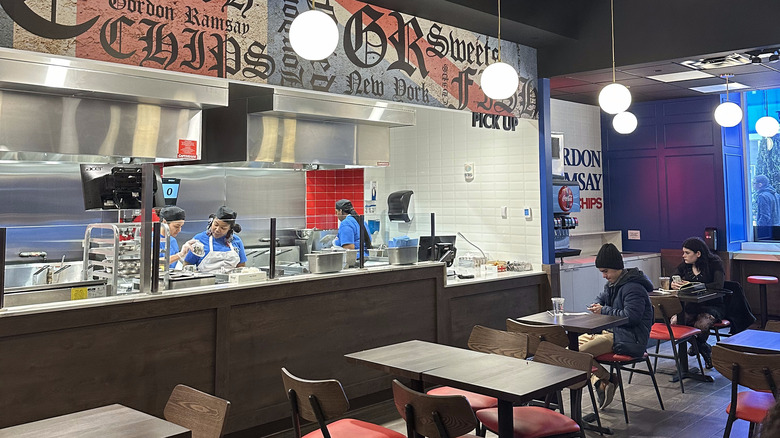 Olivia Bria/Mashed
Gordon's Tartar, Sriracha Aioli, Dijon Mayonnaise, Cocktail, Southwest Ranch, and Curry & Mango. That's what we would rank chef Ramsay's sauces starting from the best to worst. Of course this ranking depends on your taste buds and favorite flavor profiles, but in terms of the meals, Gordon's homemade tartar sauce complemented the fried food the best. The sous chef informed us that several of the sauces are mayonnaise based and the ratio of ingredients are what make Gordon's Tartar stand out among other dips. 
While we felt that the tartar sauce wasn't exactly out of this world, it was a great dipping agent that aided the more bland fish and chips. If you favor a bit more spice with your food, the Sriracha aioli offered a fun kick while the Southwest ranch concocted a smokier flavor. We would definitely recommend you pair the cocktail sauce with a shrimp variety, should you choose to forgo fish or chicken. 
The prices are a bit high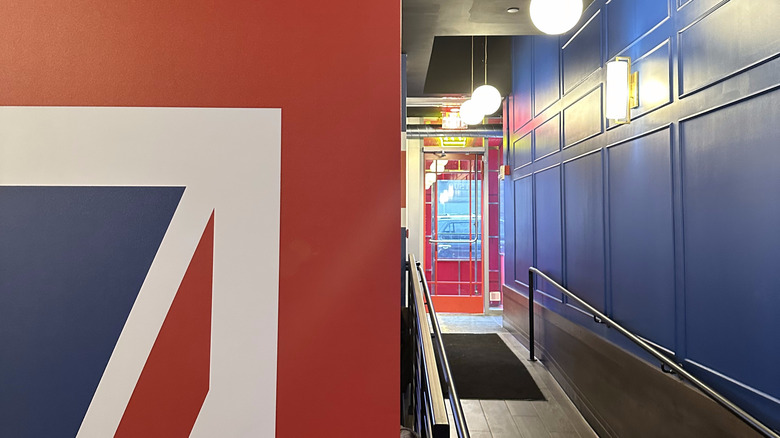 Olivia Bria/Mashed
If you are dying to try Ramsay's first New York restaurant, we would say the sandwiches give you the most bang for your buck. Given our freelance writing salary, cutting costs is a big part of eating out (especially after New York City is tied for first place as the most expensive city in the world). That's why we can confidently say that after experiencing the meal first hand, the original Fish & Chips are overpriced at $17.99. 
That dish is the most expensive on the menu behind the Fish & Shrimp combo at $18.99. Considering that Ramsay's new restaurant is smack dab in the middle of Times Square, we can't exactly be surprised at the pricing of the London-inspired meal. Plus, it's not like fish and chips is as abundant in New York City as pizza. 
Besides the attention-grabbing fish and chips, we would say that the rest of the menu items are pretty accurately priced given the location and Ramsay's name being attached to the restaurant. 
The service was top notch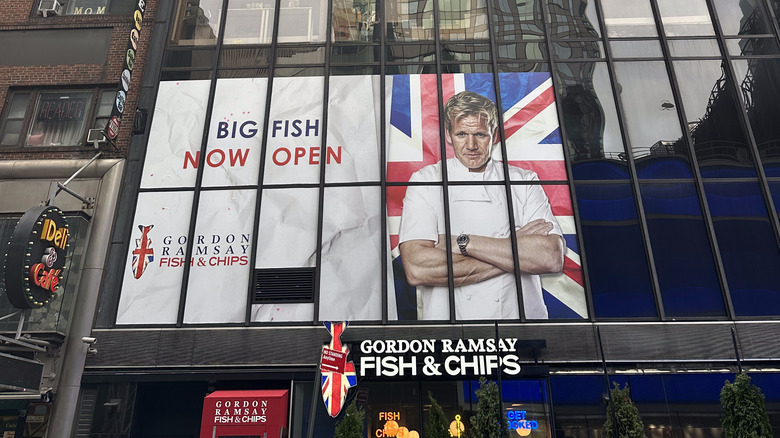 Olivia Bria/Mashed
Let's talk about the staff and the ambiance of the restaurant as a whole. We visited Ramsay's place on a Sunday, so it can be assumed that it was slightly less busy than it would be on a Friday night or Saturday. The restaurant is open pretty late too, until 10:00 p.m. on weekdays and an hour later on the weekend.
Therefore, it was a pretty calming atmosphere and a pleasant break from the busy streets of Times Square. Gordon Ramsay Fish & Chips could be described as kid-friendly, as we saw several families walk in and out for a quick bite. The staff was extremely welcoming right when we entered the eatery until we finished up our meals. Not only did the sous chef recommend her favorite order, but the cooks were also very quick to deliver us our food. It didn't take more than 10 minutes, which is a timeline that would most definitely be approved of by the "Kitchen Nightmares" host himself.
Our final verdict on Gordon Ramsay Fish & Chips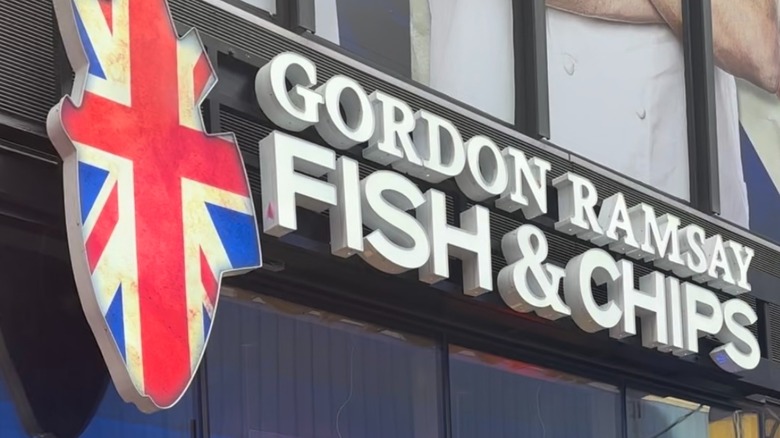 Olivia Bria/Mashed
Overall, we would rate Gordon Ramsay Fish & Chips a solid six out of 10. The main reason we're hesitant to score it higher is due to the overall absence of flavor from the food. For someone of Ramsay's caliber, it was surprising not to be wow'd by one of his restaurants' meals, even if the intention is for it to be more of a fast-casual eatery. It's definitely a one and done. 
Despite the original fish and chips being subpar and overpriced, the Fishwich and Chickenwich did feel slightly more elevated than other to-go offerings around the city. The most important detail that we appreciated was the cleanliness and kind service (which is sometimes few and far between in a big city like New York). Because the Times Square location just opened last month (via Forbes), we are hoping that Ramsay ups his seasoning game as the restaurant gets its footing.
What's the one point that we are most happy about when it comes to the food? We never once had to say "It's raw!" like Ramsay does in pretty much every episode of "Hell's Kitchen."