The Best Oven Thermometers In 2023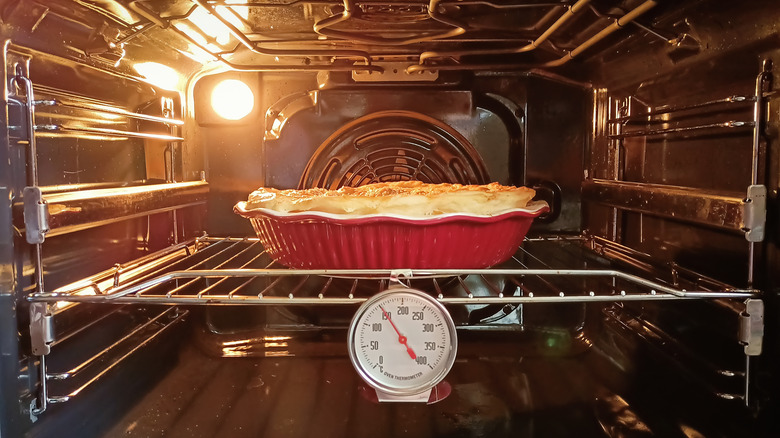 Alzay/Shutterstock
We may receive a commission on purchases made from links.
Ovens are fickle. We like to think they remain at a consistent temperature while operating and throughout their lifespans, but in reality, they can fluctuate by a 60-degree range (via General Electric). While some foods can fare okay in a finicky oven, other items such as baked goods will suffer. Depending on how off-kilter your oven is, you might not even notice the inconsistency between the reading on the built-in thermometer and the actual temperature. However, if your food is regularly burning or taking much longer than anticipated to cook, your oven temperature is probably inaccurate.
While annoying (especially if your food keeps coming out of the oven with more char than you'd like), the fact that your oven operates at an incorrect temperature is likely nothing of concern and can be easily remedied. You could have someone repair it or purchase a new oven entirely, but the most cost-effective solution is to purchase an oven thermometer. (It's also a useful diagnostic tool if you suspect your oven isn't operating properly.)
These thermometers sit inside your oven and give you more precision to manage your cooking and baking, ultimately increasing your chances of success. No matter your reason for purchasing it, an oven thermometer is a great cooking tool for your kitchen. Keep reading for a list of the best models to purchase in 2023.
How we chose these oven thermometers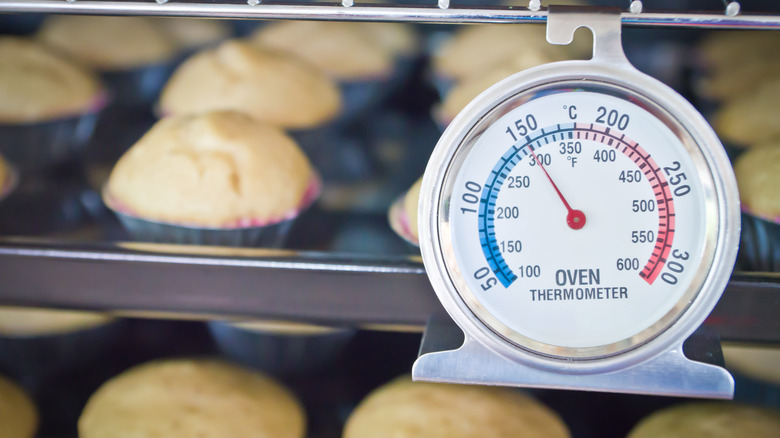 Makuromi/Shutterstock
If you need an oven thermometer to ensure you aren't potentially burning your food to bits every time you cook, we understand the importance of finding a quality device. To guarantee an optimal selection, we scoured brands to find models that work as well as they say they do. There are several types of oven thermometers on the market, and while we incorporated many of them on this list, above all, we looked for thermometers that were consistent, precise, and durable.
We began by gathering a list of thermometers that met our criteria, which we further whittled down by looking at factors like value and user reviews. When we had a solid list, we categorized the items according to their most notable feature or function, ensuring there was an option for all buyers. You're bound to find something useful on this list for your purposes. Let's take a closer look at the best oven thermometers of the year.
Best overall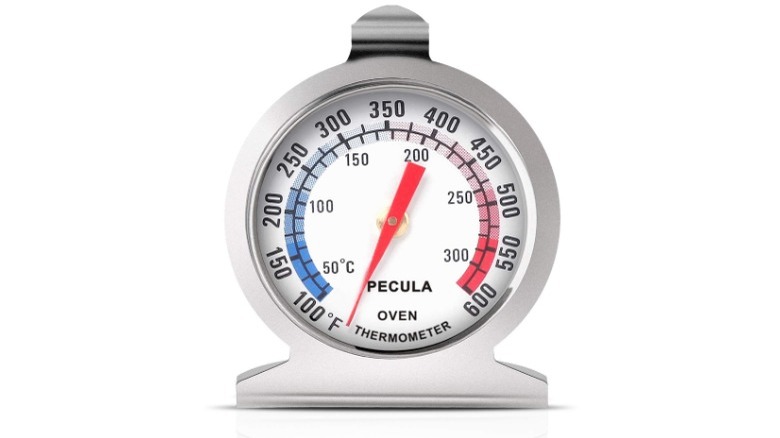 Pecula
The best oven thermometer of the year is sold by Pecula. This stainless steel bauble is built to last. Although there are many oven thermometers with great technology for sale (many of which are on this list), we are of the firm belief that while convenient, technology is not a necessary feature for success. 
Pecula's model is durable, easy to read, accurate, and compact. It's easy to clean, doesn't require a battery, and will withstand temperatures up to 600 F, making it versatile enough to use in some wood-fire ovens. It's even been known to solve problems. "My oven was burning everything so I got this to check and found out it was 100 degrees hotter than it should be. Works well and fixed my problem," one Amazon reviewer shared.
Other product reviews have sung this thermometer's praises too. Best Views Reviews gave this device high scores on its readability and ease of use, noting that it's accurate and made with quality. On top of that, it sells at an affordable price, making this a worthwhile purchase. Trust us, you're better off spending money on an oven thermometer rather than a new oven. 
Get the Pecula oven thermometer on Amazon for $9.99 as of January 2023.
Best affordable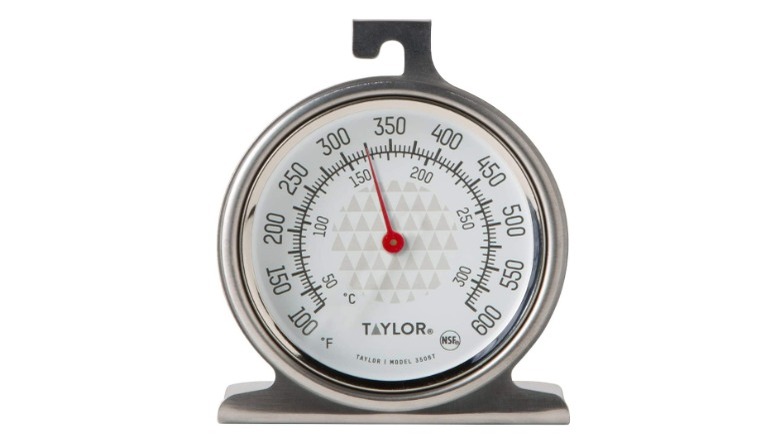 Taylor Precision Products
Generally speaking, oven thermometers aren't that expensive. Of course, certain models are pricier than others as with most products, but you can definitely get a cheap oven thermometer. However, you don't want cheap quality, just a reasonable price. Instead of wasting your time with a model that's inaccurate, hard to read, or that'll break within months of owning it, get the Taylor Precision Products oven thermometer. Made of stainless steel, this thermometer is compact yet easy to read thanks to its large face. It's both accurate and precise in its temperature reading, and it can hang from or sit on your oven racks.
As one Webstaurant reviewer noted of this product, "This thermometer is accurate and trustworthy. Haven't had a problem with it. I put it in the oven and it does the accurate temperature and I love it. Highly recommend to all of you." "This little guy worked perfectly to let me know that this oven is not calibrated correctly. I now utilize this little helper for all of my oven cooking! It really works!" an Amazon user shared. While it certainly won't fix your oven, it'll definitely help you make necessary adjustments to avoid burnt food, all for a supreme price.
Purchase Taylor Precision Products oven thermometer for $5.99 on Amazon as of January 2023.
Best splurge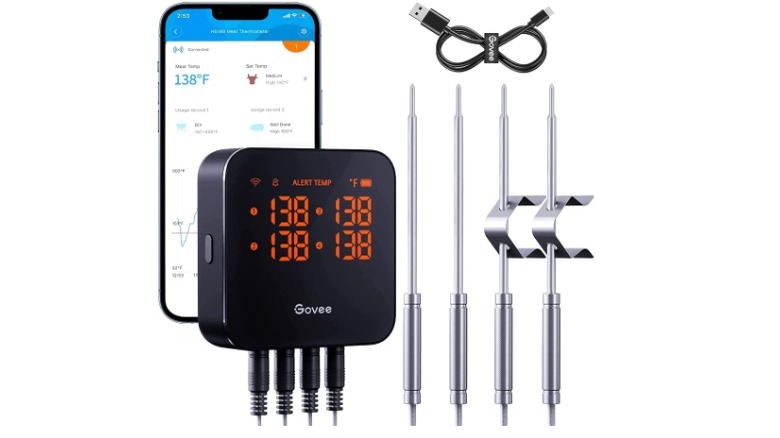 Govee
While we did say that expensive oven thermometers aren't necessary, that's not to say we wouldn't use or recommend them. If you want to splurge on an oven thermometer, we recognize that certain expensive models will elevate your cooking and we fully support this choice. The trick is finding which expensive thermometer is worth the splurge. Govee is a great choice and it comes with some truly unbelievable features as far as oven thermometers are concerned.
Govee's product has wireless capabilities and comes with a mobile app, so you can check on the temperature of your food or oven while you've stepped away. It's built for outdoor use but it can absolutely be used indoors too. The mobile app is just as convenient from your living room couch as it is from your patio chair. 
The thermometer is smart, too. It'll notify you if your food has surpassed your desired temperature, and it reminds you what temperatures are recommended by the USDA for each type of meat. Plus, it comes with multiple probes, so you can monitor more than one food at a time. As one Amazon reviewer put it, "Both the company and the device are excellent. I would highly recommend this product." Don't hesitate to make this purchase if you want a technologically advanced oven thermometer.
The Govee WiFi thermometer is available on Amazon for $89.99 as of January 2023.
Best hanging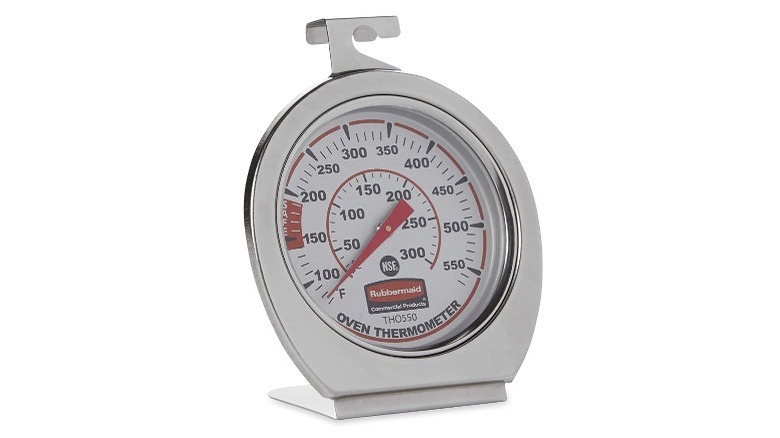 Rubbermaid
Most oven thermometers are hanging thermometers. It makes sense because the design allows users to read the temperature without any difficulty. Not to mention, if you place it in the right spot, it won't interfere with your pots and pans. There are many quality hanging oven thermometers on the market, but we're partial to the Rubbermaid model. It's accurate and easy to read, and it comes with both a Celcius and Fahrenheit scale. It's compact enough to fit in a toaster oven, but it's still big enough that you don't have to squint to read it.
Lots of users have had good luck with their Rubbermaid oven thermometer, and many cite it as the reason they discovered a temperature issue with their oven. "We now set the oven according to this interior thermometer and it has made a positive difference in our baking. We consistently have to set the oven about 25 degrees higher than the oven says it is; and this is a new oven. Bought one for a friend and they found a similar problem with their range and now get better results," an Amazon customer wrote. If you're having trouble with your oven too, Rubbermaid might be the solution.
You can purchase the Rubbermaid instant read oven thermometer on Amazon for $17.30 as of January 2023.
Best standup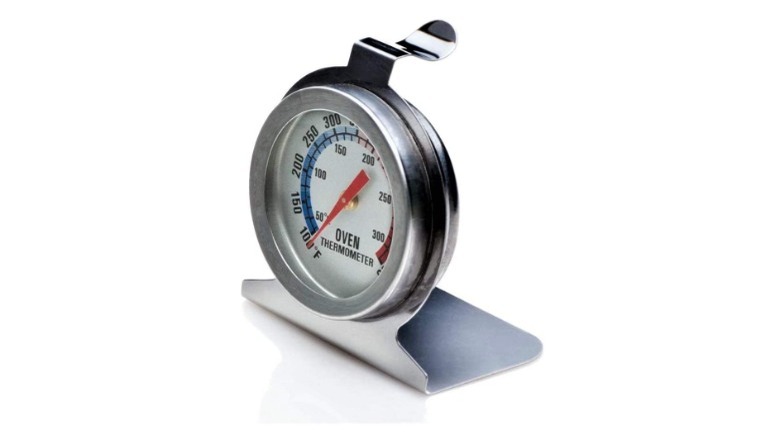 Smart Choice
While we like a hanging oven thermometer, there is the chance of it dropping. We understand why many cooks prefer something that can stand up. A standing oven thermometer still gives an accurate temperature reading, there's just less of a chance it's going to fall into your casserole or ruin your prize-winning pie. 
Smart Choice makes a great standing thermometer. It's easy to read and the scale is color coded, which makes it simple to glance at it quickly if you're monitoring your oven as it heats up or cools down. It also comes with a hook for hanging, so if you're not sold on the standing feature, you can easily change how you use it. As one satisfied purchaser simply states: "Excellent product."
You'll like this device for another reason too. Even if you don't want to use a standing oven thermometer on a regular basis, it's great to purchase it for experimental reasons. As one Home Depot reviewer noted, it can help determine the temperature of different areas of your oven. If you fear you may have spots that aren't heating evenly, the Smart Choice thermometer can help you discover if that's the case, which is a task that might be a little more challenging with a hanging thermometer.
You can purchase the Smart Choice oven thermometer for $12.99 on Amazon as of January 2023.
Best infrared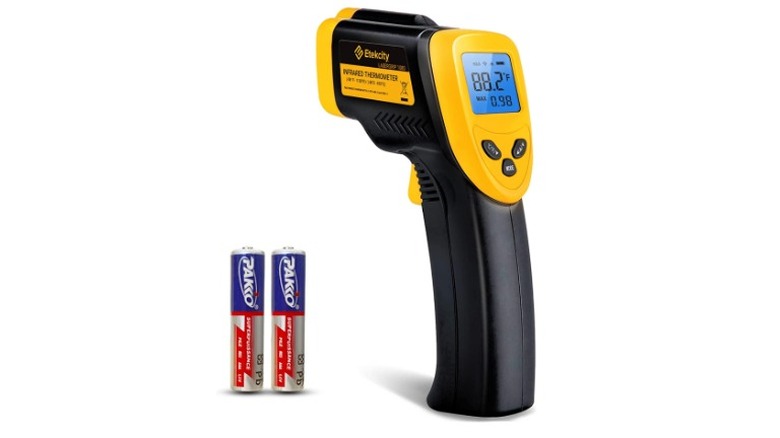 Etekcity
Before you purchase an oven thermometer, consider your intended uses. If you regularly bake or roast food and are more concerned with the overall temperature of your oven, you're going to want a thermometer that stays in it. However, if you grill a lot of meat and want to know the temperature as it's cooking, consider this infrared thermometer from Etekcity. 
An infrared thermometer detects temperature without having to be inserted into food. It works similarly to a speed gun — simply point it at the food you want to read, and it tells you its temperature. There might be a bit of a learning curve, but once you get the hang of it, it's very easy to use. It's also perfect if you're cooking something you don't want to remove from the heat source immediately.
Those who've already purchased an Etekcity infrared thermometer are fans. As one Amazon reviewer noted, "I got this for cooking, specifically searing on a cast iron [...] This tool made it stupid easy. Highly recommend this." Another customer praised it for its accuracy, affordability, and ability to switch from Fahrenheit to Celcius. "The necessary 9-volt battery even comes included and is highly uncomplicated to switch when needed," they pointed out (via Pizza Oven Reviews).
Purchase your own Etekcity infrared thermometer from Amazon for $24.99 as of January 2023.
Best probe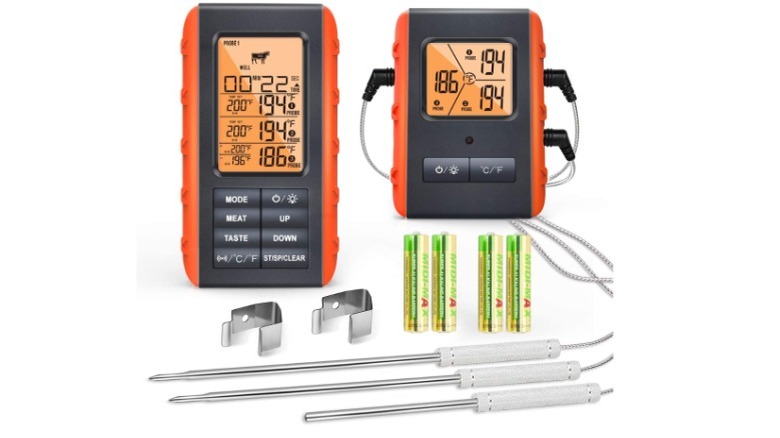 Vauno
A probe is another type of thermometer you may want to consider purchasing. If it suits your needs, it's well worth the extra cost. However, it's unnecessary if you don't usually need incredibly accurate internal food temperature readings. If you're unfamiliar with the design, these thermometers come with probes, which are long sticks that perform the temperature reading. Simply insert them into the desired spot in your food, and they'll take the temperature. Probes are most often used for meat, so if you're not much of a grill master or smoker, you might not need this product. 
If a probe thermometer fits your purposes, we suggest the Vauno. This wireless thermometer accurately reads temperatures, offers Bluetooth capabilities and a remote, and is even suitable for indoor or outdoor use. Its only downsides are its lower-than-average temperature threshold and battery requirement. Aside from that, it's a really excellent product.
You'll love it for features that many users have already raved about. "I love that I can temp 3 different things at once. This has been a game changer for my cooking game," one Amazon customer shared. "Easy to use and the Bluetooth range on it is great," another consumer wrote. You'll love your Vauno thermometer too.
Get a Vauno wireless probe thermometer for $49.99 on Amazon as of January 2023.
Best digital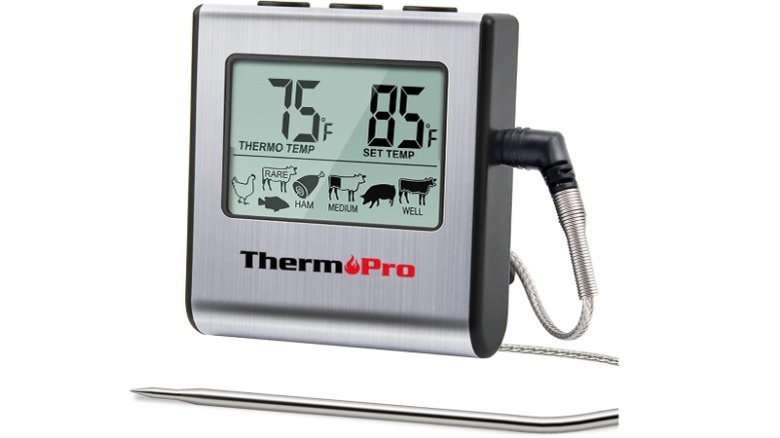 ThermPro
Although we've already listed multiple digital thermometers, you're going to like the simplicity of the ThermoPro. It's like the difference between a digital clock and a smartwatch. Sure the smartwatch has neat features that are great to have, but they're not always necessary. Sometimes you just want the digital clock. It's accurate, long-lasting, and both easy to read and use. 
Such is the case with ThermoPro's device. Outfitted with a probe, this digital thermometer is perfect for cooking meat, as well as for specific baking projects like making caramel or working with melted sugar. The thermometer has a magnetic back too, which makes it even easier to use.
This model has been around for years, and it's still making customers happy. "It's an invaluable tool if you don't want dry meat, poultry, or fish for that matter anything that requires a specific temperature to be safely eaten. Highly recommended," one Amazon customer commented. "The ThermoPro is extremely accurate [at] holding its readings. Readings are faster than several other thermometers I compared it to," another consumer noted. See for yourself just how well it works. We're sure you'll be satisfied.
Purchase the ThermoPro thermometer for $23.99 from Amazon as of January 2023.
Best dial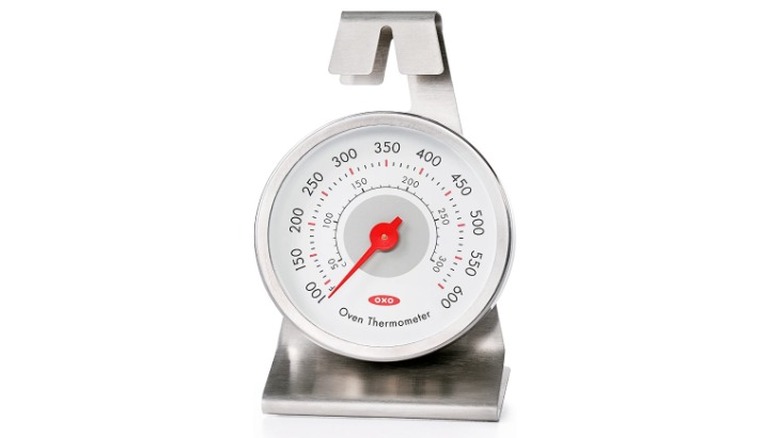 OXO
Let's face it — while some analog oven thermometers have lots of great features, many can be hard to read, which is incredibly frustrating. What's the point of having a thermometer if you can't read it properly? Instead of endlessly searching for an analog thermometer that has all the features you're looking for, simply get OXO's Good Grips model. This thermometer can hang or stand and will stay in place. It accurately reads temperatures in both Fahrenheit and Celcius scales, and it's long-lasting and overall easy to use. 
But its best feature is its precise dial. The dial on this thermometer is red against a stark white background with black numbers. The face is clear and uses a font that's sleek and easy to read. The dial is thin and points to the exact temperature it's measuring. You'll be hard-pressed to find a dial as straightforward as this one. As one Amazon reviewer stated, "The thermometer is easy to read and, for an oven thermometer, it is stylish. Highly recommended."
Though it's not perfect, most users are very pleased with this OXO thermometer. Another customer commented, "It has large, legible numbers. It stays hooked onto the rack even if I bump it. It seems accurate, albeit with the usual delay of 10 minutes or more to get a good reading. Overall I'm very happy with this."
Get your own OXO Good Grips oven thermometer for $14.95 on Amazon as of January 2023.
Best wireless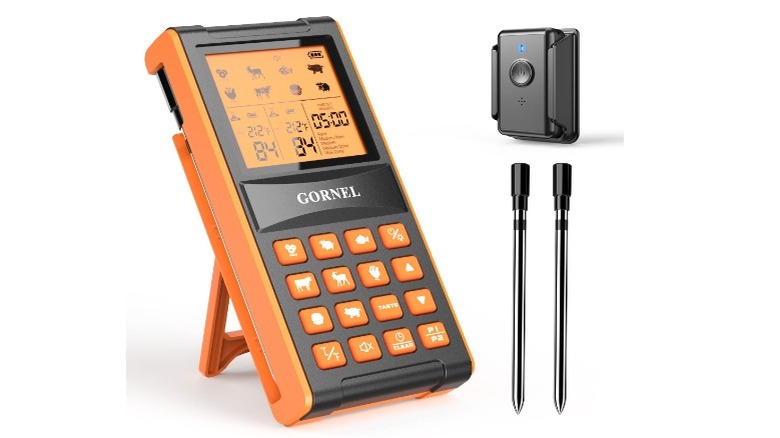 Gornel
Wireless oven thermometers are really something. They allow you to cook without having to constantly monitor your food, which is perfect if your quest is to be more present with your family and friends. As technology improves, they only get more accurate and user-friendly, which you'll find with Gornel's model. 
Equipped with a probe, this wireless device is accurate within a 300-foot range, incredibly responsive, and suitable for indoor and outdoor use. Not to mention, it's waterproof, which truly sets it apart from competitors. There's no reason to let rain or snow stop you from grilling with the Gornel thermometer. You can purchase either a single-probe or double-probe model.
Whether you use this in your oven or outside, you'll be just as happy as past customers. "This wireless meat thermometer makes it easy to accurately cook meats to the proper temperature. The instructions were easy to follow the first time I used it and now it's quick and easy to set it for the desired temperature [...] I found this thermometer to be very accurate — I checked it with an instant read thermometer," one Amazon user wrote. "Device is made of high-quality materials, comes with clear, detailed instructions, and is very easy to use. I have tried other meat thermometers, including wireless ones, but this one is the easiest to use," another fan added. It's hard to be disappointed by this device.
You can purchase a Gornel wireless thermometer from Amazon for $99.99 as of January 2023.