Adding Pretzels To Cupcakes Is The Simple Way To Make A Pleasant Crunch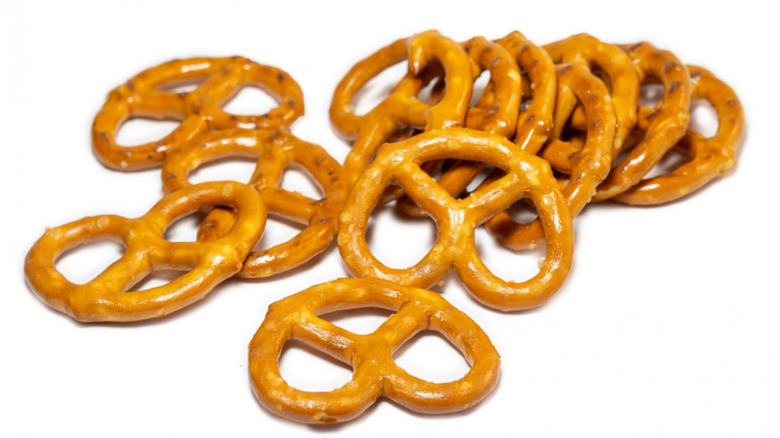 Aleksandr Puludi/Shutterstock
Cupcakes are easily one of the most versatile desserts around. These tiny delights can be made from just about any ingredient, from super sweet to deeply savory. Plus, to complete these fluffy little cakes, home bakers and professional pastry chefs alike have full reign to play with an array of toppings, creating different textures for the ultimate mouthfeel. In a chocolate bacon cupcakes recipe, for example, the pork adds a salty crispiness to contrast with the soft and sweet chocolate base. Or if you were making s'mores cupcakes, a layer of toasted marshmallows could be just the thing to lend campfire memories and a sticky, gooey sensation to your creations. And for something that adds a burst of fresh flavor while also looking professional and pleasing to the eye, there are plenty of edible flowers to incorporate into your cupcake repertoire.
As long as you balance the flavors just right, there is no end to what you can pop on top of your cupcakes to bring something different to the eating experience. In fact, it turns out you may not even have to look past your regular snacking choices if you're looking for inspiration about how to switch up your next cupcake recipe.
The best way to incorporate pretzels into your cupcakes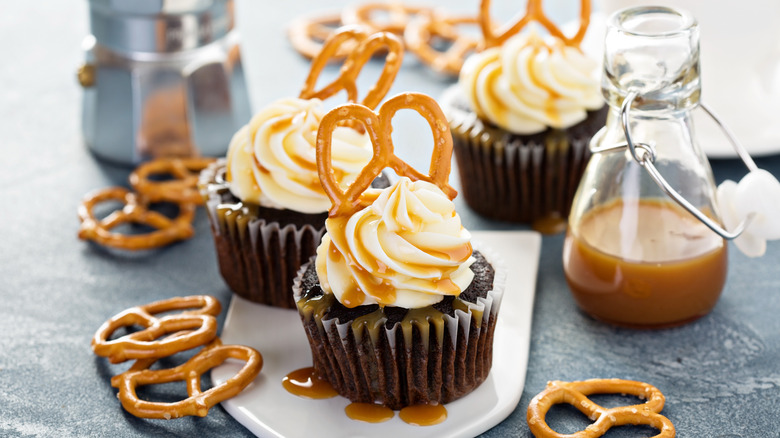 Elena Veselova/Shutterstock
Pretzels have long been a preferred snack for game days, movie nights, or just plain whenever you feel like it. Though they're usually eaten on their own with a cold beer, they also offer saltiness, just the right amount of crunch, and a whole new level of interest to your baking game — especially when crushed on top of cupcakes or left whole and speared into the frosting.
Of course, just like adding cookies or wafers to a cupcake — where an icing topping may be used to hold the toppings in place — you want to make sure the crunchy ingredient won't go soggy. Dry pretzels might go soft if left inside of a moist cupcake frosting for too long, but one baking duo has a hack to prevent that.
If you want that yummy, savory snap of a pretzel with your cupcake but don't want to worry about it losing its integrity in the frosting or growing stale when exposed to air, then you should consider dipping those twisted treasures in some rich chocolate, as stars of "The Cupcake Guys" recently demonstrated on Good Morning America. Their sweet and salty chocolate cupcakes with peanut butter filling and buttercream frosting get a final chef's kiss from a chocolate-covered pretzel, adding height and finesse to the already decadent dessert.