Making Grilled Cheese Sandwiches On A Sheet Pan Can Be A Total Game-Changer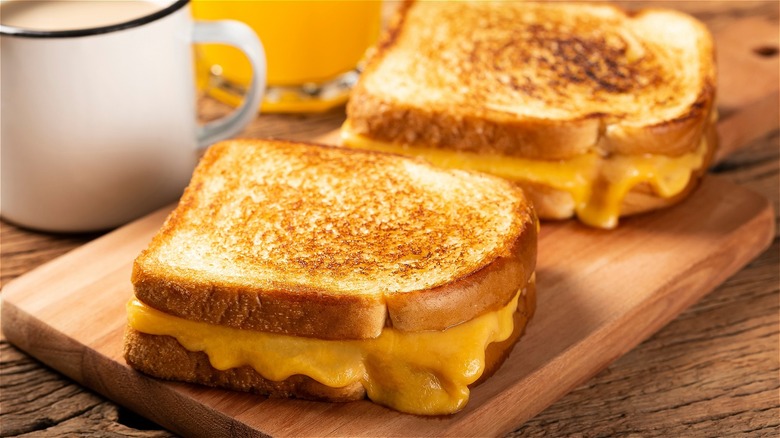 WS-Studio/Shutterstock
What's more comforting than a grilled cheese sandwich? The coziness starts the minute you put butter on a pan, hear it sizzling, and start smelling it while grabbing slices of your favorite bread and a batch of your cheese of preference for a hearty kind of meal. Along with a cappuccino, these make a perfect warm breakfast for windy days, and with tomato soup you can consider it a satisfying and fulfilling dinner or lunch.
Of course, your devoted culinary heart has sought ways to improve your family-inspired recipe. Ina Garten suggests adding spices, dijon, and mayo to your cheese mix(via Barefoot Contessa), while chef Jernard Wells suggests searing both sides of the bread. Perhaps last time you decided to switch butter for mayo or went for a different type of cheese. Well, we may have another great trick for you if you ever want to share this cozy delicatessen with more people: Prepare grilled cheese sandwiches in a sheet pan.
Make grilled cheese sandwiches in the oven for a crowd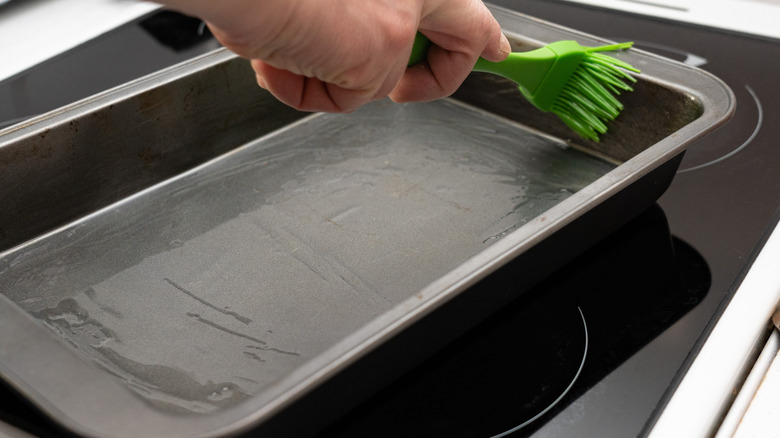 woff/Shutterstock
Dinner Then Dessert suggests making grilled cheese sandwiches in a sheet pan and baking it in the oven. You won't only get a crispy outside and melty inside result but you will make more sandwiches in just one bake, and in an easier way as you don't have to be involved at all, just to flip it to bake the other side if necessary. You won't even need to use parchment or foil paper as the pan will toast your bread by itself, especially if you brush butter, or your preferred fat, on it. And when the sandwiches and done are served, the clean-up is easier because is just one pan as Land O'Lakes notes.
Of course, even though this is an easier method, there are some basic grounds to cover to avoid mistakes while making grilled cheese. As Blue Apron recommends, try sticking to cheeses that melt, like gruyere, American cheese, provolone, cheddar, or fontina, and avoid soft cheeses like feta. Also, when your batch of grilled cheeses is ready, wait a bit to cool it down for the inside to settle a bit more so it is easier to slice it or serve (via Pillsbury).
You can replicate this method with your grilled cheese recipe of preference, with veggies, fruits, or even kimchi, and get the finest results — crunchy and golden outside, ooey-gooey on the inside, and no sogginess at all.