The 14K Gold Necklace Designed To Hold Your Condiments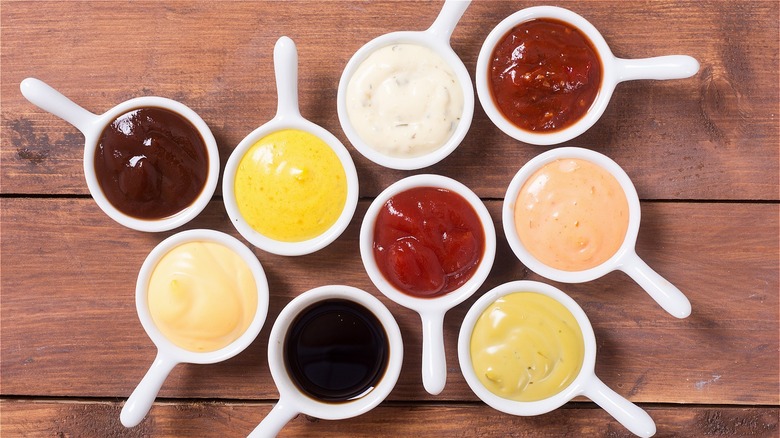 AlexeiLogvinovich/Shutterstock
The condiment and sauce company Primal Kitchen is rethinking the way we use condiments through a piece of jewelry that will enable you to take your favorites wherever you go. The brand is known for creating a range of products, from cooking oil to pasta sauce, aimed at people who are looking to avoid processed ingredients and explore diets such as paleo. Mark Sisson, an author and "ex-endurance athlete," created Primal Kitchen in 2015. The Kraft Heinz Company then purchased the brand in 2019 for $200 million, CNBC explained.
By 2020, the company boasted more than 20 plant-based items in its selection of sauces and condiments, per an interview with the founder. Although Primal Kitchen's Avocado Mayo is dividing Costco shoppers who can't agree on whether it's worth the purchase, this brand's next project can't be slathered on a slice of bread. As a recent press release reveals, the company is stepping out of the kitchen and onto the catwalk.
Primal Kitchen releases Secret Sauce necklace to add flavor on the go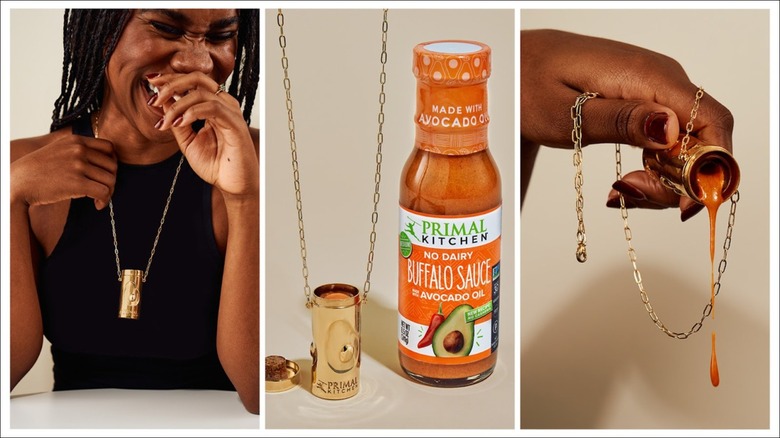 Primal Kitchen
Primal Kitchen, a brand known for its range of health-oriented sauces and condiments, has forayed into the world of fashion just in time for fashion week, according to a press release. On February 7, the company will release a piece of jewelry that allows you to carry condiments on the go. Primal Kitchen created the limited edition Secret Sauce necklace in collaboration with Lindsay Lewis, a jewelry designer in Chicago. The 14-karat plated gold accessory is shaped like a little jar and can hold a good helping of whatever sauce you want to carry on your person. 
"A great black dress is just a great black dress — but with a spectacular necklace, it's a killer outfit," said Ana Goettsch, head of marketing at Primal Kitchen. The brand's new offering takes this philosophy to the next level: This necklace is not just any necklace, it can also carry your favorite sauce.
The Secret Sauce Necklace retails for $29.99, and it comes with a bundle of essential sauces: Buffalo, Hawaiian Barbecue, ranch dressing, and ketchup (via Primal Kitchen). Primal Kitchen is hardly the first food brand to create jewelry. Entrepreneur reported that Mcdonald's in the Netherlands created a jewelry line from its customers' trash last August. And, before that, FoodKick by Fresh Direct collaborated with BaubleBar to deliver jewelry along with grocery orders, per Spoon University.