Chef Jose Garces' Lobster In Spicy Tomato Sauce Recipe - Exclusive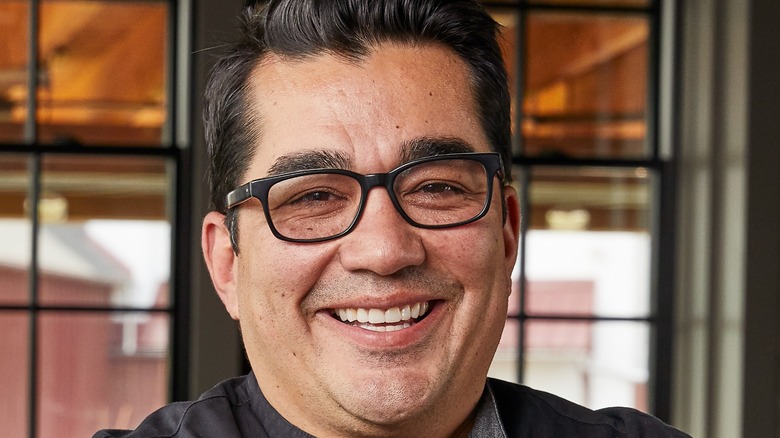 Michael Persico
If you're looking for an impressive dinner to serve your favorite someone either for Valentine's Day — or any special occasion — Iron Chef, James Beard Award winner, and expert in all things Spanish and Latin cuisine Jose Garces has just the dish. "Maybe you've heard of Marry Me Chicken?" he asks. "Well, this is Marry Me Lobster." His enchilado de langosta, aka lobster in spicy tomato sauce, "is packed with flavor and perfectly balanced by the freshness of the lobster to create a dish that's sure to impress. I've always loved cooking this for my immediate family on special occasions, like Valentine's Day, as we all share a love of fresh seafood — with a little Latin flare, of course!"
A heads up: This recipe does involve live lobsters (an ingredient that Garces stresses is essential), but don't worry. Garces uses what he says is the most humane way to go about dispatching your crustacean friends ahead of poaching the claws and knuckles and searing the bodies. "It can seem a bit tricky, especially working with live lobsters, but it's really much simpler than you think — and I promise, starting with fresh, live lobsters is worth it!"
For a broader glimpse into Garces' culinary genius, you can catch him on the upcoming season of Food Network's "Tournament of Champions," as well as give his two cookbooks a look: "Latin Evolution" and "The Latin Road Home." In the meantime, give his enchilado de langosta a try.
Chef Jose Garces' Lobster In Spicy Tomato Sauce Recipe - Exclusive
Chef Jose Garces likens this dish to a lobster version of the popular "Marry Me Chicken," perfect for Valentine's Day or any other romantic occasion.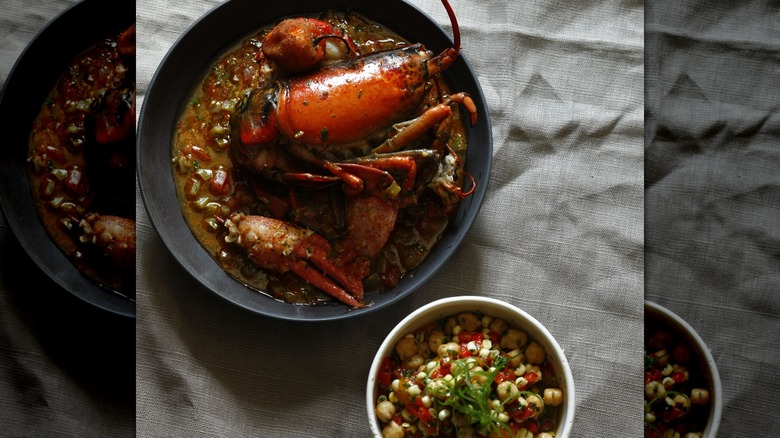 Ingredients
For the enchilado sauce
1 tablespoon extra virgin olive oil
½ Spanish onion, diced (½ cup)
2 tablespoons minced garlic (4 to 6 cloves)
2 tablespoons tomato paste
2 plum tomatoes, finely chopped (1 cup)
1 cup dry white wine
2 cups good-quality, low-sodium fish stock
1 tablespoon dried oregano
1 tablespoon crushed red pepper
Kosher salt and freshly ground black pepper
For the lobster
2 tablespoons extra virgin olive oil
2 (1-pound) live lobsters
½ Spanish onion, diced (½ cup)
1 jalapeño chile, seeded and finely diced
1 tablespoon minced garlic (2 to 3 cloves)
2 tablespoons roasted garlic (4 to 6 cloves)
1 jarred roasted red pepper, drained, rinsed (if packed in oil), and chopped
2 tablespoons chopped fresh cilantro
1 tablespoon minced fresh oregano
Kosher salt and freshly ground black pepper
Optional Ingredients
Cooked white rice, for serving
Cahuchas fritas, for serving (recipe below)
Directions
To make the enchilado sauce, heat the olive oil in a large stainless-steel skillet over medium heat. Add the onion and garlic and cook, stirring frequently until translucent, about 10 minutes.
Stir in the tomato paste and tomatoes and cook for an additional 2 to 3 minutes.
Add the wine and bring the sauce to a low boil and simmer to reduce by half, about 10 minutes.
Add the stock and simmer to again reduce by half, about 10 more minutes.
Stir in the oregano and crushed red pepper and season the sauce to taste with salt and pepper.
To prepare the lobsters, use a large and very sharp chef's knife to split them in half lengthwise (insert the tip of the knife just behind the eyes and bring the blade down through the length of the body; this kills them instantly). Remove and discard the innards and rinse the lobsters clean under cold running water.
To cook the claws and knuckles, prepare an ice bath and put a saucepan of salted water on to boil. Twist off the claws and knuckles of the lobsters and poach them, shell on, in lightly salted water for 5 to 7 minutes. Transfer them to the ice bath to cool, then remove and discard the shells and set aside the meat.
To cook the lobster bodies, season the cut side of the lobsters with salt and pepper. Heat the olive oil in a large stainless steel skillet over medium heat and sear the cut side of the lobsters until caramelized, about 5 minutes.
Turn the lobsters, add the onion, jalapeño, raw and roasted garlic, and roasted peppers to the pan and cook, stirring frequently, for another 5 minutes.
Stir in the reserved claw and knuckle meat and the enchilado sauce and cook just to warm through.
Gently stir in the cilantro and oregano, and season the enchilado to taste with salt and pepper.
Serve with white rice and cahuchas fritas (recipe below).
To make the cachuchas fritas filling, combine 8 ounces cream cheese, ¼ cup steamed (or frozen and thawed) white sweet corn, 2 tablespoons minced chives, 1 tablespoon minced fresh cilantro, and salt and pepper to taste. Transfer the mixture to a disposable piping bag fitted with a small tip. Use the filling to stuff 4 ounces of cachucha chile peppers by using a paring knife to cut a small slit in the side of each pepper and then piping in the filling. Fill the peppers no more than ⅔ full. Preheat 6 cups vegetable oil to 350 degrees Fahrenheit in a large soup pot over medium-high heat, using a candy thermometer to monitor the temperature. Line a baking sheet with parchment paper. Set out three small deep plates. Add 1 cup of all-purpose flour to the first plate; 2 large, beaten eggs to the second plate; and 1 cup finely ground panko to the third plate. Gently roll each stuffed pepper in the flour, then dip in the egg to coat, and then roll in the panko to cover. Set the filled peppers on another baking sheet. Fry the cachuchas in batches until golden brown and crispy, 2 to 3 minutes, turning frequently. Drain them on the paper-lined baking sheet, season to taste with salt, and serve immediately.