Machine Gun Kelly's Coffee Shop Is Being Compared To Starbucks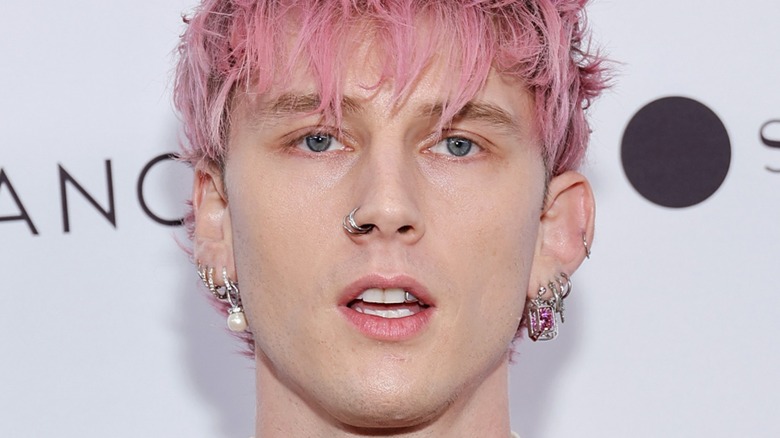 Matt Winkelmeyer/Getty
While it's pretty common for famous celebrity chefs to open their own restaurants, it's also becoming more and more popular for celebrities, in general, to venture into the food scene. Most of us know that Hell's Kitchen is a restaurant opened by chef Gordon Ramsay, and chef Bobby Flay owns Amalfi and Bobby's Burgers. Nowadays, the list of celebrities that own restaurants is huge, but a few examples are The 40/40 Club, which is owned by rapper Jay-Z; Laughing Man Coffee, which is owned by actor Hugh Jackman; and Joanne Trattoria, which is owned by singer Lady Gaga and her parents, per Insider. Additionally, sports star Peyton Manning owns Saloon 16, musician Jon Bon Jovi owns Soul Kitchen, and Danny Trejo owns Trejo's Tacos (via People). 
One of the most recent celebrity-owned restaurant ventures would be The 27 Club, which is owned by musician Machine Gun Kelly and opened in 2020 in Cleveland, Ohio, according to The Travel Addict. Kelly named his coffee shop The 27 Club in honor of several famous musicians who all died when they were 27 years old, including Amy Winehouse, Kurt Cobain, Jimi Hendrix, and Janis Joplin, says 27 Club general manager Troy Nethken, per WKYC. Kelly's coffee shop is so great that some people have been comparing it to the mega coffee chain Starbucks.
Machine Gun Kelly's coffee shop in Cleveland, Ohio
Musician Machine Gun Kelly's coffee shop, The 27 Club, has an everyday menu and a late-night menu, with the latter being available only on Fridays and Saturdays from 4 p.m. to 8 p.m. As far as coffee goes, diners can look forward to enjoying cold brew coffee, Americanos, iced lattes, and a Diablo Latte that has activated charcoal with a purple acai sugar rim. If you need something a little stronger, you can try one of The 27 Club's many cocktails, such as the Strawberry Basil Smash, the 27 Club Sour, the Lithium Lemonade, the You Know I'm No Good, and more.
However, The 27 Club doesn't just serve up coffee and cocktails, with a few interesting food items from the everyday menu being the PBR Waffles that are actually made with Pabst Blue Ribbon beer, Shrimp Sliders that are served with Old Bay dressing and arugula on crostini bread, and 27 Toasts, which is vegan and comes with avocado and eggplant tapenade. One fan that actually visited The 27 Club said the vibe was "very cool and chill" and even compared it to Starbucks, writing "As a current barista at Starbucks, I can definitely say the quality of the coffee is much better than Starbucks'. It's smoother and tastes better — not to mention, it costs about the same as or even a little less than a Starbucks drink" (via BuzzFeed).