McDonald's Secret McBrunch Burger Is Blowing Up On TikTok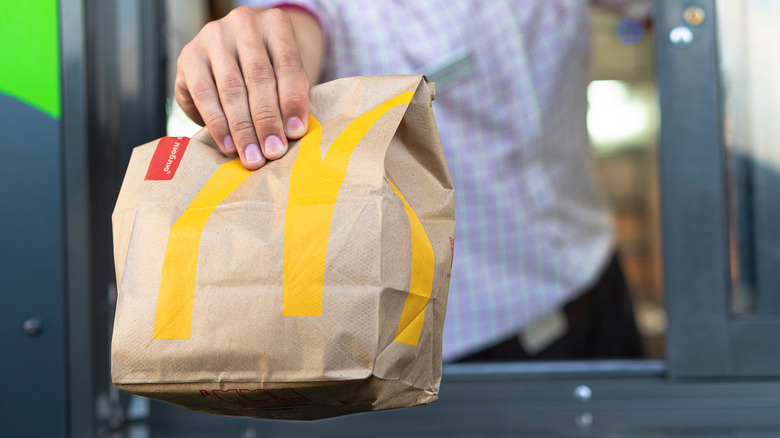 Gargantiopa/Shutterstock
No matter what your favorite fast food restaurant is, we can all agree that few do breakfast as well as McDonald's does. The chain truly has something for everyone, regardless of what they're in the mood to eat. For people who feel like starting their day off with something sweet, they can order everything from syrupy hotcakes and fruity oatmeal to decadent cinnamon rolls. And, for those who prefer to eat something savory, they can order the restaurant's famous Egg McMuffin, as well as the chain's delicious, crispy hashbrowns.
But, people who are feeling adventurous with their breakfast order, might want to consider ordering a secret menu item. In a viral video that has over 21.9 million views, a TikTok user reveals that the chain carries the McBrunch Burger. 
Nedless to say this is perfect for people who are ready to feast on some of the chain's most popular items. Here's what people had to say.
For tasty brunch on the go
In the TikTok, the user explains the restaurant's best-kept secret. "If you go to McDonalds around the time breakfast ends and lunch begins, you can order what is called a McBrunch Burger," they said in the clip. "A McBrunch Burger is a double cheeseburger with hash browns, eggs, and bacon all on the same burger all at one time.Yes, they are probably annoyed if you order it, but it is a real thing — do with that information what you will."
People in the comments seemed very excited about the item, and it was even backed by one person who said they had tried it before. "That McBrunch Burger hits hard," they commented. "As a former McDonald's employee, I used to do this during my break."
However, other commenters expressed some concerns about not being able to order off the secret menu, since each restaurant has different rules. Luckily, someone gave the perfect solution for people who are worried about this: "If all else fails, you can order the items separately and put it together."
Oh, and if you were wondering what time to place your order, make sure to do it right when breakfast is done being served — around 10:30 or 11 a.m. depending on location.