Costco Vs. Sam's Club: Which Is Better?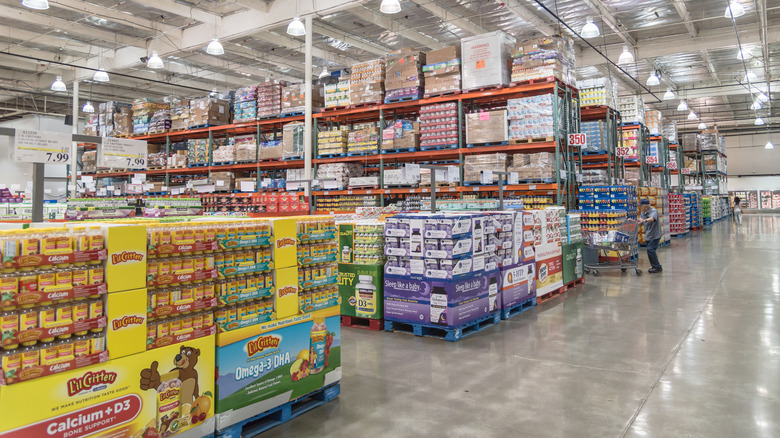 Trong Nguyen/Shutterstock
It's safe to say that when it comes to membership warehouse chains, Costco and Sam's Club dominate the market in the United States. Both offer the convenience of buying in bulk for grocery and household items. Due to the stripped-down aesthetic, both are able to lower their prices, making them ideal for bargain hunters, community groups, and small businesses. Those who spend a lot of time on the road may be reliant on member discounts on gas and electric vehicle (EV) charging.
Costco and Sam's Club may look the same on the surface, but there are some key differences that set them apart and make them more or less attractive to the average consumer. They also offer benefits that not everyone may be aware of, but could save you literally thousands of dollars. If that caught your attention, then you definitely want to keep reading to learn the pros and cons of these two retail giants.
Costco membership fees are higher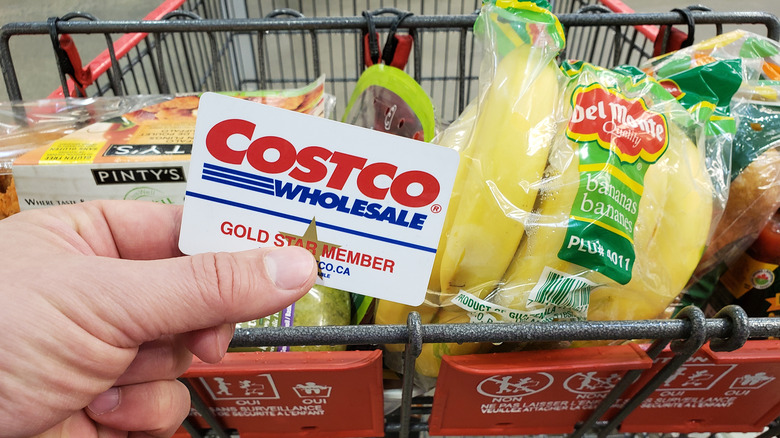 dennizn/Shutterstock
The first thing to consider when looking at joining a warehouse store is the yearly cost of membership. It does cost you more to be a Costco member than a member at Sam's Club, but let's look at what these memberships get you for their respective prices and tier levels.
For the average consumer, Costco offers two membership tiers. For $60 per year, a Gold Star member receives two membership cards, one for themself and one for another member of their household; can shop in stores and online; and, if unhappy with their membership, can expect a full refund. For twice that amount, an Executive member receives all of the aforementioned plus discounts on additional services and a two percent annual reward on qualified purchases up to $1,000.
At Sam's Club, for $50 per year, a Club member can expect membership discounts on purchases, access to the tire and battery center and bonus offers program, add-on memberships, and curbside pickup. For $110 per year, a Plus member receives all of this with the addition of free shipping, early shopping hours, pharmacy and optical savings, and two percent back on qualified purchases up to $500.
Sam's Club accepts all major credit cards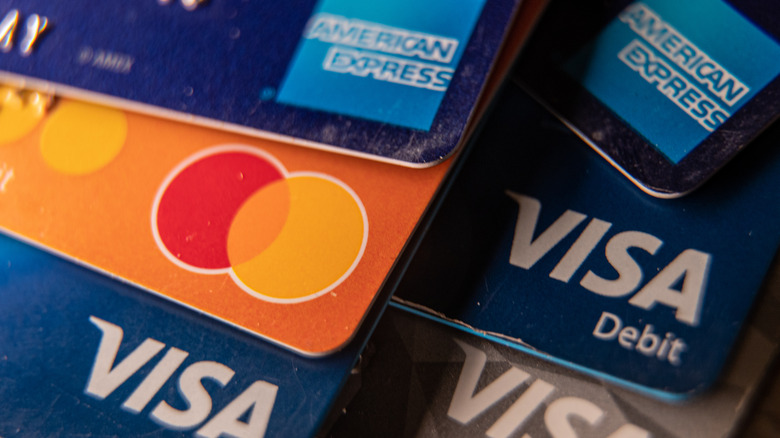 Matt Cardy/Getty Images
One area where Sam's Club has an obvious edge over Costco is in form of accepted payment. Both in stores and online, Sam's Club accepts all four of the major credit cards, Visa, Mastercard, Discover, and American Express. The stores also accept cash, checks, and debit cards.
Costco, on the other hand, only accepts Visa credit cards at both the warehouse stores and gas stations plus cash, checks from members only, and most debit cards. The website accepts two additional credit cards, Mastercard and Discover. American Express cardholders are completely out of luck.
Customers with Visa cards, or those who don't use credit cards, can utilize either store without issue. But if you have any of the other three major credit cards, you are restricted to Sam's Club, unless you plan to use your Mastercard or Discover only on Costco's website. This isn't to say you can't shop at Costco if you don't have a Visa card. But if your non-Visa credit card is your preferred way of paying for purchases, this is something to seriously consider when choosing between these two stores.
You can save a lot of money with Costco's Kirkland Signature brand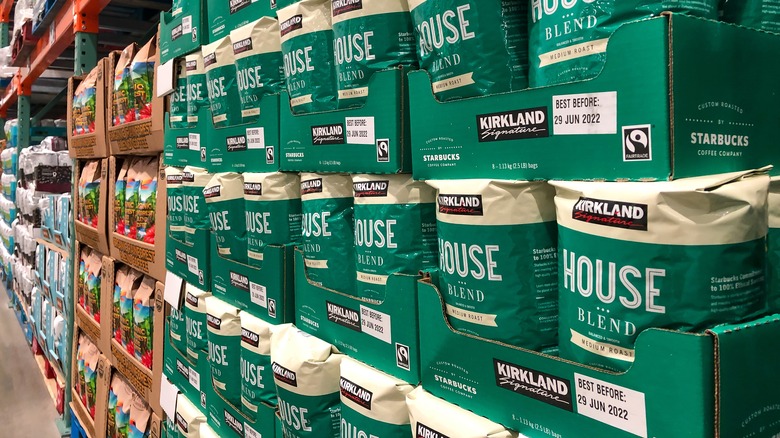 Edgar Lee Espe/Shutterstock
Many grocery stores have their own private-label brand which they use to sell items at a lower price than name-brand products, such as Kellogg's or Hershey. Costco's store brand is Kirkland Signature. While it has always been popular with customers, CNN reported in 2020 that more and more people were turning to store brands like Kirkland out of a need to save money or simply because the name brands were selling out too quickly, leaving only the store brand on the shelf.
But even before the bump from the COVID-19 pandemic, CNN reported Kirkland made up nearly ⅓ of all Costco's sales in 2018. Retail analyst Karen Short told CNN, "It is one of the reasons people go to Costco. That's not necessarily something you can say about many private labels." Furthermore, Kirkland's lower prices have persuaded name-brand competitors to lower their prices in order to compete.
In general, Kirkland brand products sell for 20% below the competition. That adds up to a lot of savings in just one shopping trip.
Sam's Club has more stores than Costco in the United States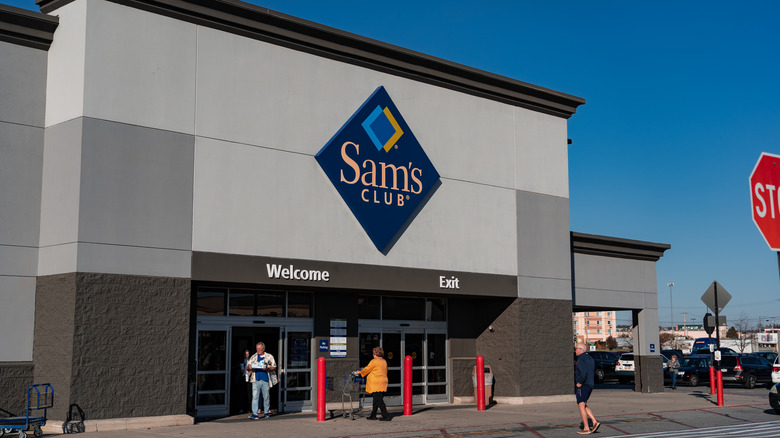 George Sheldon/Shutterstock
Let's be real. Not everyone has access to both Costco and Sam's Club. And, even according to data company ScrapeHero, the people of Rhode Island need to leave their state to shop at either business.
Costco is an international corporation with locations spanning the globe. That's a real bonus for the world traveler, but it's not very helpful to the average consumer. As of March 2023, Costco has 585 locations within the U.S. and its territories, (per ScrapeHero). Nearly ¼ of them are located in California alone, and Costco is well represented on the Atlantic, Pacific, and Great Lakes coastlines. All that space in between, though, not so much.
Sam's Club, on the other hand, has 600 locations, and they are more evenly spread across the U.S., (via ScrapeHero). Sam's Club locations are less clustered around major urban centers than Costcos are, offering access to a wider customer base. This includes the entirety of the Midwestern and Mountain states, some of which Costco leaves out.
Costco has a better return policy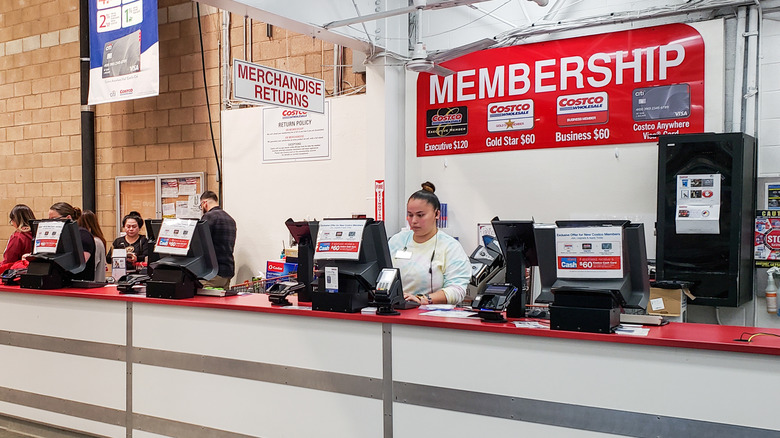 The Image Party/Shutterstock
Both Costco and Sam's Club boast a 100% satisfaction guarantee to their members. So it's really in the fine print that you find the differences. In some instances, like when it comes to alcohol or tobacco sales, both companies are restricted by the same state regulations. But most other sales fall outside of those restrictions, and that is what we are concerning ourselves with here.
For the most part, neither chain charges a restocking fee. Costco never does this on any item and neither does Sam's Club, but Sam's Club has certain time periods in which specific items must be returned in order to get the refund. For instance, cell phones must be returned within 14 days, and the store doesn't accept returns on gift cards, tickets, custom-made items, prescriptions, and items purchased through Sam's Club Wholesale Trading Program. Costco has similar return policy exceptions, except the window for all items (like cell phones, T.V.s, etcetera) is 90 days.
When returning items that were purchased online, Costco will cover the cost of return shipping. Sam's Club will only cover this sum if the item was damaged en route to your door or you did not receive the correct item.
When buying a new car, Sam's Club saves you more money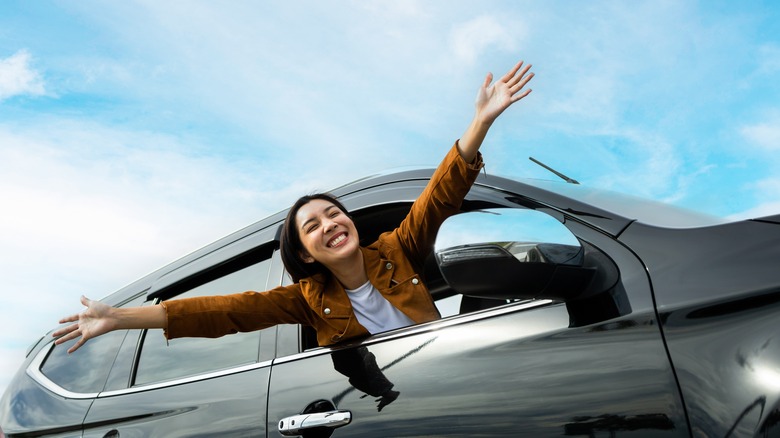 GBJSTOCK/Shutterstock
When people say you can buy anything at a warehouse store, they are not far off. You can buy a new or used automobile through both Costco and Sam's Club.
Sam's Club uses the info and pricing site TrueCar as its buying service. Sam's Club members can take advantage of special deals and post-sale benefits when both buying and selling a vehicle. You can both sell and trade in your car via this service. When purchasing a new vehicle, you can save a lot of money by taking advantage of price comparison. According to LendingTree, in 2020, Sam's Club members received a $3,463 discount off the Manufacturer's Suggested Retail Price (MSRP).
Costco's auto program does not use TrueCar, so you lose some of the advantages that the service offers. According to Four Wheel Trends, the prices of the automobiles you find are fixed and non-negotiable. Costco has already taken care of the negotiating for you. If you require additional financing, Costco can help you out there as well. MotorBiscuit reported that using Costco to purchase a new vehicle saved members an average of $1,000 off the MSRP.
Both Costco and Walmart are publicly traded companies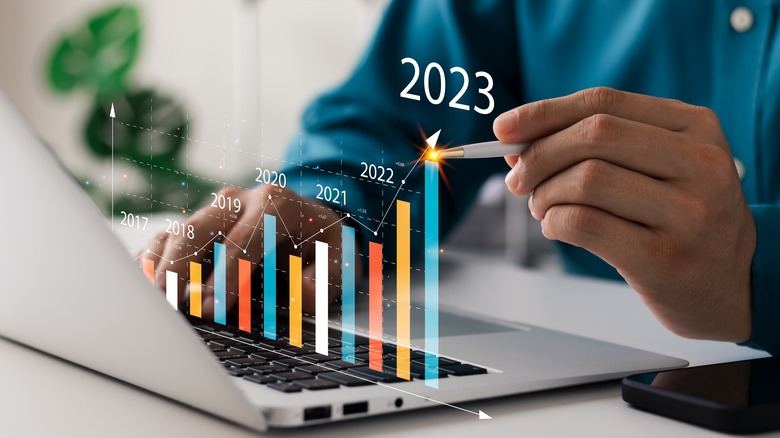 Thapana_Studio/Shutterstock
If you didn't know that Sam's Club is owned by Walmart, now you do. (The Sam in Sam's Club is founder Sam Walton, who is also the Wal- in Walmart.)
Walton was already an experienced retail operator by the time he founded Walmart in Rogers, Arkansas in 1962. The extremely successful chain became a publicly traded company in 1970. Shares in the company sold for $16.50 each at the time. In 2022, Forbes ranked Walmart 23 out of the 2,000 largest companies in the world.
What is now Costco started out as two different businesses. Price Club opened in San Diego in 1976, introducing the world to the membership warehouse concept. The first Costco opened in 1983 in Seattle. In 1985, Costco went public, and in 1993, it merged with Price Club, becoming first PriceCostco then later Costco Wholesale. In 2022, Costco came in at 123 on Forbes Global 2,000.
You don't have to be a member to eat at Sam's Club Cafe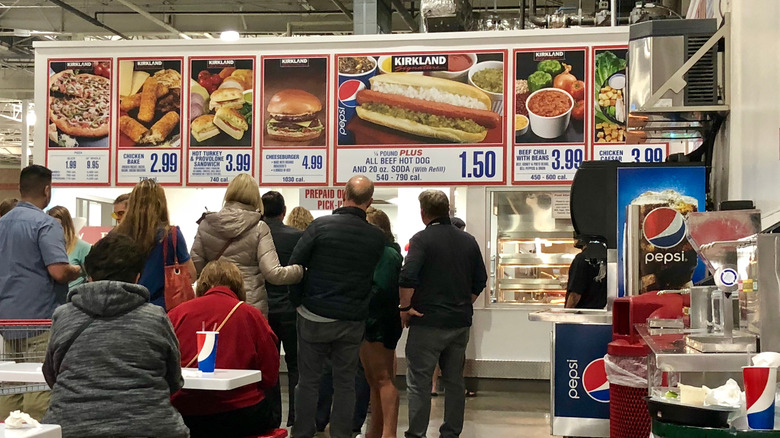 Cassiohabib/Shutterstock
Both Costco and Sam's Club offer food courts for the convenience of their customers and employees. Sam's Club Cafe offers things like hot dogs for the low price of $1.38, pizza, pretzels, yogurt cups, and fountain drinks. The Costco Food Court is similar, selling its hot dogs for the bargain price of $1.50. But you can also buy burgers and sandwiches, salads, ice cream, baked goods, and more.
However, the menus aren't the only things that distinguish the two eateries. While Sam's Club Cafes are accessible to non-members, Insider reported in 2020 that Costco locations were no longer allowing non-members to eat at their food courts. Not only that, the food courts were always supposed to be reserved for members only. Many stores just didn't enforce the rule as they should have, so people began to assume it was open to anyone. One Costco customer took a picture of the sign informing the public of the policy "change" at their local store and posted it to Twitter, calling it a "trash" move instigated only by greed.
Costco has more organic products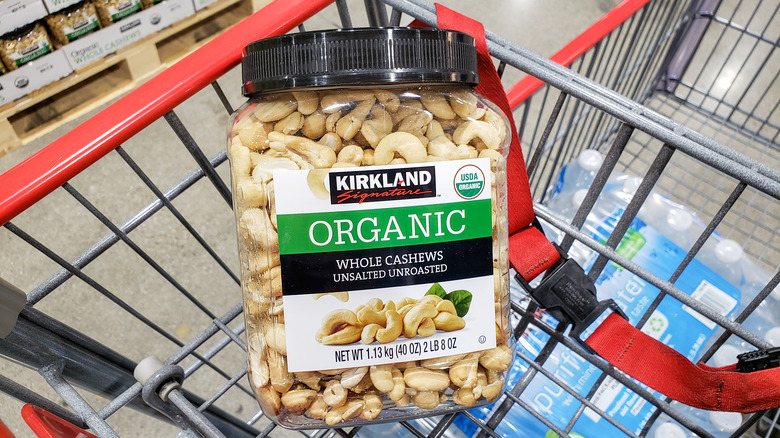 The Image Party/Shutterstock
A survey by the Pew Research Center conducted in 2016 showed that 40% of Americans eat at least some organic food. An additional 44% answered that they eat "not too much" organic food. Organic product sales have been on the rise for a while, and there is no sign of it stopping.
When it comes to carrying organic produce, meat, seafood, and other grocery and household items, Costco wins. Costco also carries organic beer and wine and several household cleaning products that use organic ingredients.
A shopper for health and wellness website All Natural Savings was disheartened by the lack of organic meat and produce options at Sam's Club. They were also not pleased by the poor customer service they received when asking about certain products. Though Sam's Club wasn't completely without options, they strongly recommended Costco over Sam's Club to fellow customers looking for organic and all-natural groceries and products, and we have to agree with them on that.
Both Costco and Sam's Club operate gas and EV charging stations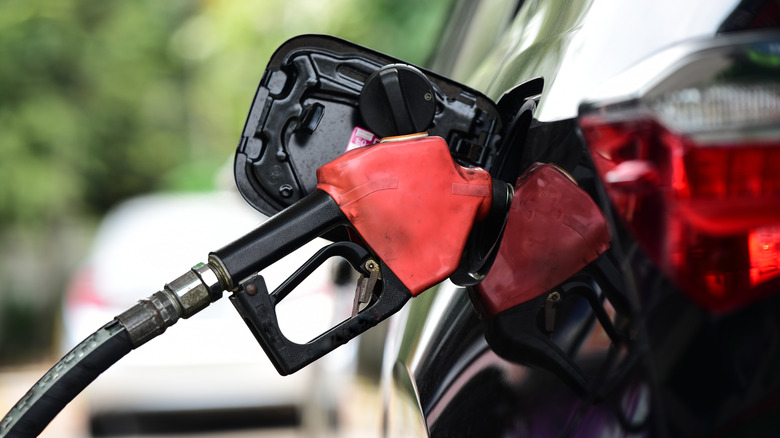 CHAI UM-IM/Shutterstock
Costco has been operating exclusive gas stations for its members since 1995. It even uses its own Kirkland Signature brand of gasoline. The stations are also equipped with extra long hoses so that it doesn't matter which side of the vehicle the gas tank is on, you can still fill up your car. This helps prevent everyone from facing different ways and circling around to find a pump you can easily pull or back into. Sam's Club also offers fueling stations. Some locations also have car washes. If you are a Walmart credit card holder, you can use your card at Sam's Club stations.
But what if you don't drive a car that has an internal combustion engine? Can you recharge your electric vehicle (EV) at either of these chains? The short answer is yes, however, it isn't yet widespread. In 2022, the majority of Costco charging stations are located in California. The cost to charge an EV varies by location. Both Sam's Club and Walmart offer charging stations for EVs. And, just like with Costco, prices vary by location.
If you drive a lot, the Sam's Club Mastercard has better rewards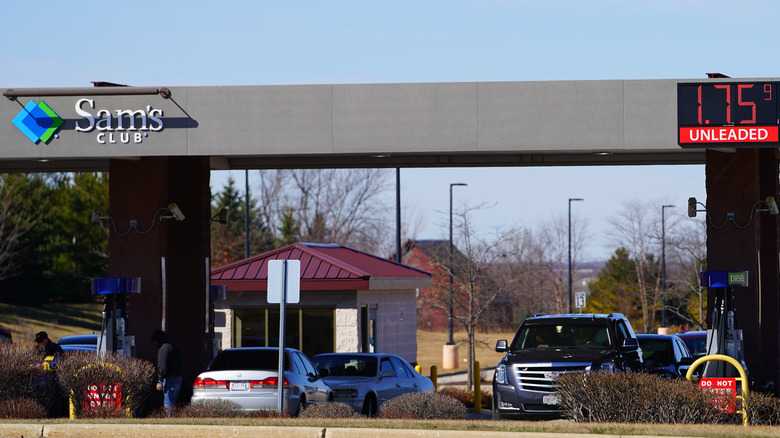 Aaron of L.A. Photography/Shutterstock
Speaking of filling up on gas or charging your EV, both Costco's Anywhere Visa Card backed by Citi and the Sam's Club Mastercard offer rewards for both gas and EV charging. Both cards reward you for shopping anywhere, not just at their stations. But when it comes to cash-back rewards, Sam's Club manages to just edge out the competition.
The Costco Anywhere Visa offers 4% cash back on gas and EV charge purchases up to $7,000 per year. After that, it goes down to 1%. The Sam's Club Mastercard, on the other hand, offers 5% cash back on gas and EV charges up to $6,000, after which it also goes down to 1%.
Value Penguin reported in 2022 that the average American household spent $131 per month on gasoline. That's less than $2,000 per year. So for the average consumer who does not spend more than $6,000 per year on fuel, Sam's Club offers a higher reward.
Costco employees are paid better and are happier with their jobs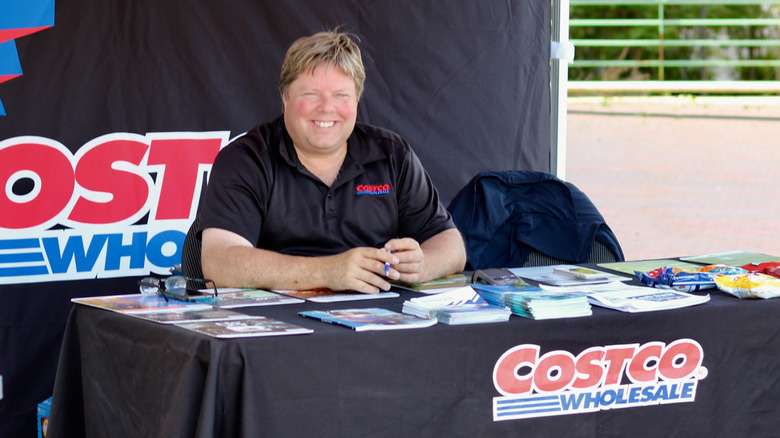 Masterpics/Shutterstock
Being such major corporations with hundreds of locations, both Costco and Sam's Club employ a lot of people. The temperament of an employee can make or break a customer's experience with the store. And Costco has a higher number of happy employees, hands down.
According to the employment website Indeed, the average Costco cashier makes $17.64 per hour. At Sam's Club, the same employee makes only $12.82 per hour. Glassdoor reported a closer gap with $18 at Costco and $16 at Sam's Club, but Costco still wins. Indeed reported that even the opticians at Costco are paid more than at Sam's Club by about $6 per hour. Eighty-three percent of Costco employees report being happy with their salaries. Only 54% of Sam's Club employees report the same.
If you are the type of person who factors in fair wages and the happiness of employees at the places you frequent, this may be what decides where you spend your dollars. Depending on where you live, all of these wages may seem high for their positions, and, of course, your personal experiences may differ from national averages. We've already shown that Sam's Club and Costco often serve different regions across the U.S.
So, which is better?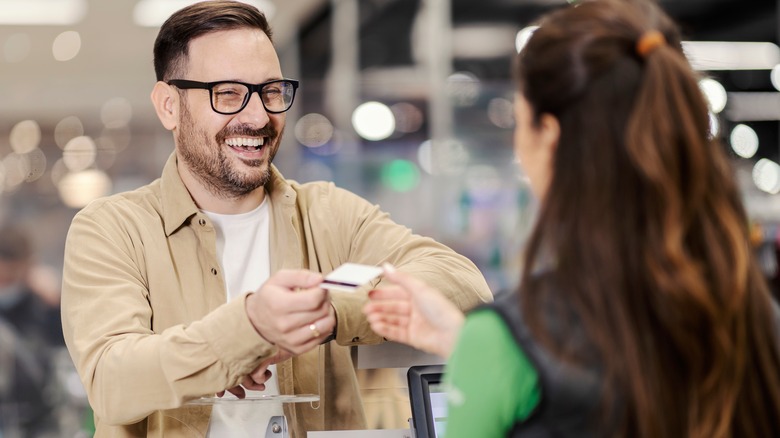 Dusan Petkovic/Shutterstock
Unfortunately, there is no cut-and-dry answer here. While both companies have very similar business models, there are enough differences to make one more appealing than the other to different consumers depending on their needs and priorities.
If you are automotive-inclined, then Sam's Club seems like a clear winner. If you are in the market for a new (or new to you) automobile, you are much better off buying through Sam's Club than Costco. If you use the Sam's Club Mastercard, you also receive better rewards on fuel and EV charging than Costco.
If groceries and other household products are your main concern, then Costco may come out ahead. When using the Costco branded credit card, you earn higher rewards on in-store purchases at 2% cash back. Sam's Club offers 3% for Plus members but 1% for Club members. Costco's wide variety of Kirkland brand items helps to keep costs down whether you have an Anywhere Visa card or not, plus there is a much larger selection of organic goods than Sam's Club carries.
What it really comes down to is which one you have access to, what your typical shopping habits are, and what you personally prioritize when choosing where to spend your money.