Subway's Eggs Florentine Flatbread Is An Italian Twist On A French Classic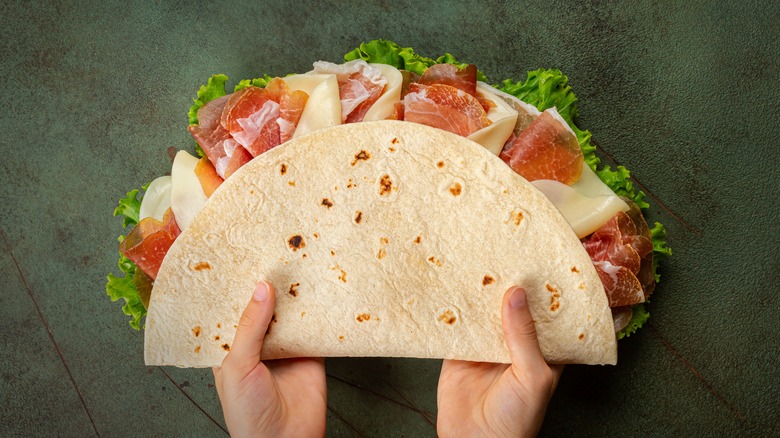 OlgaBombologna/Shutterstock
Subway is arguably one of the biggest sandwich companies in the world, with over 20,000 locations across the United States. Their five-dollar footlong sandwich promotion gained them huge attention back in the day, where Subway franchise owner Stuart Frankel started the promotion to increase sales. Because this was in 2008 the economic situation at the time had everyone looking for cheaper meals, so the idea took off like lightning. At the time, the cost of food, labor, and other expenses was lower, so Subway was still able to profit while using this promotion.
Five-dollar footlongs aren't the only thing that Subway currently offers, boasting a menu of melts, wraps, cookies, and even breakfast options! Although they have a broad menu with something for just about everyone, Subway has not been left unscathed from the secret menu obsession that has taken the internet by storm. One of the best items on the secret menu of Subway is their Eggs Florentine Flatbread. Eggs Florentine is actually a dish from France, created by combining baked, scrambled, or poached eggs with spinach and a healthy dollop of hollandaise sauce. How would something like this be possible to order at Subway?
Here's how to order the secret Eggs Florentine Flatbread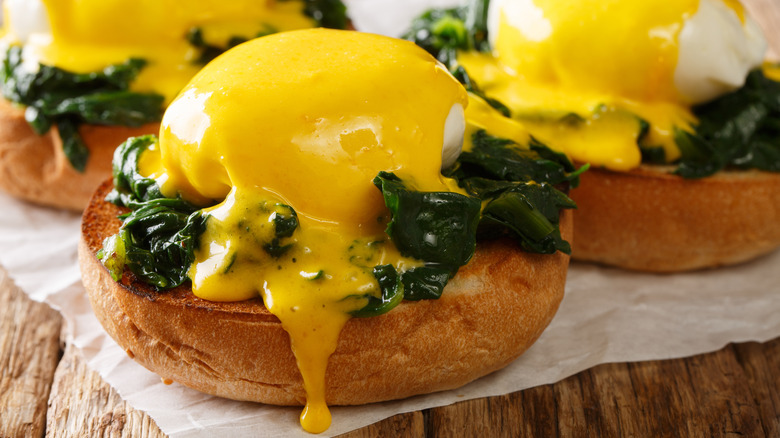 Sergii Koval/Shutterstock
When you're ordering the secret Eggs Florentine Flatbread from Subway, there are a few specific ingredients that you'll need to add, such as spinach, banana peppers, olives, red onions, and of course the egg whites. It's important to note that the sub is not smothered with hollandaise sauce as true Eggs Florentine is. Instead of a traditional Hollandaise sauce that's typically served with Eggs Florentine, this Subway flatbread sandwich hack is served with Italian dressing.
If you're looking for other interesting secret menu hacks that you can order at Subway, there are a couple of items that you can't pass up. After the Eggs Florentine Flatbread, the first on the list that you need to check out would be the Chicken Parmesan Sub, the Big Philly Cheesesteak, and the Sweet and Sour Chicken Sub. If you want to eat Subway like in the old days, you can even ask for the 'old cut'. 
The worker will cut out the top of the sub and stuff the toppings in, similar to a hot dog. This is especially convenient if you're on the go!