TikTok's Viral Sushi-Making Tool Is A Convenient Alternative To Bamboo Mats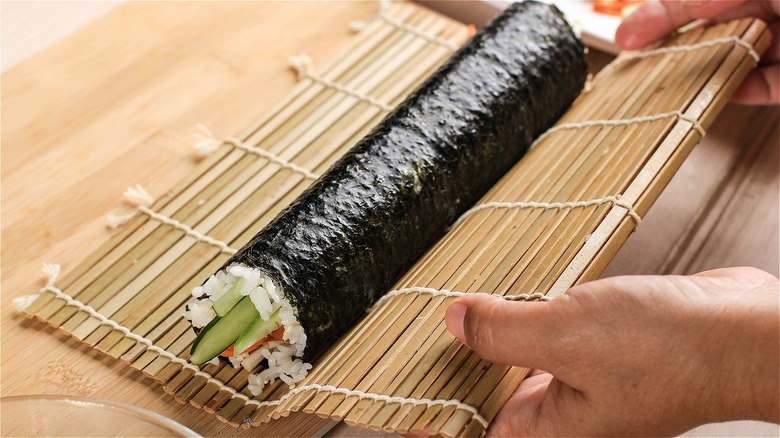 Ika Rahma H/Shutterstock
If you haven't made sushi at home before, the process can seem extremely intimidating. You have to know how to safely prepare said seafood –- unless you want to come down with a gnarly case of food poisoning. Also, you should have a general idea about which flavors will complement each other. But, perhaps most challenging of all, you have to know how to wrap everything together in a neat little roll.
We know, it may sound ridiculous that rolling your sushi would be the hardest part, but it really does take a lot of practice. All that being said, you don't necessarily have to invest in a bamboo mat if you want to make sushi at home. You can just as easily use a towel with parchment paper or cling wrap on top for the same effect. For that matter, if you're really new to sushi-making, you could even buy a sushi bazooka.
What on earth is a sushi bazooka?
Sure, sushi connoisseurs may turn up their noses at you and your sushi bazooka, but why should you care when you have homemade sushi? The sushi bazooka, as you might have suspected, is a handy dandy kitchen tool that packs your sushi ingredients together for you.
As one TikTok user demonstrates, you simply fill the sushi bazooka with your rice, your seafood, and whatever else you want in your sushi, close it up, and use the plunger to force everything out onto your waiting seaweed wrap. Roll it all together, slice, and serve. It's that simple. Or, forego the seaweed wrap entirely and just eat your sushi with a sticky rice exterior. 
Of course, none of this is to say that the sushi bazooka is better than the traditional bamboo mat, but as chef Michael Carranza told Food & Wine, the sushi bazooka is like "training wheels. Is it the most efficient? No, but it'll help you learn and get going." You can get fancier sets for upwards of $30, but some retail stores also sell the sushi bazooka for around $10.