KFC Is Bringing Back The Double Down For The First Time In Almost 10 Years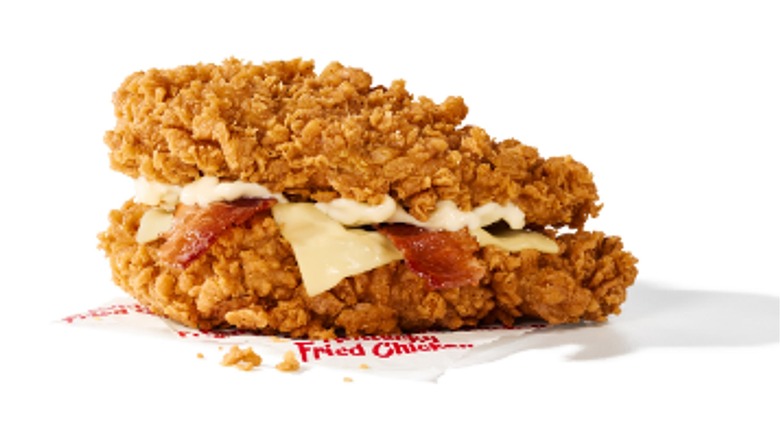 KFC
If you're a true fast food connoisseur, chances are you remember where you were when you ate your first KFC Double Down sandwich. If not, then perhaps you recall the trauma endured when KFC stopped selling the item, a breadless sandwich that saw two extra-crispy fried chicken breast cutlets stepping in for the more traditional buns, with a filling of bacon, cheese, and special sauce. This bit of fast food creativity was first released as a limited-time offering in 2010, then was brought back briefly in 2014 when KFC was experimenting with other unique items, too, like a chicken wrist corsage.
So much has changed since then. The world has endured political turmoil, a pandemic, chicken-scented face masks, food inflation, and more. But for those who kept their faith that in spite of it all, the Double Down would someday return (like members of the various Facebook campaigns and Change.org petitions calling for its comeback), the fast food paradise once only dreamt of has finally arrived. That's because KFC is bringing back the Double Down for everyone on March 6th, and some lucky folks might be able to score one even earlier during the "Double Down Drop" coming on Sunday, March 5.
How to get the Double Down first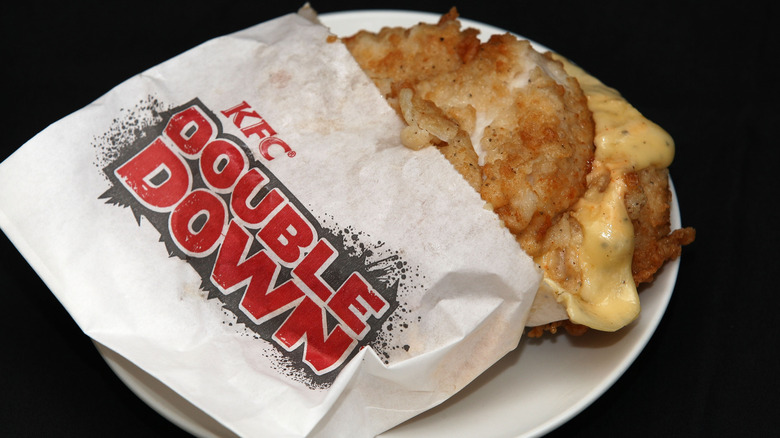 Sandra Mu/Getty Images
For passionate KFC fans who have longed for the day KFC's Double Down would return to the chain's menu, the time is finally here. According to a press release, the meaty sandwich will be back in U.S. stores on March 6th, but those who are desperate to try one sooner also have a chance to pre-order the sandwich to eat on March 5. Customers can sign up on www.kfcdoubledowndrop.com beginning March 2 to pre-order one sandwich per customer on a first-come, first-serve basis until supplies run out.
When I close my eyes, I see this thing, a sign, I see this thing in bright blue neon lights with a purple outline. And this thing is so bright and so sharp that the sign, it just blows up because the thing is so powerful... It says, "The KFC Double Down is coming back. "

— Craig Hlavaty (@CraigHlavaty) April 17, 2019
Though at the time of its initial release, critics scorned the Double Down for its calorie count, high fat, and sodium content (some dietitians thought the original Double Down was so unhealthy it should come with a literal warning on the box, according to HuffPost), fans couldn't get enough of the sandwich, ordering 10 million in the first month it was originally available (via CNN). It's been an international hit, too — KFC even sold a pizza-stuffed Double Down in Australia in 2021. Judging by how many tweets there are begging for the Double Down to come back (apparently, even "Wednesday" star Jenny Ortega is a fan), we have a feeling that plenty of people won't mind indulging in the returning sandwich, even if it doesn't have their doctors' seal of approval.