The Whole Foods Queso Dip That Chefs Can't Resist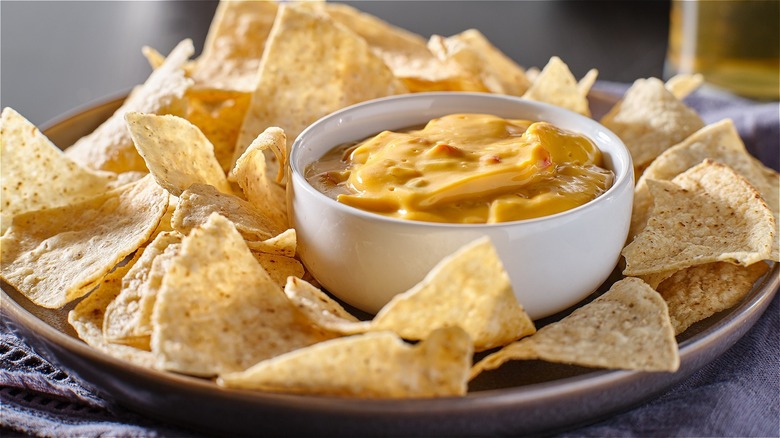 Joshua Resnick/Shutterstock
As we all know by now, Whole Foods has plenty of hidden treasures when it comes to dips and spreads. Whether you're looking for spinach artichoke dip, jalapeño hummus, blue cheese spread, salsa verde, or even truffle mousse pâté, this grocery retailer has you covered.
While different dips and spreads are great options for parties (or snacking alone, we don't judge), we'd be remiss if we didn't mention the best party dip of them all — cheese dip. Naturally, Whole Foods carries a variety of cheese dip options. Each one is pretty darn tasty, but one stands apart. Yup, we're talking about the chili con queso.
Unlike regular cheese dip — which can be as simple as melting cheese with some seasoning — chili con queso includes additional ingredients like onion, garlic, chiles, jalapeños, and even meat. In other words, chili con queso is going to really bring the heat, and that's exactly how we like it. As it turns out, that's exactly what chefs like about it, too.
Whole Foods' queso dip is full of cream cheese and spices
We all have that one product we can't leave the grocery store without buying. For some of us, it's one of Whole Foods' dessert options. For others, like executive pastry chef Natalie Saben, it's Whole Foods' chili con queso dip. Honestly, it sounds pretty darn good. In an interview with Food & Wine, Saben explained that she buys a container of the queso dip anytime she finds herself at Whole Foods. According to Saben, this chili con queso dip is "spicy and full of cream cheese deliciousness," to the point where she could "eat an entire pint in one sitting."
Although Saben didn't give an exact brand, she could be talking about the chili con queso made by Melanie's Medleys. This particular dip does contain cream cheese as well as both chipotle and jalapeño peppers, which would definitely add a spicy factor. Melanie's Medleys also makes its queso in small batches, which could be what Saben meant by "made-in-house." Either way, this dip certainly sounds like it's worth a try.